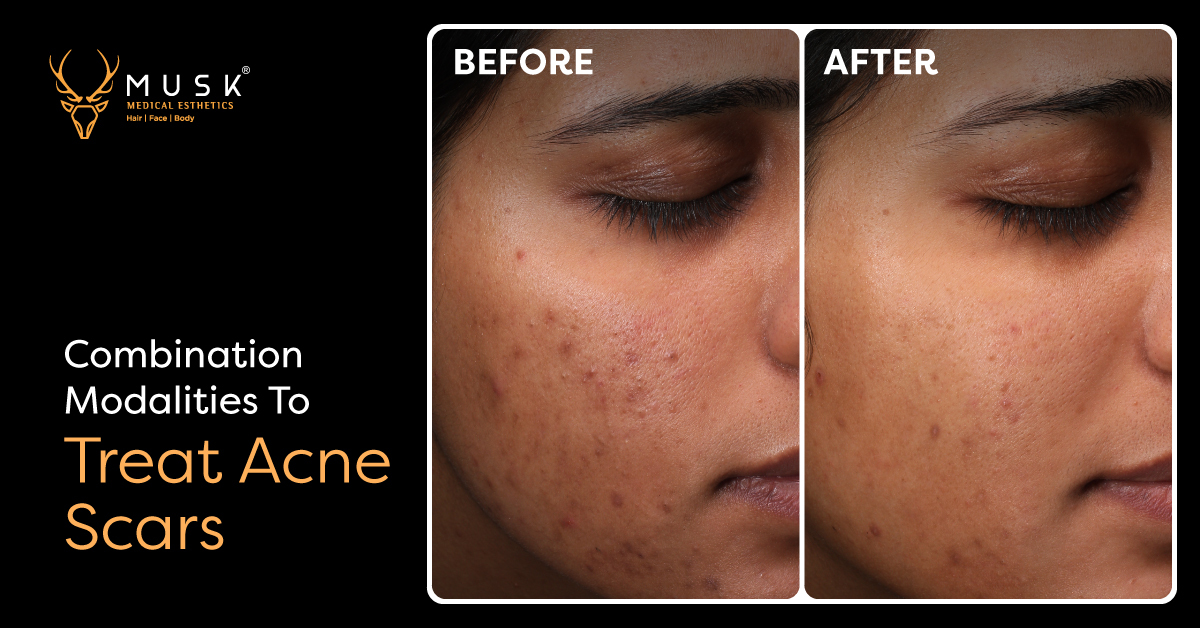 Posted on July 27, 2022
Many treatments are available in the medical world, but treating acne scars is quite challenging nowadays. It is not because of cost and other barriers, but due to the limitation of treatment modalities.
In order to treat the patient with acne scars, the surgeon needs to make a pre-procedure plan in which they mention the type of acne scars, skin type, which acne procedure they choose, and even the surgeon needs to clear the after-effects of treatment and the things that need to be avoided. 
Scroll down to read more about the combination modalities for acne scar treatment and a detail of its procedure. 
What Causes Acne Scars?
Acne scars result from inflamed acne lesions. When these acne lesions rupture, it leaves behind acne scars.
It has various types which can be classified as icepick scars, rolling scars, box scars, combination scars, etc.
Acne and acne scars treatment can be treated with combination modalities. Combination therapy works best on acne scars. 
  The most recommended acne scar treatments are: – 
Laser Skin Resurfacing 

Vampire facial

Chemical peels

Smooth PDO threads

Dermal fillers
At Musk, we believe in using combination modalities to treat acne scars, as we have seen better and faster results.
Types of Acne Scar Treatments:
1. Laser Skin Resurfacing
During this treatment, laser lights were used to eliminate or reduce the appearance of acne scars. It promotes the production of skin cells and collagen, which results in younger-looking and healthier skin.
Commonly used lasers are:
CO2 Lasers (carbon dioxide) 

Erbium (Er: YAG) Lasers 

Pulsed-Dye Lasers

Fractional Lasers

IPL (intense pulsed light)
For treating acne scars we mostly use the Erbium Yag laser, which is a non-invasive fractional erbium Yag laser. It's a highly effective fractional ablative laser skin resurfacing treatment, that uses a 2940 nm wavelength.
It helps to reduce the depth of acne scars, improves the texture of the skin, and reduces acne marks.
There is accelerated reepithelization allowing for faster healing and tissue regeneration.
How does Laser Work on Scarring?
First heat from the laser targets to remove the dead layer and epidermis, this layer then peels off and after which skin appears smoother. This in turn reduces the appearance of a scar on your face.
The skin will be pink on the day of treatment, it will get dark from the 2nd day and will peel off in the subsequent days. There is collagen induction in the dermal layer which keeps on building for the next 3-4 weeks. So, the final result will be seen between 3-4 weeks.
Post Laser Skincare:
Apply a cold press if there is any burning or stinging sensation

Use a moisturizer 3-4 daily for 5-7 days.

Use a double layer of sunscreen for at least a week before sun exposure.

Avoid using retinol cream for a week.

Not to undergo any salon treatments for a week
For better results, we recommend 4-6 sessions with a gap of 1 month.
2. Vampire Facial
Vampire facial is also known as the micro-needling facial. During this procedure, a platelet is used which is harvested from your own blood. These platelets are the concentration of growth factors that promotes wounds and tissue healing.
Vampire facial is a combination of two treatments:-
Platelet-rich plasma (PRP) 

Micro-needling
Platelet-rich Plasma 
It is a concentration of plasma protein derived from the whole blood and centrifuged into separate red blood cells. . The growth factors of this plasma are keratinocyte growth factor (KGF), fibroblast growth factors (FGF), epidermal growth factors (EGF), transforming growth factor beta1(TGF-B), etc.
Micro-needling
It is a minimally invasive treatment, which involves the pricking of the skin with tiny sterilized needles. This procedure makes your skin more collagen and elastin, which helps you to look younger.  
Method:
We collect 18 ml of your blood, this is just like the amount of blood that you give for a blood test. Then it's placed in a tube inside the centrifuge.

Centrifugation spins the blood in the tube at a very high speed.  So, it will then separate the plasma containing platelets.

Topical anesthesia is applied to the concerned areas to avoid any kind of discomfort while injecting or while making micro channels on your face.

Platelet-rich plasma is then aspirated and infused within your skin along with micro-needling 
There can be mild swelling and redness which goes away in 24-48 hrs.
Post-Procedure Skincare:
Wear a minimum of SPF 30 and reapply every 4 hours.

Avoid retinol and any kind of actives for 48hrs.

Wash your face after 8-10 hrs only with water.

Avoid exercise for at least 24 hrs.
For better results take 3-6 sessions.
3. Professional Peels
This peels-off procedure is for treating superficial scars. It helps in skin exfoliation and rejuvenation; it also helps with the lightning of your dark spot and unclogging of pores to prevent future breakouts.
Chemical peels can be of various types like:
Salicylic acid 

Lactic acid

Glycolic acid

Retinol

AHA kojic peels
The selection of chemical peels is based on your skin type:
Salicylic acid peel is used for oily congested and acne-prone skin.

Retinol besides is used to improve acne scars, fine lines, and wrinkles.

Lactic acid peel treats the basic skin rejuvenation and gives an instant glow and even outs the skin tone.

AHA kojic peels help even out the skin and skin rejuvenation.
Post-Procedure Skincare:
Avoid direct sun exposure and always apply sunscreen.

Always pat dry your face and don't rub your face.

use plain water to rinse the face for at least 24 hours.

There will be a mild exfoliation of the skin so do not Peel it off manually.

Not to undergo any salon treatment for a week.
4. Smooth PDO Threads
For reducing acne scars, PDO treatments are highly effective (new treatment modalities).
During this treatment, smooth threads are placed in the dermal layer of the skin to form a mesh. Which helps in promoting collagen production and increases the smoothness of the skin.
Method:
Topical anaesthesia cream is applied to avoid any discomfort during the procedure.

The threads are placed in the dermal layer of the skin.

There may be a temporary swelling which will settle in 12-24 hrs.

It can be combined with subcision.
Post-procedure skincare:
Avoid touching your face for 24 hrs

Avoid makeup for 24 hrs

Wash your face with clean filter water for 2-3 days
For better results, it is used in combination therapy.
4. Dermal Fillers
For filling out certain types of acne scars Hyaluronic acid is prescribed as best, as it is considered an advanced treatment modality that helps to improve acne scars. 
Method:
Topical anaesthesia is applied to reduce any kind of discomfort during the procedure

Hyaluronic acid fillers are placed directly into acne scars with a very small needle.

The area is massaged and antibiotic ointment is applied.
There can be Mild bruising and swelling which may last up to a week
Post-Procedure Skincare:
Avoid massaging your face for 3-5 days

Avoid make-up for 48hrs

Drink 2-3 litters of water for better hydration
All dermal fillers temporarily last up to 2 years depending on the filler type, sometimes you may require maintenance sessions to achieve the best result.
Conclusion
How to remove acne scars is a major concern for patients suffering from acne.
Right combination therapy will help you to achieve the best results. For any further queries, you can reach out to us at Musk Clinic.