What Is HydraFacial?
Hydrafacial is a patented technology from The Hydrafacial Company, California, USA and Musk is proud to be the only clinic in India to provide this latest state-of-the-art celebrity loved medical facial to its clients.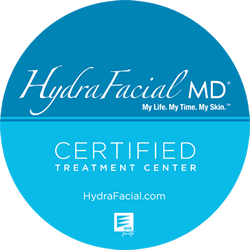 HydraFacial is a non-invasive, 3-step experience that combines the benefits of next-level hydradermabrasion, a chemical peel, automated painless extractions (no pinching!) and a special delivery of Antioxidants, Hyaluronic Acid and Peptides. It does all of this in one quick treatment that delivers real results without downtime or irritation.
How it Works – Vortex Fusion Ⓡ
The unique Vortex-Fusion® serum delivery system is what sets the Hydrafacial apart from other procedures. The multi-step treatment cleanses, evenly exfoliates and extracts to remove impurities and dead skin cells while at the same time replenishing vital nutrients including Antioxidants, Peptides and Hyaluronic Acid. Thanks to the devices' superior delivery system, these performing ingredients are able to more effectively reduce the appearance of fine lines & wrinkles for results you can see and feel instantly.*
Great for all skin types, the Hydrafacial Treatment is not only highly effective at improving overall skin health, but also excellent for remedying fine lines and wrinkles, enlarged pores, elasticity & firmness and much more. The Hydrafacial combines cleansing and peel, extraction and hydration, and fuse and protect all while delivering antioxidants, hyaluronic Acid, peptides and other essential nutrients.
Hydrafacial Treatment Options
The customizable Hydrafacial treatment can be tailored to safely & effectively address your specific skin concerns. Our targeted problem/solution protocols were developed to help mitigate some of the most universal skin concerns, but your trained Hydrafacial professional can always further tailor your treatment with Hydrafacial Boosters to make it most exacting to your unique needs. Every skin is different and so a customized treatment helps to address the right concerns.
Signature HydraFacial 30 min
Deeply cleanse, peel, extract and hydrate the skin through our super serums filled with antioxidants, peptides and hyaluronic acid
Deluxe HydraFacial 45min
These invigorating treatments include all of the essentials of the Signature HydraFacial while addressing specifi skin concerns through HydraFacial's boosters and protocols
| Restorative | Radiance |
| --- | --- |
| Add CTGF Booster to improve the appearance of skin tone, texture and elasticity | Add Britenol Booster to minimize the appearance of dark spots |
| Age-Refinement | Clarifying |
| --- | --- |
| Add DermaBuilder Booster to reduce the appearance of fine lines and wrinkles | Extended extractions and add Blue LED Light Therapy to remove congestion |
Platinum HydraFacial 60min
The ultimate HydraFacial experience. Begins the detjoxification process with Lymphatic Drainage. Followed with the Signature HydraFacial to deeply cleanse, peel, extract and hydrate the skin. Addressing specific skin concerns with a Booster of your choice. This treatment concludes with LED Light Therapy to further reduce the visible signs of aging.
Hydrafacial in combination with other treatments
Recommendations for combining the Hydrafacial treatment with other medical treatments. The Hydrafacial system yields further improvement over what the other treatments achieve as a single modality treatment. Starting and prepping with healthy hydrated skin promotes faster healing time and maximum results.