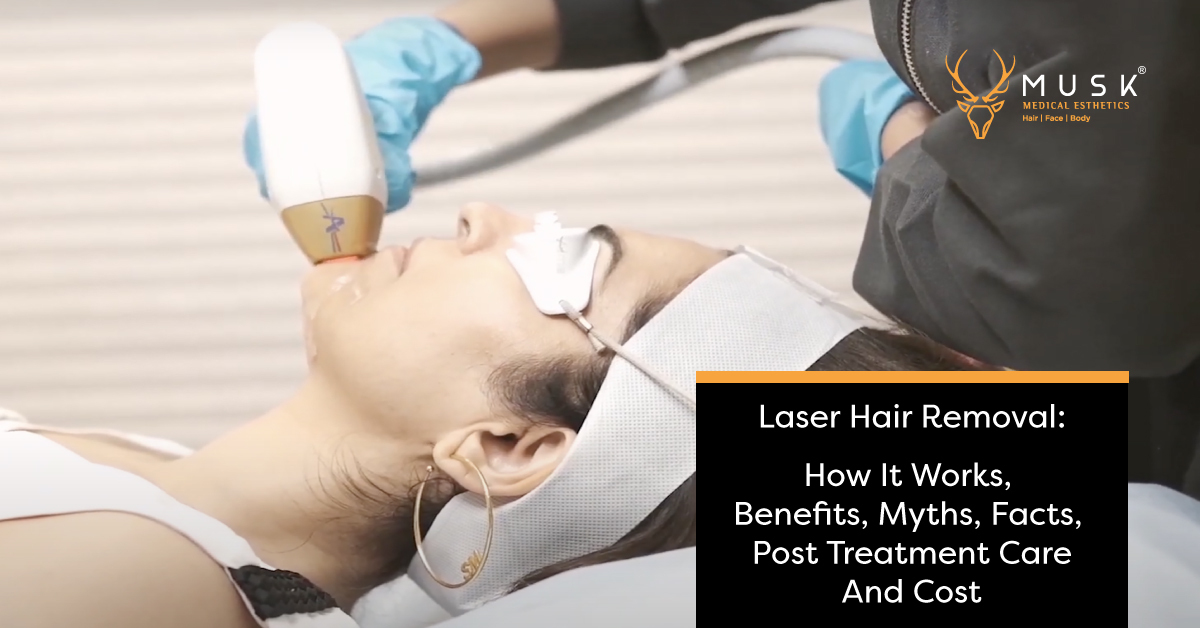 Posted on November 11, 2022
Nobody likes to spend sleepless nights, full of nightmares about unwanted facial hair and a dream of a stubble-free future with smoother and hair-free skin.
Laser hair removal is the best solution for you and your skin. It is the most commonly performed cosmetic procedure in the world, where a concentrated beam of light (laser) is irradiated into the hair follicles. With the help of this treatment, a person can get rid of hair around the chin, upper lip, sideburns, cheeks, armpits, and from whole body parts.
The whole process is incredibly fast and effective. Each laser pulse takes only a second to treat many hairs at once. It takes only a minute to treat a small area, while it takes about an hour to treat the large areas of the body. The procedure is highly recommended by the patients, many of whom notice permanent hair reduction after an average of three to seven sessions.
Let us find out how it works, its benefits, and much more about laser hair removal treatment.
Why is it Done?
Laser hair removal treatment offers individuals a solution to their problems because no one is satisfied with shaving, tweezing, or waxing to remove their unwanted hair. Only the eyelid area or the area with tattoos should not be treated with this procedure.
The basic principle of the procedure is that the concentrated light only treats the pigment of the hair and not the skin, that is, the laser should only damage the hair follicle without damaging the skin.
The treatment is less effective for hair colors that cannot absorb light well.
Tips to Follow Before Going in for Laser Treatment: –
The treatment is most successful in people with light and dark skin because it can be easily contrasted with the laser. However, this does not mean that people with blond and dark skin cannot be treated. Your doctor will help you weigh the risks and benefits for your skin during your consultation. 
Here are some tips you need to go before you opt for laser removal treatment: –
Avoid other hair removal methods such as plucking, tweezing, and waxing two weeks before the treatment.

Do not use retinol, glycolic acid, lactic acid, or acne cream for one week before the treatment.

Avoid sun exposure and tanning. Your doctor may prescribe a bleaching cream if your skin is tanned.

Do not use chemical peels.
Benefits of Laser Hair Removal: –
The most common benefits of laser hair removal are –
It is Quick 
It is the fastest solution everyone is looking for, the fastest way to get rid of unwanted hair growth. You have to go for many sessions, but even that takes less time.
Less painful. 
It is a less painful treatment than people think, sometimes you can find it a little uncomfortable, but it is an easy-going procedure.
It can remove hair from any part of the body. 
Besides the eyelash area, this procedure can be performed on any part of the body. The procedure is ideal for the back and bikini area.
Prevent ingrown hairs 
Other hair removal methods can cause ingrown hairs. Laser hair removal treatment destroys the hair from the roots so you can get rid of the annoying hair growth and ingrown hairs.
Long-term solution.
Except in some cases, most people get a permanent and effective result from the treatment, in some cases, people just need to come for a touch-up on a monthly and yearly basis.
Post Treatment Care of Skin: –
The treatment requires several sessions to achieve better results and includes certain steps to follow after each session. Some of the tips to follow after the treatment are: -.
Avoid touching the treated area.

Do not use soap or other cleaners for about 12 to 24 hours.

Don't use ointment on your skin for one week and don't use chemical peels on your skin for two weeks.

When you leave your residence after the treatment, cover the treated area and ask your doctor if you can use sunscreen.

Use aloe vera gel or ice cubes at regular intervals.

Avoid hot showers.

Ask your doctor what medications you can or cannot take before the procedure.
Cost of Laser Hair Removal: –
In general, the cost of treatment in India is affordable or lower than in other countries. If we look at the cost, then it is recommended to do 6-8 sessions, the cost of which depends on the growth of your hair and the type of skin you have, for example, if you do a treatment for a chin or an upper lip, then it will cost less, while it will cost more if you have a larger area treated. If you opt for a complete package, the doctor or clinic may give you a discount.
The treatment will provide you with smooth and hair-free skin. There are several packages for the treatment, which depend on the area you want to treat.
The Advanced Solution for Laser Hair Removal: –
Soprahoice Platinum
It combines the benefits of all three wavelengths, an innovative 3-in-1 applicator that is a complete solution for truly effective hair removal.
 The entire treatment is completely painless and provides a massage-like sensation on the skin.
 It can be performed at any time of the year. 
The sessions are super-fast and take less time to treat a large or small area.

All skin types are treated.



Myths And Facts of Hair Removal: –
Myth 1: – Laser Hair Removal causes the hair to grow denser and more frequently.
Fact: -It does not cause hair to grow faster and thicker. Rather, you will notice a 10 to 25% reduction in hair growth with each session, and if your hair grows back, it will return finer and lighter than before. You can notice a visible reduction in the growth rate of your hair.
Myth 2: – Laser hair removal is not safe. 
Fact: –It depends entirely on the laser system used to treat your skin. So, it is always preferable to go to a certified dermatologist who uses the FDA-approved system for the laser hair removal process.
Myth 3: -Hair removal causes burn.
Fact: -The sensation of burning after or during the procedure occurs only in rare cases and may occur with dark skin. And as mentioned earlier, if the treatment is performed by certified dermatologists, the likelihood of a burning sensation on the skin is less.
Myth 4: -Laser hair removal is done only for women.
Fact: – Nowadays even more and more men are opting for laser hair removal to get lighter hair, which includes shaping the beard, chest, neck, back, etc.
Myth 5: – Laser hair removal is very painful to handle.
Fact: – Sometimes you feel slight discomfort during the procedure. However, it is not very painful.
Myth 6: – You can't get laser hair reduction treatment in summer.
Fact: – The treatment is suitable for all seasons. Sometimes some problems occur in people with darker skin tones, which are also minor. Your dermatologist will recommend the instructions for pre- and post-treatment of your skin.
Dive Deeper: Laser Hair Removal – Here's What You Need To Know
Gather the Above Points Together: –
Recently, laser hair removal has played an essential role in the treatment of many problems, whether related to the skin, hair, or nails. In the world of laser medicine, many new technologies have arrived, nevertheless one of the most important advances is that people can safely go through hair removal treatment.
Today, problems like lightening the skin or removing unwanted hair growth can be solved with the help of laser hair removal treatment.
Now you can sleep easily because you have the solution and the details to make an informed decision.
At Musk Clinic, we promise to strive to make you look the best version of yourself. 
Our aesthetic experts are specially trained to perform complex procedures using state-of-the-art equipment.
If you're still unsure, feel free to reach out to us at Musk Clinic. We're Gujarat's one of the few certified clinics offering completely safe Laser hair removal treatment. For more information, get in touch with our experts.

Read More:
Laser Hair Reduction – Pros and Preventions
5 Most Common Myths and Facts About Laser Hair Reduction
Laser Hair Reduction Treatment