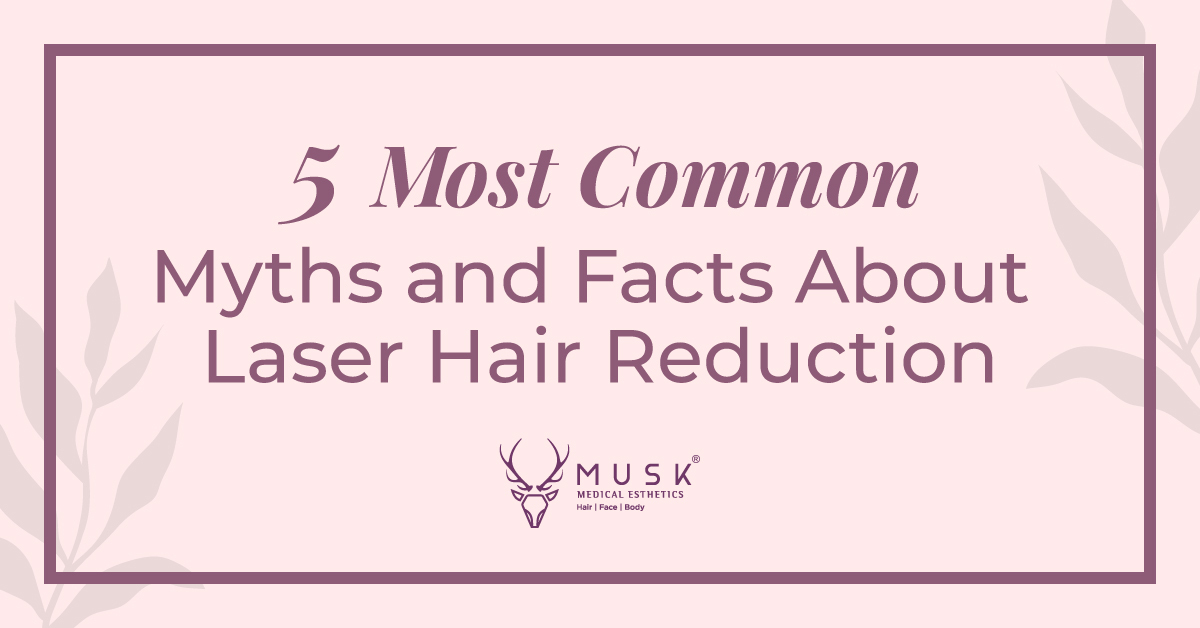 Posted on September 2, 2022
By now you likely have that regular hair removal routine and one you are tired of doing. Shaving, waxing, or using harsh hair-removing chemicals to get rid of unwanted hair is not everyone is a fan of. 
But there's the one whose everyone is a fan of – Laser Hair Reduction. Laser Hair Reduction is the most advanced cosmetic procedure designed for removing unwanted hair from the face, leg, arm, underarm, bikini line, and other areas. 
The laser hair reduction treatment is the fastest and safest effective treatment that precisely removes the hair without damaging the skin.
But even after knowing all its benefits, what's stopping you from getting laser hair reduction?
Are you also the one trapped in absurd myths?
We are in the age of information, though untangling fiction from fact can be a hairy situation. 
So today, we'll be busting myths and shedding some light on laser hair reduction facts to help you make an informed decision.
Ready to get schooled?
Read on for the five most common myths and facts about laser hair reduction you need to stop believing.
Myth 1 – 
LHR causes the hair to grow more dense & frequent
Fact 1 – 
That's not true! Laser hair reduction doesn't cause the hair to grow thick or increase hair growth. In fact, after each successive session, you can see a visible reduction in the density, thickness, and hair growth. If statistically speaking, a 10 to 25% reduction in hair growth after each treatment session can be seen.  
Myth 2 – 
Laser Hair reduction is not safe
Fact 2 – 
 Laser hair reduction is FDA – recommended & approved hair reduction treatment that's completely safe to use. And it is always recommended to go to a trained and certified Dermatologist who uses an FDA-approved system with the right parameter to perform the treatment.
Myth 3 – 
Costly as compared to waxing 
Fact 3 – 
It's simple math, the cost of laser hair reduction is much less than the cost compared to regular waxing for the rest of your life.
Laser hair reduction is definitely a cost-effective method that is not only safe and quick but also much more efficient than other hair removal techniques.
Myth 4 – 
Laser Hair Removal causes skin cancer
Fact 4 – 
Laser hair reduction has no long-term side effects. The radiation caused by the laser during the treatment is very minimal and does not penetrate beyond the skin, hence there is no such chance of causing cancer due to the treatment.
As mentioned above, laser hair reduction is completely safe and FDA-approved that instead treats various skin cancer and sun damage.
Myth 5 – 
Laser Hair Removal makes skin dark 
Fact 5 – 
When the right technology is used for performing the laser hair reduction treatment in the right setting by a qualified and trained professional, then patients don't experience any side effects.
Also, the laser emits a concentrated beam of light that just targets the melanin present in hair follicles and not the skin, so it doesn't make the skin dark.
No more red flags
So, now as we have cleared the myth air, it's your time to put your knowledge to good use and finally opt for the laser hair reduction treatment you were planning for a long time.
Again, keep in mind to get your treatment from a certified clinic and well-trained doctor. 
Well, that's too not so far to look for! 
Musk Clinic is multispecialty skin & cosmetic clinic in Ahmedabad that provides the best laser hair removal treatment with utmost care and safety.
So, what are you waiting for? Book yourself a laser hair reduction treatment and flaunt the hair-free skin of your dreams with ease.
Still have doubts about laser hair reduction?
Get in touch with us, and we will be happy to help.
Also, follow us on social media to keep yourself updated and informed about various cosmetic facilities.