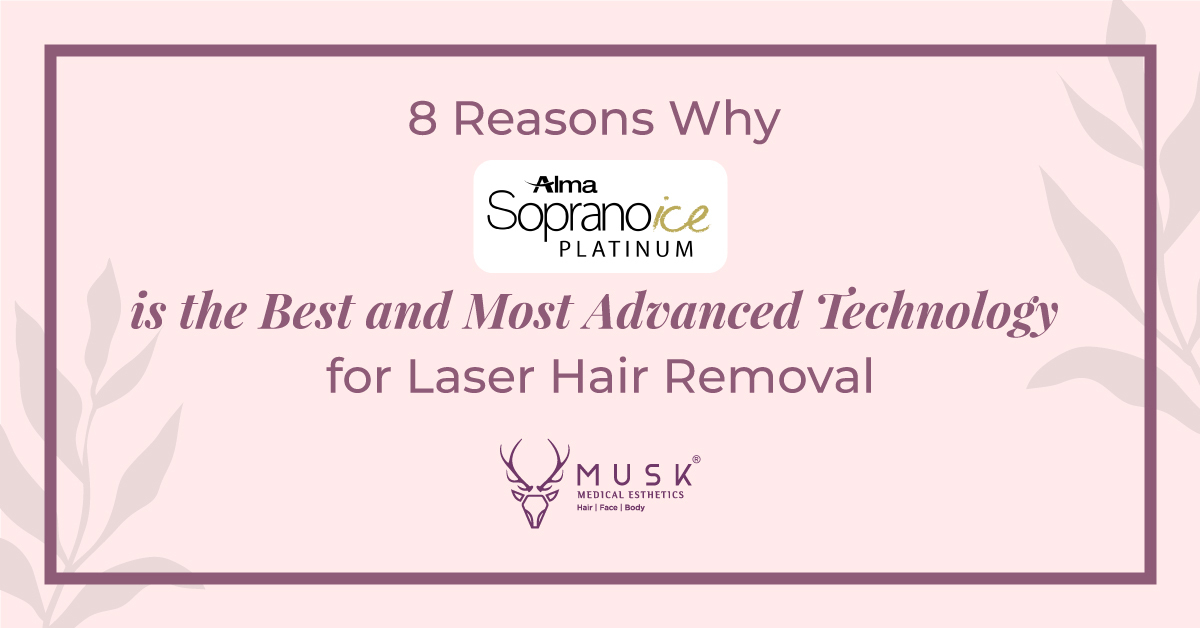 Posted on December 1, 2022
Whether it's about men or women, skin hair removal is necessary to keep it fresh and healthy – whereas waxing or shaving stands as the most debated point of the situation. 
So let's get on a few of the pros and cons of both, for more clarity and choosing the right skin hair removal method for you.
Waxing
You must have ¼" to ½" hair length to get waxed

Results last between 3 and 4 weeks

As hairs, directly get pulled from the roots – can cause inflamed hair follicles, redness, and itchiness

Hairs turn thinner over time the time

Hot wax can create skin bumps – in case your skin is more sensitive; waxing can also cause you bleeding and rashes

Shaving
Any length of hair can be shaved

Results only for 1 to 3 days

As hairs just get only removed from follicles – it doesn't harm any root intact

The thickness of hair remains constant after shaving

Dull blades can cause cuts, skin irritation, and even skin allergies
But what if you are looking for a permanent hair removal solution, in which sessions just take 10 minutes or up to an hour – depending on the skin portion you need to be treated, and that too without troubling you with any pain or bleeding effects?
"Sounds like a one-stop solution, isn't it"? Then let the Alma Soprano Platinum walk in!
Introduction to Alma Soprano Platinum:
The most safest and advanced technology for permanent hair removal – featuring trio clustered diode technology, which stands as an edition of 3 combined laser wavelengths in a single handpiece that targets the tissues in-depth as well as anatomical structures. 
The combination of these three different laser wavelengths, absorption, and penetration levels makes it suitable for all skin types and specialized for darker ones. 
Alma Soprano Platinum treatment consists of a diode laser (an electrical component that enables laser flow in only one direction) concluding the entire process in a coverage, comfortable, and low-maintenance manner. 
With its proven safety records, Alma Soprano Platinum is clinically claimed as one of the safest and most effective hair removal treatments for the last 10+ years.
The introduction might not be enough, so let's move to 8 proven notes of Alma Soprano Platinum which makes its best and most advanced technology for laser hair removal.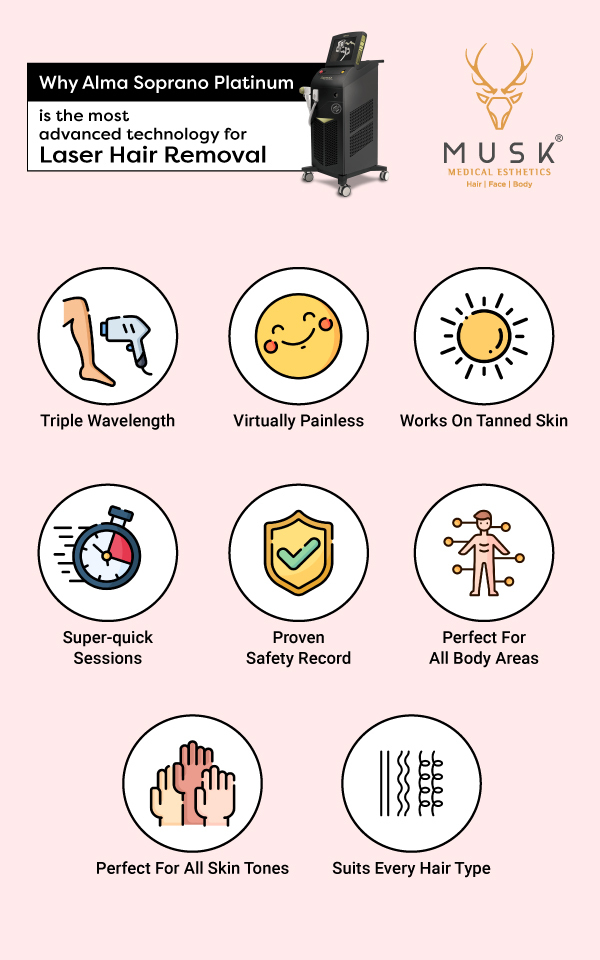 #1 Triple wavelength
The triple wavelength in Alma Soprano Platinum is a combination of ALEX 755 NM WAVELENGTH, SPEED 810 NM WAVELENGTH, and YAG 1064 NM WAVELENGTH
ALEX 755 NM WAVELENGTH: Suitable for the widest hair types and colors
Alexandrite wavelength has the most powerful energy to absorb the melanin chromophore; substances that produce hair and skin pigmentation making it ideal for all skin types and colors – especially for thin and light-shaded hair. 
SPEED 810 NM WAVELENGTH: Cut off skin treatment time to half
It is a classic wavelength in laser hair removal that enters the deepest layers of hair follicles with high average power at a high repeating rate with a large 2-centimeter square spot size for treatment. These features of SPEED 810 NM WAVELENGTH make the procedure quicker and safer simultaneously.
YAG 1064 NM WAVELENGTH: Most suitable for darker skin types
This wavelength is incorporated with the epidermal (outer coating of the two main layers of the skin) cooling devices that ensure little to no epidermal damage – making it the safest laser hair removal treatment for a person having olive to darker skin tones.
#2 Virtually Painless
Alma Soprano Platinum is the only laser hair removal treatment that is clinically proven as a virtually pain-free treatment! Alma Soprano Platinum effectively targets the hair follicles with slight heat treatment while protecting its surrounding tissue even from minor damage and pain. 
After the triple wavelength, ICE Plus is another beneficiary technology integrated in Alma Soprano Platinum. ICE Plus is primarily an advanced medical technology that treats skin with continuous cooling and facilitates it with range-controlled temperature throughout the entire treatment.
These attributes by ICE Plus minimize the epidermal risks by maintaining an equal balance of heat within the dermis where hair follicles treatment takes place.
#3 Works on Tanned Skin
Even if you go with laser hair removal, not all devices can treat tan skin but fortunately Alma Soprano Platinum does!
Sun exposure is less harmful to the skin following SHR treatment and Alma Soprano Platinum gets categorized under the same – that straight impacts on melanin of the skin with its unique procedure enabling the treatment to be operable anytime in the year as well as on tanned skin.
#4 Super-quick sessions 
Got a tight schedule? No worries trio clustered diode technology of Alma Soprano Platinum would work for this too as treating an approximate hair area of quartered size is just a second of work for Soprano laser hair removal. 
If your target includes small areas like the upper lip, the procedure would be completed in less than a minute and if you want large areas such as the legs or back to get treated – it may take up to an hour.
#5 Proven Safety Records
Marked as 10+ years of clinically proven laser hair removal treatment! With its effective treatment and suitable laser wavelengths for each skin tone and hair type, Alma Soprano Platinum is authorized as the most safest and advanced permanent hair removal technology. 
#6 Perfect For All Body Areas
Soprano platinum is a precise technology, with which you can easily and trusty choose any body areas to get treated and enjoy smooth and glowing skin. 
Most Body Areas Treated With Alma Soprano Platinum:
Women 
Face

 

Cleavage

 

Abdomen

Back

Legs and Arms

Bikini
Men 
Beard Shaping

Neck

Underarms

Back & Chest

Legs

Arms
#7 Perfect For All Skin Tones
With Alma Soprano Platinum you always consider protection as the first offering, as YAG 1064 NM WAVELENGTH is part of its triple wavelength feature any skin tone (including dark tones) can get treated and is safe with this medical technology. 
#8 Suits Every Hair Type
"Skin tones, areas, tanned – everything got covered but what about hair types? If I have fine hair can Alma Soprano Platinum treat it?" – Well, a yes-yes to this too. Alma Soprano Platinum suits each and every skin type
No matter if you have; fine, resistant, lightly colored, or any other hair type or color laser hair removal by Alma Soprano Platinum could be a one-stop call for you!
Tick-Tock! Time To Take A Wise And Healthy Decision For Your Skin.
As the first thing we noticed was your current sceneries – the waxing and shaving and their pros and cons, which were not so satisfactory according to your " Need a permanent hair removal solution" requirements.
Then the heroic walk-in of Alma Soprano Platinum, with its clinically proven, advanced technology, and safety records covering requirements of all skin types, tones, and hair colors while reserving a small pie from your routine. 
If you are looking for some more assistance on the same or a trustable laser hair removal clinic in Ahmedabad performing Alma Soprano Platinum treatment, here you get in touch with us at Musk Clinic. Till then wish you smooth as glider skin!