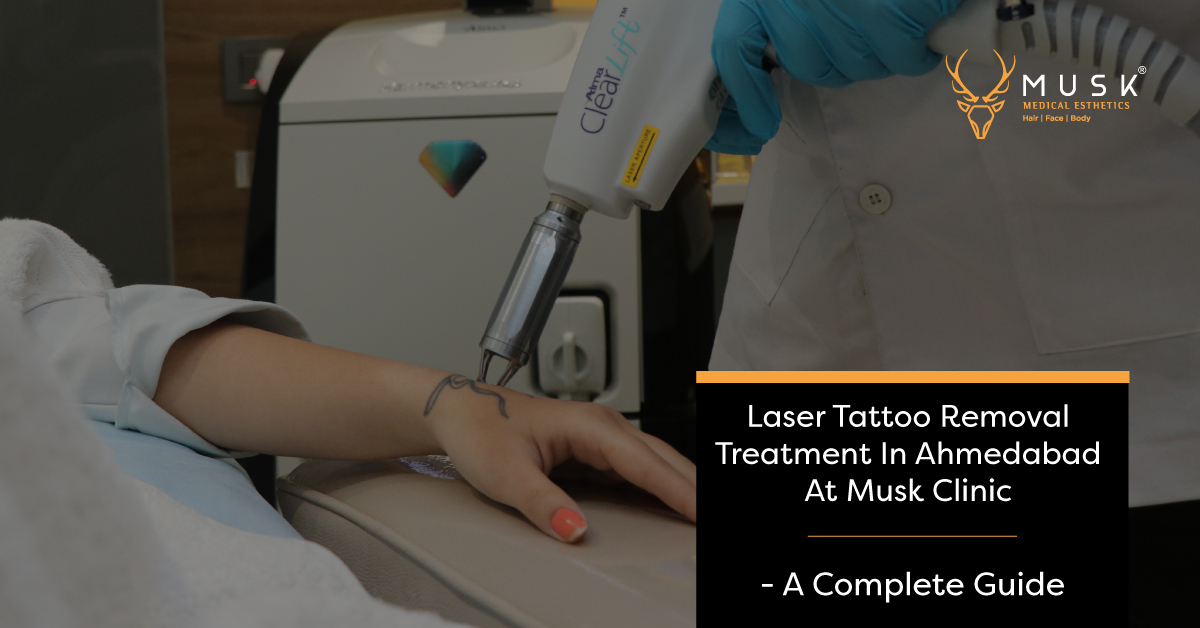 Posted on December 28, 2022
Remember? when unicorns and lightning bolts used to be at the top of the list things that could make us excited – that fever of early age that drove us to get those stuff tattooed on our arms. 
But the ages have faded and so do our choices, as an adult that body art might go out of our trend dictionary or even come in the way of the things we are planning to pursue. 
This might sound quite suspicious but – when an individual is looking for a career change or even choosing a field that includes live interaction with clients, tat portion (that can't get covered) does create an unprofessional impact. 
These sorts of situations actually make one worried about that body ink over and over again, which can also lead to feeling stuck in the doldrums and unable to demonstrate their real professional potential.
Balancing work-life is one but not always the motto for tattoo removal, sometimes it could be because of some background things running in our personal life too such as you might get simply over it, that tattoo gets fading, change of mind or that art doesn't turn out in the way you wanted – it could be simply anything.
So let's proceed with overcoming this scenario and queries that usually arise while thinking of permanent tattoo removal most of the time it goes like; "can a permanent tattoo be removed? If yes, which tattoo removal process is best? Does tattoo removal have side effects?"
A short and simple answer is – Laser Tattoo Removal. The briefing you are looking for the same requires quite more detailing, so let's get on it!
What is Laser Tattoo Removal?
This procedure includes high-powered laser beams, no matter how deep and which color ink has been placed in your skin these laser beams assure to reach each of them and break down into smaller pieces – making it easier to get removed by the immune system.
As a black tattoo is an absorber of each laser wavelength, it is the easiest color to get treated by laser tattoo removal. Generally, 6-8 sessions are required for complete tattoo removal but please note that each tattoo's pigment color and intensity are different, so the number of treatments may also vary.
* Thus, predicting the exact number of sessions doesn't seem possible here – but you can definitely ask your dermatologist to survey and answer you on the same. *
According to clinical tests and doctors, Alma-Q is a proven laser tattoo removal technology that offers the safest and most precise result. Laser conducted by this Alma-Q technology consists of high-intensity light beams that deliver various laser wavelengths targeting different ink colors at the same time.
The results? photoacoustic shock waves that break tattoo to the smallest ink particles making skin clear and ink-free with minimal risks of affecting surrounding tissues. 
Pre-care of Laser Tattoo Removal
You should be freshly showered.

Not to apply lotions, oil, creams, or any scents.

Discontinue self-tanning skin care products before 2 weeks

Topical products should be avoided (such as hydroxy acids, salicylic acid, and retinol)

If receiving any medical treatments such as BOTOX®, dermal fillers, or spa services – must discuss them with a dermatologist before the treatment.
Process of Laser Tattoo Removal
First of all, you should mind that the process will be placed on your skin – the measures before, during, and after the process should be precise so that you can achieve desired results with minimal side effects. Therefore, consulting a professional dermatologist is a must for laser tattoo removal. 
Once you get in touch with a dermatologist, your health's overall stats get evaluated by them so in case you have any pre-existing health issues, or risk factors it can get clarified with you prior to the treatment. 
After clarifying each query, the dermatologist will step further with treatment procedure options and recommendations that suit your skin best. At last, the entire outcome will be discussed with you – so feel calmer during the procedure. 
When the live treatment will be concluded, results will be shown to you with the pair of laser tattoo removal before and after photographs.
How does Laser Tattoo Removal Treatment work?
The heated beams of laser light get entered to deep ink-containing skin layers, then with its photoacoustic shock results – the tattoo gets shattered into numerous small pieces which lastly get eliminated by your immune system. 
Previously, these treatments were usually avoided by individuals having dark skin as might result in changes of skin pigmentation but after Alma-Q-switched Nd: YAG this concern also ended. 
Alma-Q not only treats but also improves skin tones and texture with specific targeting only to ink molecules (not in surrounding skin), and quick and short beams to different ink with specific laser wavelengths. 
Laser Tattoo Removal Side Effects
After receiving laser treatment, your skin needs a while to recover but there are some temporary and usual side effects you may see during this span. 
Swelling

Scars

Raising of treated skin 

Slight bleeding

Redness
Laser Tattoo Removal Treatment
Aftercare
Avoid much sun exposure

Keep the treated area clean and dry

Rigorous exercise should not be done in the next 24 hours

Not to pick scratch on the treated portion

Avoid smoking and alcohol for quicker results
Laser Tattoo Removal FAQs
1. How long does it take for a tattoo to be fully removed?
A maximum number of patients needs 6-8 sessions for complete tattoo removal, a bigger one can take up 10 sessions too. It mostly depends on the size, density of the ink portion, and the number of pauses your skin needs to handle the treated area.
2. Does tattoo removal hurt?
It does but under bearable limitations. Some patients state pain as equal they got during having a tattoo and for others, it's much more minor. 
3.Will laser tattoo removal leave a scar?
Scarring from laser tattoo removal is noted as the most unusual side effect, it only occurs when the patient hasn't received or practiced mentioned protocols by the dermatologist.
4. Are there side effects of laser tattoo removal?
Yes, it does have but most of them are temporary and usual. Common side effects of laser tattoo removal have been mentioned above; if you see any other from them – you must consult your dermatologist straight away!
5.How long does tattoo removal heal?
If the treated area is small it will only be about 1-2 weeks, on the other hand if the treated area is big, laser tattoo removal healing process might take 6-8 weeks.
Let's Wrap Up!
Hope all your queries get an answer, "think before you ink" – this saying will be a recommendation from our side, and even if you already got one there is nothing to get worried about, Musk Clinic will be glad to help you get rid of it. If you still have some queries, you can share them with us today.
Read More: