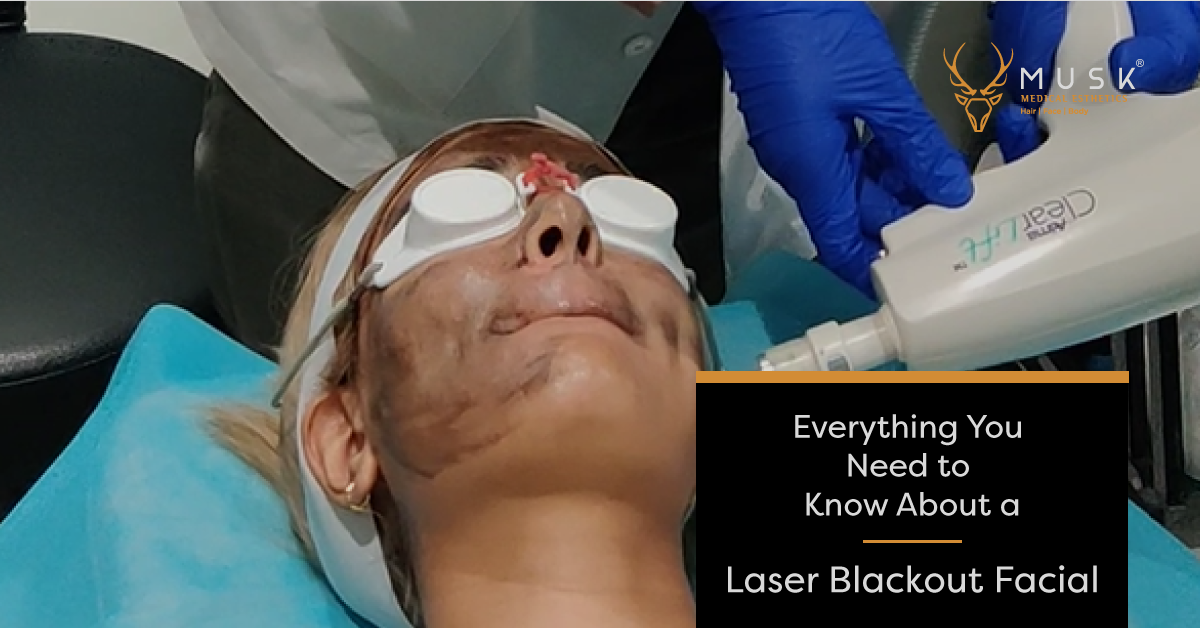 Posted on June 10, 2022
Laser Blackout Facial
A laser blackout facial (carbon peel laser facial) is a next generation laser-based treatment. It is a fast, painless treatment which gives instant results and works with reduced to no downtime(lunch time procedure). Also known as Hollywood laser peel, it is very famous among A-list celebs.
How laser Blackout Facial works
This Laser facial is delivered with state of art Q switch Nd – Yag Laser machine over a layer of liquid carbon which dries and penetrate deep within pores. The laser machine produces short, rapid, and high intensity pulses of light which heats carbon and destroys debris clogged in the pores and superficial dead skin. The laser energy also heats the dermis which stimulates collagen and tightens your skin. The final result is smoother, brighter, rejuvenated, and younger looking skin. This is non- invasive treatment, and the best part is you can go back to your work or daily life without any delay.
It is highly preferable by the people having:
Oily skin
Enlarged pores
Clogged pores
Excessive blackheads and whiteheads
Acne blemishes on the face or skin
Dull skin
Tanned skin or sunburns
fine lines
How Laser Blackout Facial Treatment is Undertaken
It is recommended to consult a licensed expert or well-known aesthetician to avoid side effects and extreme complications. It takes around 30 minutes to an hour for each sitting to complete the treatment.
The treatment begins with applying a layer of liquid carbon to the skin which goes deep down the skin pores. After a few minutes, the carbon dries and sticks to the dirt particles present inside the skin. Later when the laser energy is passed across the skin, laser beam being highly attracted to carbon particle destroys carbon along with dirt, debris, pollutants and superficial dead skin.
While getting carbon laser facial, there is feeling of heat and pricky sensation but no pain, so no numbing cream is applied. As the carbon particles are targeted with laser energy, loud click sound is heard.
.
Here's a step-by-step guide to conducting the laser blackout treatment effectively:
The face is thoroughly cleansed with cleansing lotion.
Thin layer of carbon is applied on the affected skin which gets absorbed deep within the pores on your skin.
Relax and wait for 10 minutes till the applied carbon dries.
Prior to laser session, you'll be asked by the expert to wear eye shields to protect your eyes.
The first pass of the laser facial is done with the help of 10mm clearlift tip which is the most comprehensive Q switch Nd yag laser. This evaporates carbon particles along with superficial dead layers of skin.
Once the carbon gets heated up, the dust attached with carbon is taken out using a smoke evaporator.
The subsequent passes are done to maximize the effectiveness of laser facial with two different modes of laser delivery system according to specific skin concerns.
After laser passes, cooling and hydrating mask is applied as per your skin type.
After the treatment, moisturizer and sunscreen is applied over your face.
As the treatment gets finished, you should immediately see brighter, glowing skin with tighter pores.
Benefits & Side Effects of Carbon Peel Laser Facial
The laser blackout facial deeply cleanses the skin and provides an even skin glow along with a smooth texture. The treatment is beneficial for treating several skin problems. It results in the following way to help clients leverage utmost benefits as below:
Deep cleansing of the skin eliminating debris and dirt particles from the depth
Penetrates down the skin, absorbs oil and removes contaminants from the skin pores
Performs skin exfoliation to pull out the dead skin cells
Reduces blackheads and whiteheads
Improves skin having acne and acne spots caused by excessive oil glands
Reduces pore size and gives smoother texure
Lends soft and bright-toned skin
Penetrates deeper layers of the skin and makes skin tighter.
Produces Collagen which reduced fine lines and wrinkles
Reduces freckles, Melasma, Sunspots and pigmented age spots
As far as side effects are concerned, it may cause a bit of redness and an itching sensation which is temporary. There are no long-term side effects of the treatment.
Tips for After-care Post Laser Blackout Facial
Every skin treatment requires after-care to receive better results. Laser blackout facial also calls for fixing a skincare routine to enjoy the benefits gained for a long period. Using a prescribed SPF sunscreen tops the list.
You should keep track of the essential tips below to avoid any drawbacks:
Keep your skin hydrated and moisturize it after regular intervals
Use sunscreen with minimum SPF 30+ after treatment
Avoid using retinol as the treatment has already done everything that retinol does – exfoliation, dead skin removal, and skin clearing.
Do not exfoliate the skin with any scrub or facial cream for at least 10 days after treatment. It is best to avoid using make up on the same day of treament.
Use skincare products given to you for specific concerns to see better results
As mentioned earlier, you can see the effects of glowing skin after the first treatment, however, to experience enhanced results, you will need to go through 4-6 sessions, anywhere from 3 week to 1 month apart as per your skin concern. Significant results are known to be seen after the fourth treatment.
Cost of Laser Carbon Facial Treatment
The treatment cost depends on the number of sittings, geographical location, and the professional expert you choose. As for the insurance coverage, this is a cosmetic treatment and therefore, it may not get covered by your medical insurance plan. For a clear estimate, you can reach out to Musk Clinic at https://muskclinic.com/contact-us/
Conclusion
Laser Blackout Facial is the most luxurious and advanced laser based medical facial. It helps make the skin look luminous and radiant. This painless treatment is further widely preferred as you don't have to take much after-care or wait for the recovery time. It can be done as lunch time process or before any of your big event to reap the benefits of instant results in no time.
That being said, we hope you finally have all the essential details to make an informed decision. And if you're planning for a laser blackout facial, there is no place better than Musk Clinic for this treatment. We have a highly-qualified team of professionals with practical experience in performing successful laser blackout facial treatments. For further details about our laser blackout facial treatment, please visit our official website.