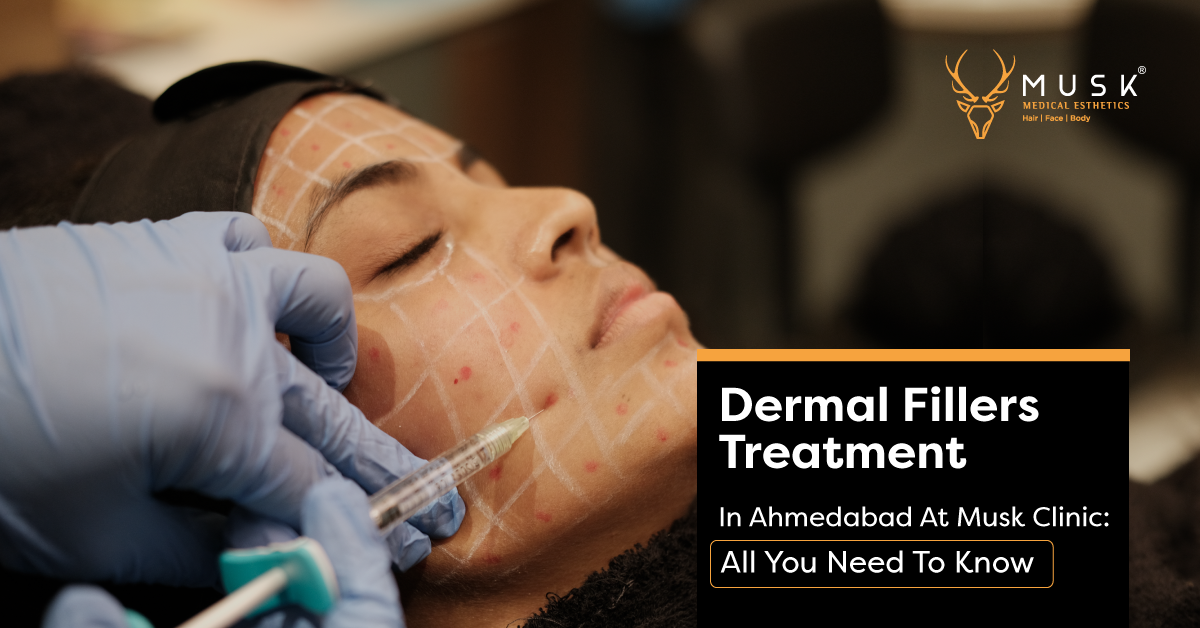 Posted on December 22, 2022
Are you looking for a safe and less invasive option to enhance your facial features, lessen common signs of aging, and obtain a youthful appearance? 
Seeing lines and wrinkles on your face can be a frustrating experience. But it's natural as we age. 
The good news is, medical science has made rapid advancements over the past decade. 
Today, you've plenty of anti-aging products and treatments to choose from. Dermal fillers are one such treatment that can help to minimize these signs of aging.
In this post, we've shared everything you need to know about dermal fillers to help you decide if it's worth considering or not.
What are Dermal Fillers?
Dermal fillers are a type of nonsurgical cosmetic treatment. It can help to fade wrinkles and lines from your face, lessen the common signs of aging, and make you look younger again.
In this treatment, naturally-derived or synthetic material is injected to plump up your skin and restore volume in your face. 
Dermal fillers treatment has several benefits such as:
Add volume to your sagging skin

Enhance your facial features

Plump up your cheeks & lips

Eliminate wrinkles & lines from your face
There are various types of dermal fillers you can choose to get.
However, it's best to leave it to a professional dermatologist to determine the best option for you.
What to Expect in Dermal Fillers
Now that you know what are dermal fillers and how the treatment can help you, let's discuss what you can expect in dermal fillers treatment.
Before Procedure
Before giving you the injection of the dermal fillers, your dermatologist will examine your face and ask which areas of your face would you like to enhance with this treatment.
They will mark the area of your face with a marker to show you where the injections will be given. Before starting the treatment, they'll even take pictures of your face from different angles.
Afterwards, your dermatologist will ask about your medical history. If you have any skin conditions or allergies, it's best to share them with your dermatologist before the procedure.
After assessing your medical profile, your dermatologist will review the options with you and discuss possible recovery time and risks (more on this later).
During Procedure
Most dermatologists give dermal fillers injection in their clinics. During this treatment, they will begin by cleaning your skin and applying some cream or lotion along with an anesthetic. 
The anesthetic will numb the marked area so that you fill minimal pain and feel more comfortable during the procedure. 
Once the skin goes numb, your dermatologist will use a thin needle syringe to begin injecting appropriate amount of fillers under your skin. The needle may sting or pinch a little, but most patients hardly feel any pain during this procedure. 
Based on your goals, your dermatologist will inject the fillers to the several areas of your face skin. The entire procedure may take from a couple of minutes to an hour.
After Procedure
After giving you the injections of dermal fillers, your dermatologist will clean your skin once again. They'll even offer an ice pack to minimize swelling and ease the pain. 
After some time, you may see visible swelling, bruises, or discomfort after receiving the treatment. These are all completely normal and are just a mild side effects which will go away completely in a couple of days.
As for the results, most people start witnessing changes right after getting the injections. However, it mostly depends on your body. 
Put it simply, how long it take to witness results and how long they last depends on various factors, including the type of dermal fillers you received.
Risks Involved in Dermal Fillers Procedure
As with any cosmetic procedure, there are risks involved in dermal fillers treatment as well. But most side-effects are only temporary. 
Some of the common side-effects of dermal fillers procedure include:
Rash & itching

Lumps or bumps under your skin

Bruising, pain, redness, and swelling

Asymmetrical appearance

Skin infection (in rare cases)

Numbness
If you see any of the side-effects after receiving dermal fillers treatment, it's best to consult with your dermatologist to make them go away.
How Long Do the Results Last?
Depending on type of filler you choose to get, results can last anywhere from a few months to even a couple of years. New types of dermal fillers have even shown to last longer than 2+ years.
Parting Thoughts…
Dermal fillers has become quite a common treatment around the world, including India as well. If you're from Ahmedabad, there are plenty of dermatologists providing dermal fillers treatment.
However, if you're planning to get this treatment, it's best to get it from a reputable clinic. 
Musk Clinic in Ahmedabad is one of the clinics you can consider to get dermal fillers treatment from. They follow all safety standards and only use FDA-approved fillers. So you can rest assured that the chances of any sort of side-effects will be mostly non-existence.
Read More:
Botox Treatment in Ahmedabad at Musk Clinic – A Detailed Guide