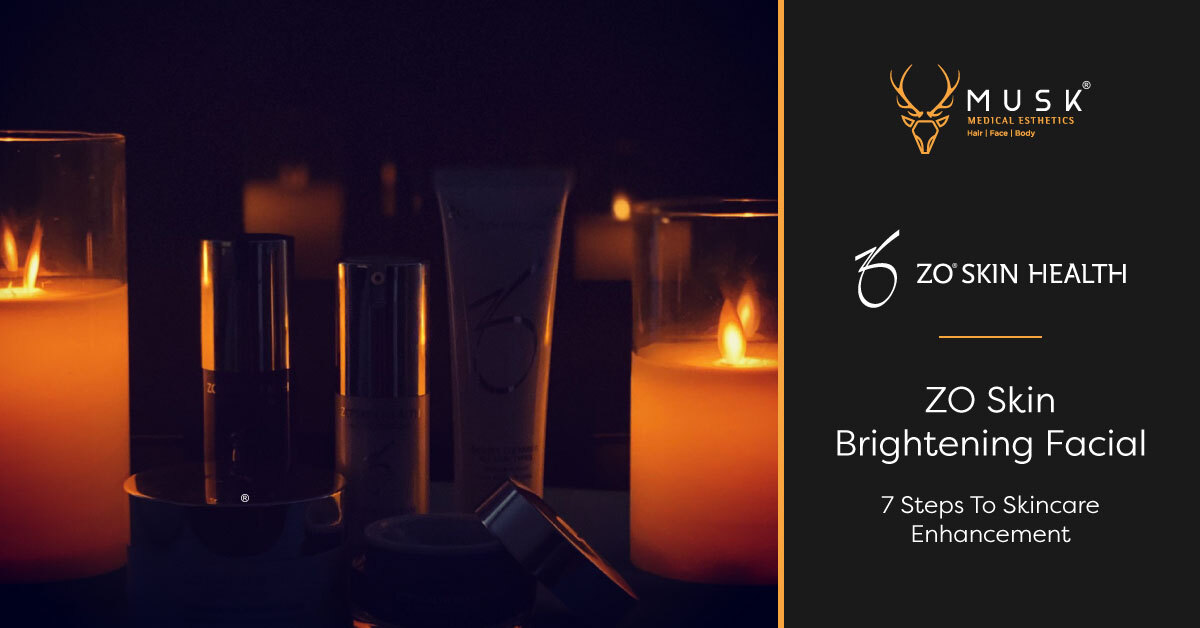 Posted on November 11, 2021
All men and women, regardless of age or ethnicity, want clear, even, and radiant skin. For most of them, the challenge to accomplish radiant skin starts with dark spots or hyperpigmentation caused by the accumulation of melanin – your natural skin pigment. Dark spots, pigmentation, and blotchiness caused by sun damage and the aging process stand in the way of clear and radiant skin. Other roadblocks to clear skin are dryness and breakouts caused by hormonal fluctuations related to life changes and stress. For a condition like this, we have added a phenomenal treatment to our basket of medical treatments. This rejuvenating treatment is called The ZO Skin Brightening Facial.
Suitable for all skin types, the facial comprises of 7 steps that use various sensational medical-grade ingredients by The ZO Skin Health company, the USA from the world-renowned Dr. Zein Obagi.
Step 1: Skin Cleansing
The procedure begins with skin cleansing. ZO's gentle exfoliating cleanser helps with normal to oily skin that targets surface oil leaving the skin feeling clean but not stripped and dry.
In a nutshell, the ZO Exfoliating Cleanser
– Cleans away debris, oil, and makeup
– Helps remove skin clogging cells
– Exfoliates and decongests skin
– Helps reduce inflammation
Step 2: Skin Polishing
After cleansing of the skin, it is essential to further exfoliate the dirt and dead cells from the skin. ZO's exfoliating polish certainly does the job pretty well.
The polish is suitable for all skin types. It contains ultra-fine magnesium oxide crystals that help in exfoliating dead skin cells to create a clear, smooth, and even-toned complexion.
ZO Exfoliating Polish works by
– Instantly smoothening the skin
– Gently dissolving oil, and removes dulling, clogging skin cells
– Replenishing hydration and healthy lipids
– Brightening the skin
Step 3: Skin Toning
As the dead skin layer is exfoliated, the treatment focus now shifts to brightening the skin tone. It follows with ZO's Complexion Renewal Pads.
These are medical-grade moistened cotton pads that help minimize surface oil and exfoliate pore-clogging dead skin cells & dirt.
ZO Complexion Renewal Pads offer the following benefits:
– Minimizes surface oil and exfoliates pore-clogging dead skin cells
– Prevents breakouts
– Helps in toning the skin
– Replenishes hydration
– Provides antioxidant and anti-irritant benefits
Step 4: Medical Peel
After toning the skin, it is time to address the dark spots and pigmentation with a medical peel. The peel inhibits the excess melanin produced due to typical damage. It is then rinsed off and neutralized with water after a couple of minutes.
The Medical Brightening Peel
– Reduces spots and sun damage
– Helps in even skin tone
– Inhibits excess melanin production
– Gives a clearer and bright complexion
Step 5: Power Serum
Once the peel is completed, ZO Skin Health's Daily Power Defense serum is applied all over the face. The serum acts as a powerful antioxidant product designed to improve the appearance of fine lines & wrinkles and to address future damage.
ZO Daily Power Defense offers the following benefits:
– Supports skin's natural DNA repair process
– Boosts collagen and hyaluronic acid production
– Helps improve the signs of aging, lines, wrinkles, dull skin
– Replenishes lipids to optimize skin barrier function
– Provides antioxidant properties
Step 6: Brightalive Serum
The above step is then followed by the ZO Brightalive serum. It is a gentle, non-hydroquinone, non-retinol brightener for hyper pigmented skin.
The benefits of ZO Brightalive serum are
– Provides skin brightening and blocks new pigment formation
– Removes dead skin cells and helps purge existing pigmentation
– Calms and soothes skin
Step 7: Sunscreen
As with every treatment, it is essential to prevent and protect the skin from external damage by coating the skin with sunscreen. With ZO's Broad Spectrum SPF 50 sunscreen, the skin is shielded from harmful rays of sun and external pollution.
The benefits of ZO Broad Spectrum SPF 50 sunscreen are as follows:
– Provides UVA/UVB, HEV (High Energy Visible light), and IR-A (Infrared) protection
– Soothes skin and minimizes inflammation
– Offers ideal solution sensitive skin, severe acne, and post-procedure care
Update Your Skincare Routine With The ZO Skin Brightening Facial At Musk Clinic
The Skin Brightening Facial by ZO Skin Health addresses every typical concern of the face and treats it thoroughly. Not only does it exfoliate the dead skin cells on your skin but also brightens it with specialized serums. In that regard, the facial is a great addition to your skincare routine for all-round healthy, glowing, and flawless skin.
At Musk Clinic, our expert aestheticians can help you elevate your skincare with the Zo Skin Brightening Facial.