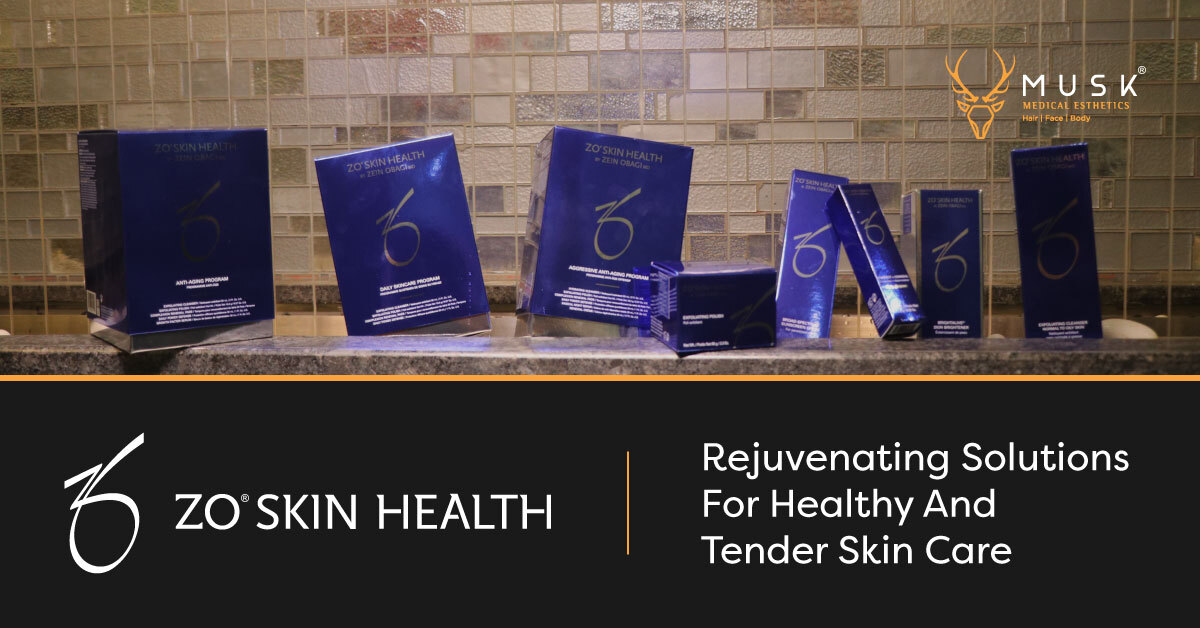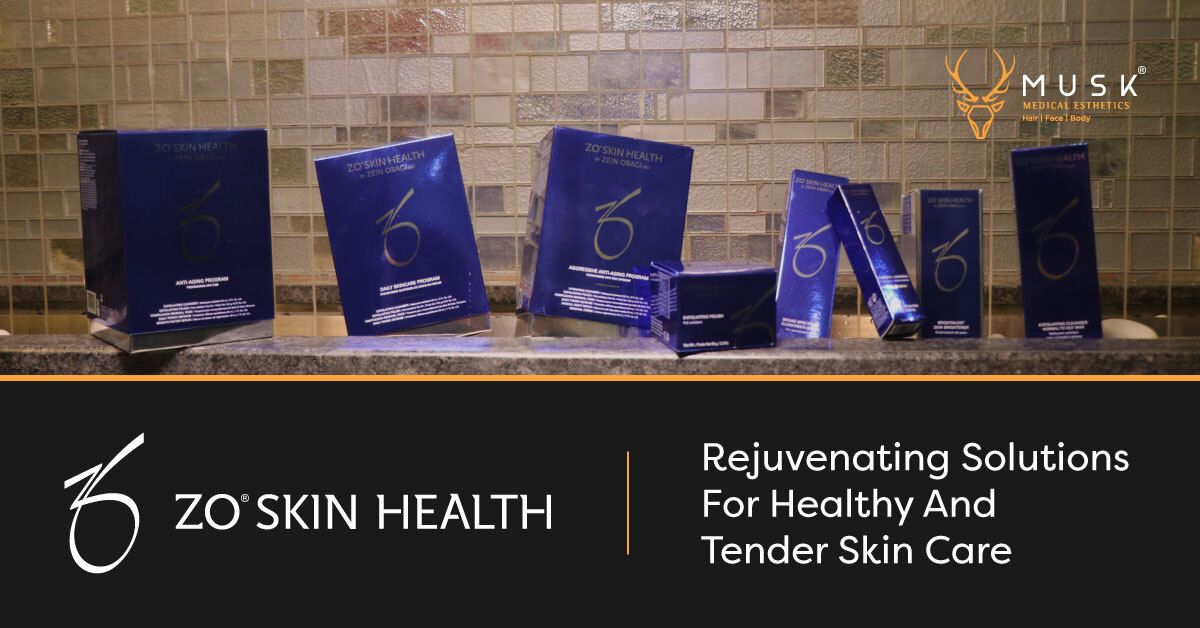 Posted on July 29, 2021
If you think about it, your skin is constantly exposed to various forms of environmental pollutants that affect its integrity and elasticity. Aging and genetics are other factors that also contribute to the detriment of your skin. In this regard, people often confuse 'average skin' to healthy skin' and neglect the need to improve their skin health. So, what defines healthy skin? Healthy skin is:
Smooth in texture
Full, firm and tight
Even in color
Naturally hydrated from within
Tolerant to surrounding environment
Free from active disease
Although, the aesthetics industry today consists of innumerable skin care solution providers, ZO® Skin Health is the most prominent name in the world.
Founded by Dr. Obagi in 2007, ZO® Skin Health was created to develop and deliver innovative skincare solutions that optimize skin health based on the latest advances in skin therapy technologies, unique delivery systems, bioengineered complexes and exclusive formulations.
Understanding The Principles
ZO® Principles of Skin Health Restoration are the core principles that serve as the driving force behind all product and protocol development.  These principles go beyond the traditional approach of treating skin. They serve as the foundation to provide a holistic approach to skin rejuvenation and maintaining healthy skin for life. The principles specifically focus on strengthening the skin, optimizing skin cellular functions, eliminating skin sensitivity and chronic inflammation – resulting in the best treatment outcomes and achieving overall skin health restoration.
Let's take a closer look at each of the 8 principles:
1. Skin Barrier Function
It is the correction of epidermal weakness and dryness by restoring water, lipid and protein balance, preventing trans-epidermal water loss and regulating natural skin exfoliation.
2. Stimulation
This involves initiating cellular activity and general repair to improve both the epidermis and the dermis through the use of retinoic acid (retinol as an alternative). While retinol addresses specific concerns, retinoic acid covers a broad range of general issues.
Stimulation via Retinol:
Targets one skin condition at a time
Vitamin A – converts to retinoic acid
Used for non-medical conditions
Used to prevent and maintain
Can be used indefinitely
Better long term tolerance/compliance
Stimulation via Retinoic Acid:
Addresses multiple skin conditions
Acid form of Vitamin A – end form
Used for medical conditions
Used for treatment
Used for short pulse periods of time
Poor long term tolerance/compliance
3. Stabilization
This includes normalizing epidermal and dermal cellular functions to prevent acquired sensitivity to treatment and enable skin to renew and strengthen itself.
4. Sebum Control
It involves minimizing excessive sebum production to treat and maintain sebum-related skin disorders, correct pigmentation problems and prevent chronic inflammation.
If not controlled, excess sebum:
Causes clogs pores, leading to acne
Manifests in sebum-induced inflammatory diseases: Acne, Rosacea, Seborrheic Dermatitis and Post-inflammatory hyperpigmentation (PIH)
Prevents even penetration of topical agents
Reduces efficacy of topical agents
May lead to treatment failure (e.g. Melasma)
5. Chronic Inflammation Elimination
It involves reducing chronic inflammation to help prevent cellular dysfunction, alteration of skin texture, true sensitivity, dyschromia, accelerated aging and poor healing and treatment response. This helps in eliminating:
Textural abnormalities
Sensitivity and dryness
Dyschromia
Impaired healing
Accelerated signs of aging
Treatment failure
6. Overcome Skin Resistance
This refers to limiting the use of medical topical agents to prevent resistance, treatment failure and complications.
Medical topical products (e.g. hydroquinone, retinoic acid) are recommended to be used short-term for therapeutic treatment of skin conditions. Upon completion of therapeutic treatment, patients should switch to a maintenance program which includes products designed to keep skin stabilized and maintain long-term results. This approach optimizes results, limits complications and prevents resistance.
Hydroquinone Usage Guidelines:Hydroquinone is essential to the treatment of many skin pigmentation disorders; however, it should not be used continuously
(a) Do not use hydroquinone bleaching products for longer than 5 months
(b) Do not use hydroquinone blending products for longer than 7 months
(c) Stop hydroquinone use for at least 2–3 months to allow skin to start producing melanin again  (Repeat another hydroquinone treatment cycle if needed)
Retinoic Acid Usage Guidelines:
Retinoic acid has profoundly beneficial effects on the skin; however, it is not recommended for continuous, long-term use.
(a) Use retinoic acid for up to 5 months and then switch to retinol for long-term maintenance
(b) Stop retinoic acid for at least 2–3 months, then repeat another retinoic acid treatment cycle if needed
(c) For active medical disease (e.g., acne, rosacea), it may be necessary to use retinoic acid more frequently to maintain control over these conditions.  In these cases, the use of retinoic acid and retinol may be alternated every 6–8 weeks.
7. Hydration + Calming
This involves hydrating the skin and reducing the severity of reactions and irritations, utilizing functional hydrators as an alternative to traditional moisturizers. Hydration + Calming is drastically helpful in increasing tolerance to programs without compromising treatment results. An important protocol of this principle is encouraging patients to "Say No to Conventional Moisturizers".
Adverse effects of conventional moisturizers include:
Cells get lazy, go to sleep, don't function at optimum levels
Reduced rate of stratum corneum exfoliation
Dependency weakens skin
Offer minimal barrier repair benefits
Not designed to penetrate the various layers of the skin, ultimately impeding true skin health restoration
8. Smart Sun Protection
This is achieved by using ZO® Triple Spectrum Protection to defend against the harmful effects of UVA, UVB, HEV, IR-A exposure, while providing antioxidant, hydrators/lipids and anti-inflammatory benefits.
It includes:
(a) UVA + UVB
(b) Broad Spectrum Protection
(c) HEV
(d) Fractionated melanin
(e) IR-A
(f) ZOX12™ 12-hour, time release antioxidant complex
(g) Hydrators/Lipids + Antioxidants + Anti-inflammatories
Your Healthy Skin Care Is Our Mission
At Musk Clinic, we create a continuum between therapeutic treatments and daily care, allowing patients to experience continuously healthy skin regardless of their age, ethnicity or unique skin condition. Our aim is to provide a comprehensive range of solutions that will restore the patients' skin to a healthy state. From correcting sun damage and pigmentation to preventing new damage + protecting against future damage, we have you covered!