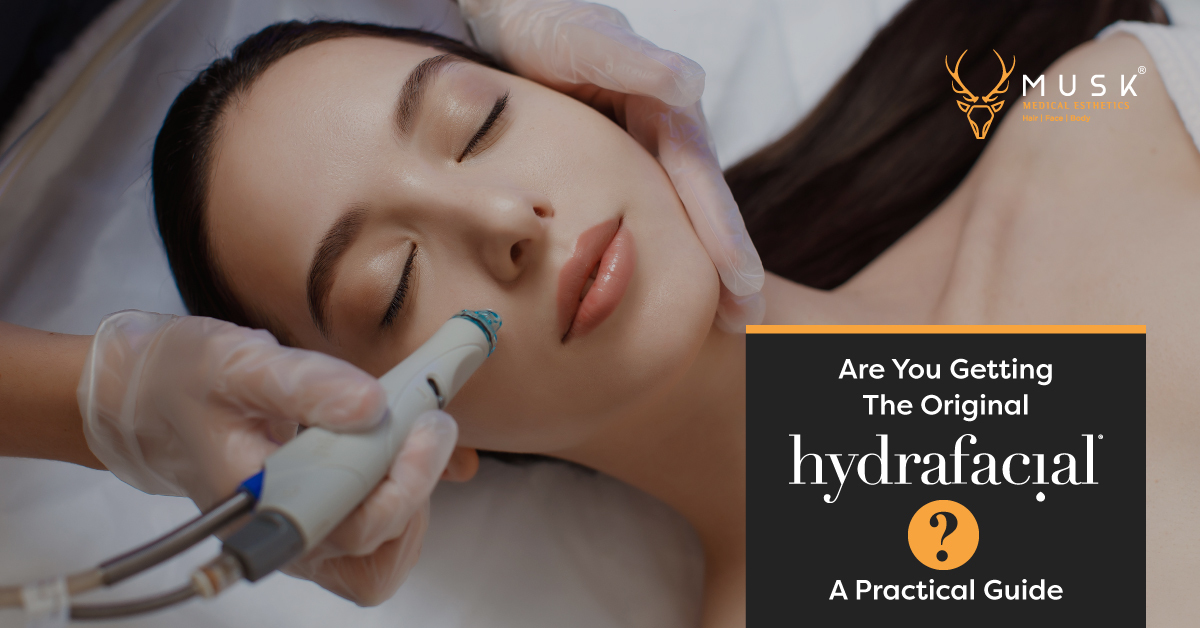 Posted on October 14, 2021
The revolutionary technological advancements in the medical field gave birth to plenty of innovative cosmetic techniques and products. This has enabled the skincare enthusiasts to improve their skin and get their glow-game on, sometimes in seconds flat. And as a result, such cosmetic procedures and products are growing in popularity. The best part is that these procedures and products are pocket-friendly, less time-consuming, less risky, non-irritating, and pain-free.
Resultantly, customers began to have plenty of options to choose from, be it the variety of cosmetic procedures and products or clinics and doctors offering them.
But unfortunately, due to the same reasons, counterfeit surgical/non-surgical procedures and unauthorized products are on a rise in the market. And sometimes, due to the lack of awareness and the right information, customers end up falling prey to them.
Among all the procedures, Hydrafacial is one of the treatments that often come under the radar, again due to its increased popularity among customers and clinicians offering them.
Hydrafacial is a patented medical facial technology from The Hydrafacial Company, California, US. It involves cleansing, extracting and hydrating the skin in a span of 30 minutes and by the use of patented skin serums & sterile tips unlike any other medical facial.
This procedure is applicable to all skin types, effective, short and non-invasive in nature and you can get it done without spending a fortune on it.
It results in an instantly gratifying glow in just three glorious steps –
Cleanse + Peel
Extract + Hydrate
Fuse + Protect
However, there are a lot of deceptions occurring on its name. Many of our clients had their concerns surrounding the procedure and they even raised certain questions: "What are Hydrafacial certified clinics?", "So many salons and clinics are offering the procedure yet why is yours costlier?" and "Are all Hydrafacials the same?".
Let's understand how to distinguish between an original and an unofficial Hydrafacial procedure.

1. The Hydrafacial Logo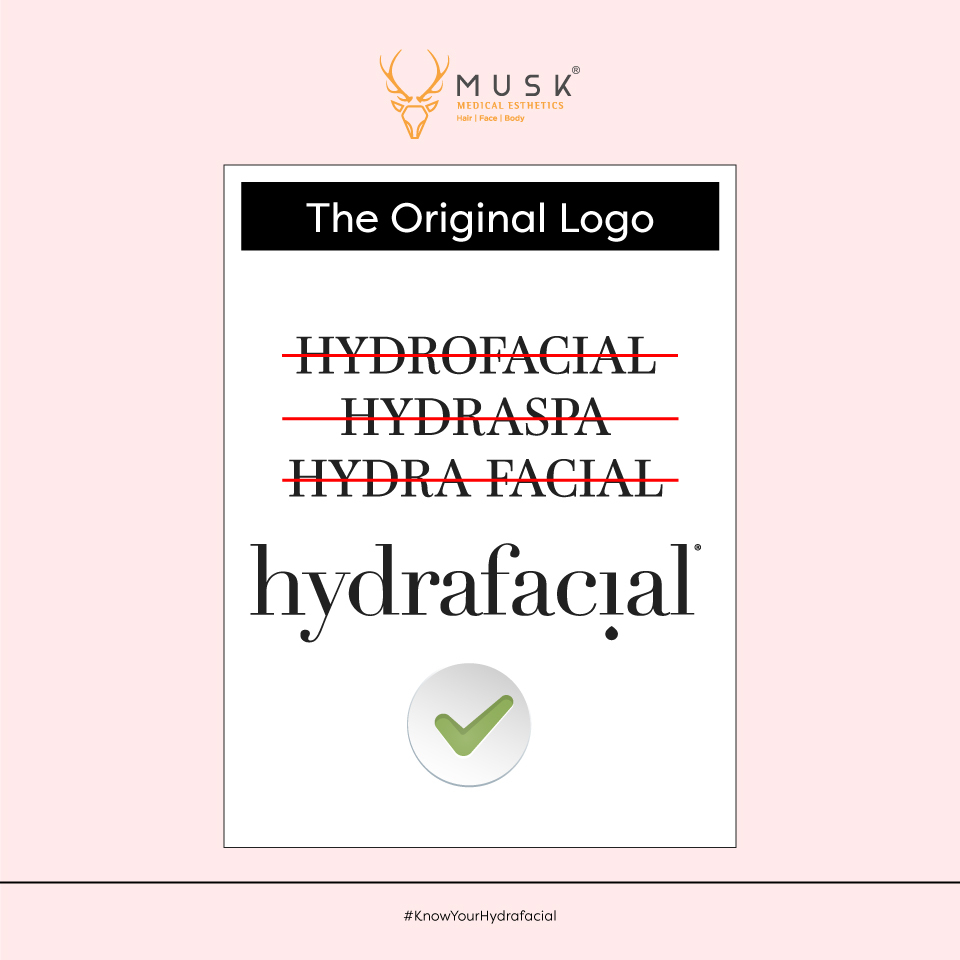 Firstly, the clients should take a hard look at the logo of the original which looks exactly as we have shown below.
2. The Hydrafacial Machine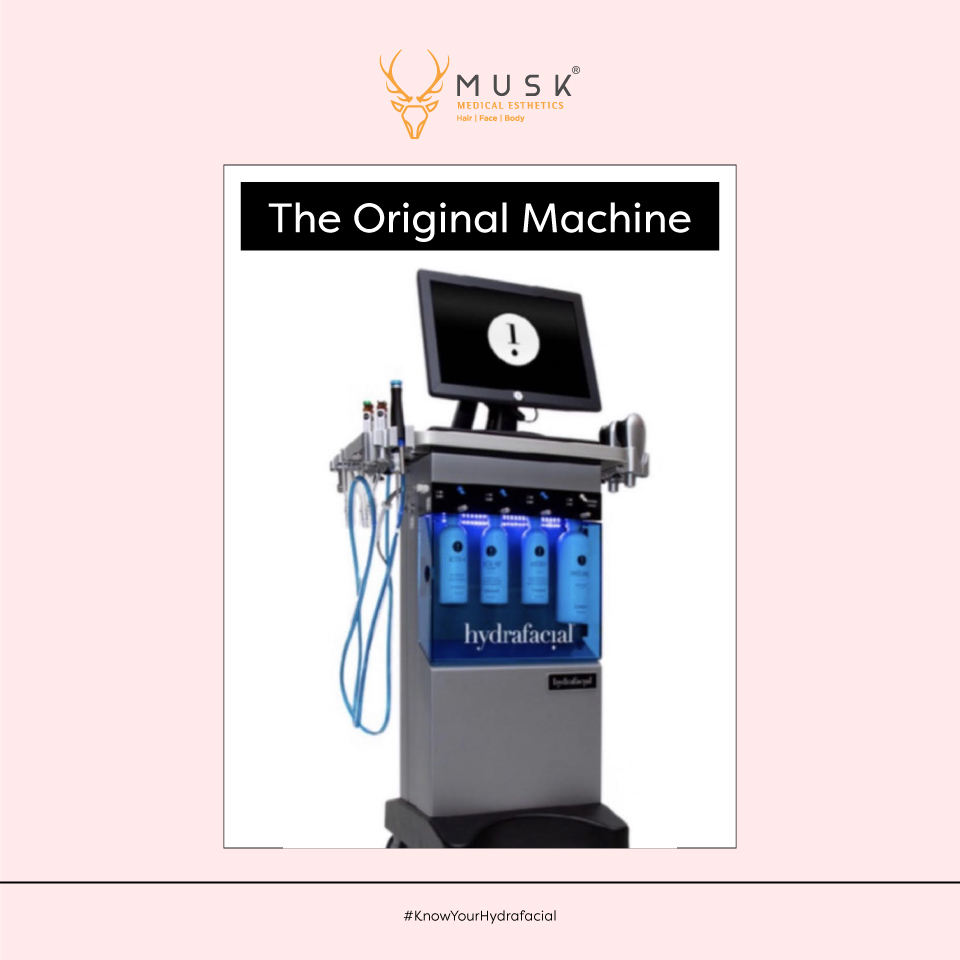 Finally, the original machine that helps to perform this procedure with the help of the patented technology looks something like the below picture and the boosters
It is extremely important that you keep away from fake and unauthorized Hydrafacial treatments. These questionable treatments can cause serious skin damage and lead to skin-related diseases.
Musk Clinic Offers The Original Patented Hydrafacial
Musk clinic is the first in Gujarat and one of the few certified clinics in India to offer the official patented Hydrafacial treatment from California, US.
At our clinic, we believe that it is our foremost responsibility to clarify the doubts of our patients and keep them away from the hoax treatments and products that can cause damage to their skin and health. And in that regard, we always ensure maximum transparency and authenticity in our treatments for our patients.