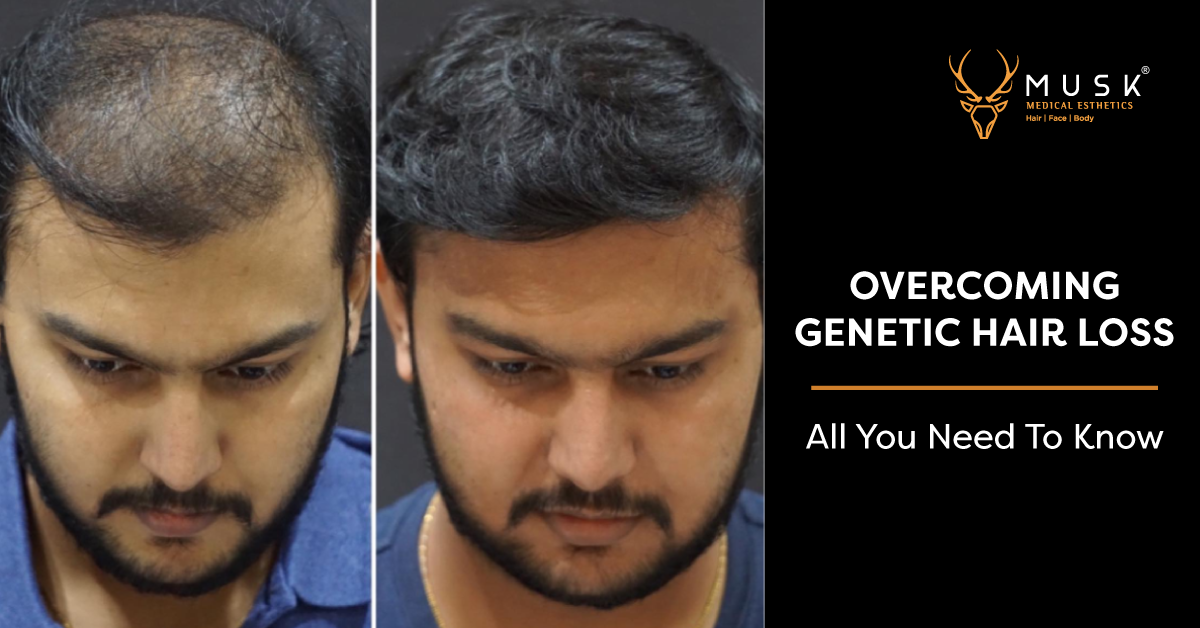 Posted on October 23, 2023
Introduction
It's disheartening, from the day you felt happy with your head full of hair to coming to this point when you type that question into Google.
How To Treat Genetic Hair Loss?
Whether it's short or long, healthy and fuller hair makes the person feel happy, beautiful, and powerful. On the contrary, suffering from hair loss can be a helpless feeling. 
A large percentage of men and women experience some form of hair loss after crossing or reaching their 20s. There are many factors that can be the cause of hair loss — but Genetic Hair Loss plays a significant role.
Fortunately, you have come to the right place. We have brought you a complete guide on Genetic Hair Loss: what it is, the reasons behind it, and popular treatments to treat Genetic hair loss.
What Is Genetic Hair Loss?
Regardless of gender, genetic hair loss can affect both males and females. According to statistics, genetic hair loss affects almost 50% of males and 40% of females as they grow older.
Also known as androgenetic alopecia, hair loss due to genetics can occur in a predictable pattern which is mainly referred to as Male Pattern Baldness(MPB) and Female Pattern Baldness(FPB). 
Genetic hair loss is generally related to the androgen hormone, which plays an important role in regulating hair growth in both males and females. Increased levels of androgen can affect hair follicles and reduce hair growth cycle.
To dive deep, every human body has cells for proper functioning, and these cells carry Genes in the cell nucleus. These genes i.e. DNA have input from both mother and father and also from previous generations. 
While there can be many factors affecting the health of the person though family history is a major player. Androgenetic hair loss is also one of the problems that can be caused by genetic history.
Androgen (testosterone) hormones are produced by gonads and adrenal glands. These hormones, when converted to Dihydrotestosterone (DHT), are responsible for the miniaturization of hair in genetically prone persons.
Genetic Hair Loss Reasons
Genetic hair loss in males and females is caused by hormonal influences. As discussed above, when androgen hormones are converted to Dihydrotestosterone (DHT), then genetically prone individuals can experience significant hair loss.
Different types of enzymes are present in the dermal papilla cell of the hair follicle which are responsible for converting this hormone into DHT.
Three different types of enzymes in the dermal papilla cell are:
5 alpha-reductase I

5 alpha-reductase II

Aromatase
The first two enzymes, i.e., 5 alpha reductases I and II, convert the testosterone into DHT. Here the higher level of DHT is the major reason for increased hair loss. Apart from genetic reasons, Dihydrotestosterone can also be increased due to taking anabolic steroids for muscle building.
Genetic Hair Loss Pattern
The genetic hair loss pattern differs both in men and women. In men, the male pattern baldness begins with the temples and decreases from the hairline, forming an M-shaped recession. 
However, in women, hair loss is seen in the Ludwig pattern. In this type of pattern, gradual recession is seen, but it didn't recede as in men. Androgenetic alopecia, which leads to permanent baldness, rarely happens in women.
Below are the seven stages of Male Pattern Baldness. [ We have to create a blog infographic for the below content] 
Stage 1 – Unnoticeable Hair Thinning Around The Temple Area & Forehead 
Stage 2 – Hair Thinning In M-Shaped 
Stage 3 – Visible Balding & Hairline Recession Forming M, U & V Shapes
Stage 4 – Excessive Hair Loss At The Back Side Of The Head 
Stage 5 – Horseshoe or U-shaped Hairline At The Crown Area
Stage 6 – Large Bald Patches & Visible Scalp
Stage 7 – Hairline Reduced To The Crown
How To Stop Genetic Hair Loss?
Can genetic hair loss be cured? Cured – no, not completely. But there are some treatments that can make a difference. 
As there is no specific medication to cure genetic baldness, it is important to start preventative medications at an early stage to stop genetic hair loss.
The most effective treatment one can start is one that helps block the DHT and reduce its levels. And the two drugs found to be most effective to do so are Finasteride and Minoxidil. 
Minoxidil –
Approved by the FDA, minoxidil is well known for stimulating hair growth and preventing genetic hair loss. Available in 2-5%, the solution can be applied on the scalp as advised by the doctor. 
Note – If you stop using the minoxidil solution then you might start losing your hair again; hence, it is recommended to use the solution as long as possible in order to maintain hair health.
Finasteride –

Another FDA-approved drug is the finasteride pill which effectively helps treat genetic hair loss. This medication is only prescribed to men. As it doesn't provide effective results for women and can cause birth defects too.
Moreover, the drug is found effective in blocking the formation of DHT which causes hair thinning.
Surgical Treatments For Genetic Hair Loss
For those who are open to the idea of surgical treatments, below are the most effective forms of treatments for genetic hair loss. 
Hair Transplant for Genetic Hair Loss
The best treatment to cure genetic hair loss is a hair transplant. It is the easiest and most effective method to get back your hair fully. There are mainly two types of hair transplant, FUT Hair Transplant and FUE Hair Transplant. 
 In FUT Hair Transplant, the hair follicular units are taken from the donor and inserted into the bald scalp after dissection to make a single hair follicle.
In FUE Hair Transplant, the graft from the donor area is extracted and later implanted in the recipient area.
 Though the procedures of both hair transplant treatments in India are different, the results they provide are extremely natural and favorable.
PRP Treatment for Genetic Hair Loss
PRP – Platelet-rich plasma therapy is another best treatment for genetic hair loss that helps stimulate hair growth in the hair loss area. PRP injection releases various growth factors that help promote hair growth and stem cells present in the dermal papilla.
Final Words
Genetic hair fall is one of the most confronted beauty demons that many people struggle with. No matter what your gender is, Genetics are strongly influencing hair loss and becoming the common reason for hair loss. 
Even though it can not be completely cured, there are many treatments that can either help control genetic hair loss or delay the androgenetic hair loss process. Determining which treatment option is best for your condition is important and must be consulted by a professional doctor.
Musk Clinic is the most trusted clinic providing the best hair treatments in Ahmedabad, India. Our board-certified surgeons use USFDA-approved world-class technologies to provide our patients with exceptional experience and long-lasting desired results.
Read more:-
HAIR LOSS PREVENTION SECRETS: THE DO'S AND DON'TS YOU NEED TO KNOW FOR HEALTHY HAIR
BENEFITS OF PRP TREATMENT FOR HAIR LOSS: WHAT YOU NEED TO KNOW
FUE VS. FUT HAIR TRANSPLANT: WHICH IS THE BEST METHOD FOR HAIR TRANSPLANT?