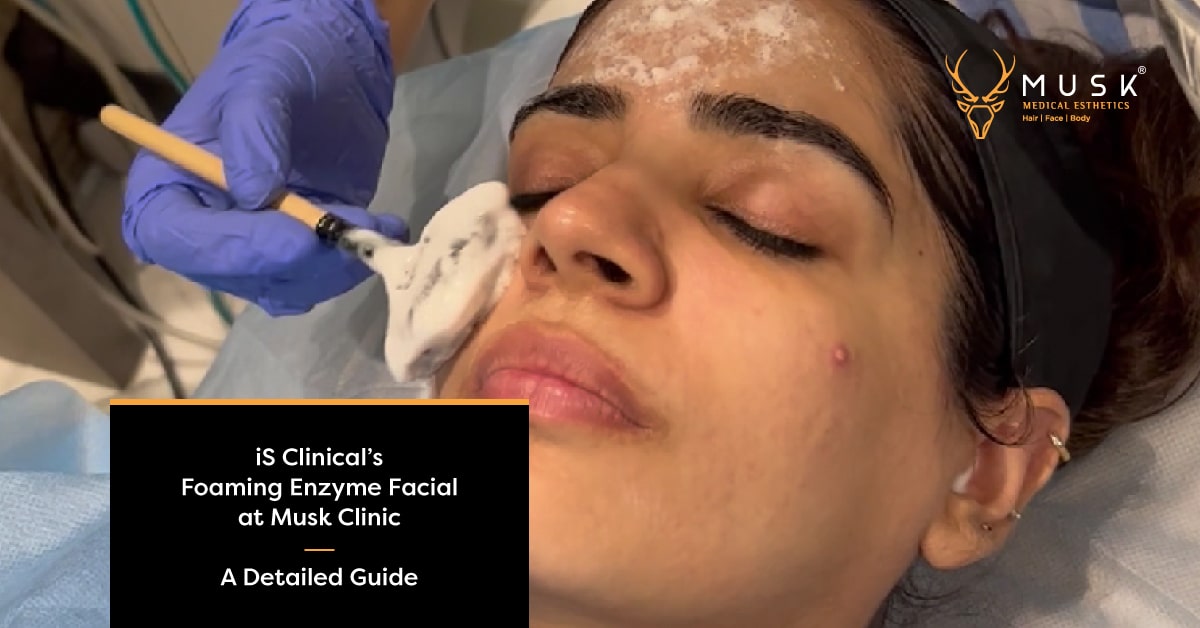 Posted on August 28, 2023
Having healthy and youthful skin is what we all want! 
As we age, our skin transforms in the most unexpected way as it starts being more sensitive and drooping. This is one of the skin problems we all are familiar with. Only a good skincare product with the right use of it could be a solution to it. 
Speaking of good products to rejuvenate the skin, iS Clinical Foaming Enzyme Facial stays at top. In this blog, we will explore the magical world of rejuvenating facial treatment and provide you with a comprehensive understanding of Enzyme, its role in iS Clinical Foaming Enzyme Facial, and the process of facial treatment with benefits.
Enzymes in Skincare
Enzymes in skin care are increasingly becoming popular. Many skincare products, peels, creams, and several others contain the enzymes. This improves the appearance and structure of skin. Enzymes work by breaking down the keratin and removing dead skin cells from the skin. This process clears clogged pores and congestion leading to skin becoming radiant, smooth, and clean. The unclogged pores result in skin free of blackheads, roughness, and blemishes.
Skin products containing fruit enzymes are gentler and more efficient than chemicals in skincare products. It helps in repairing the skin and maintaining moisture levels.
Can we offer you these benefits with our facial treatments? YES! 
At Musk, we provide you all – whether you are a skincare enthusiast looking to enhance your routine or someone seeking a pampering experience. We are pleased to inform you that we have iS Clinical foaming enzyme facial available with us.
The Enzyme foaming facial by iS Clinical is a highly-sought after skincare treatment known for its ability to reveal a radiant complexion, reduce acne, minimize pores, and improve overall skin texture.
So, let's dive in and discover the secrets to achieving a glowing, healthy, and youthful-looking complexion.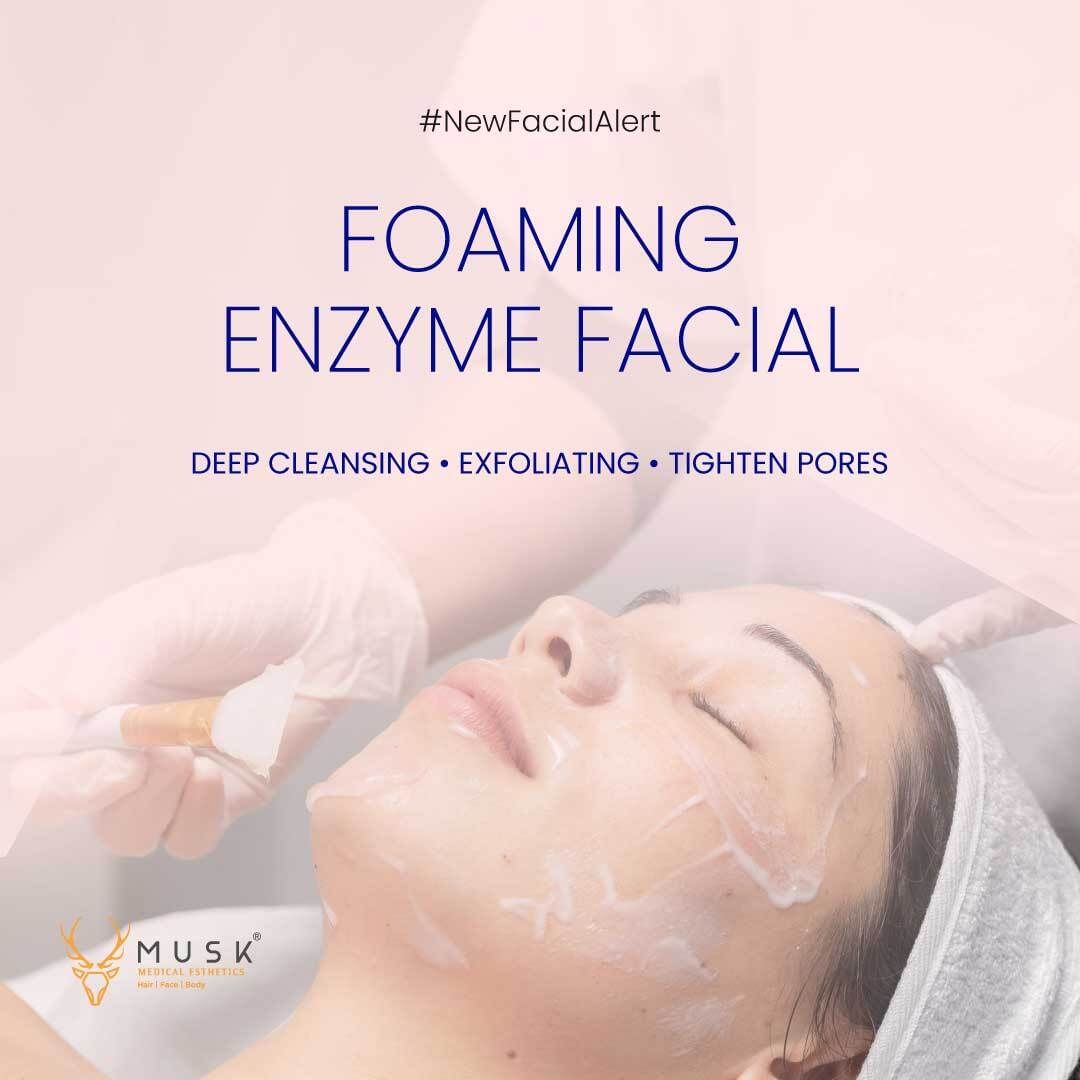 Introduction to iS Clinical Foaming Enzyme Facial
Are you looking for a facial treatment that will leave your skin feeling refreshed and rejuvenated? Look no further than the iS Clinicals Enzyme foaming facial treatment at Musk. This innovative facial combines the power of enzymes with a gentle foaming action to deeply cleanse and exfoliate your skin. Whether you're dealing with acne, dullness, or uneven texture, this facial is designed to address a range of skin concerns and leave you with a radiant complexion.
Enzyme Foaming Facial Process
Here's a step-by-step guide on we proceed the treatment:
Consultation and skin-analysis

Enzyme Masque Application

Steam and Extractions

Massage and Moisturization
Overview of the Treatment session
Picture this: you walk into Musk, a serene oasis for your skin, ready to indulge in some much-needed pampering. The Enzyme Foaming Facial begins with a gentle cleanse to prepare your skin for the treatment. Next, a specialized enzyme mask is applied, which works its magic to exfoliate dead skin cells and reveal a fresh, radiant complexion. Then comes the foaming action – a unique blend of foaming agents is activated, creating a luxurious and invigorating sensation on your skin. As you enjoy the tingling foam, your aesthetician massages your face and neck, stimulating circulation and promoting lymphatic drainage. Finally, the foam is washed away, leaving your skin feeling clean, rejuvenated, and ready to take on the world.
Benefits of Enzyme Foaming Facial
Revealing a Glowing Complexion
One of the key benefits of iS Clinicals foaming enzyme facial kit is its ability to reveal a glowing complexion. The enzymes used in treatment helps you to remove dead skin cells and stimulate cell turnover, allowing healthy and fresh skin to shine through. Say goodbye to dullness and hello to a radiant, youthful glow.
Minimizing Pores and Improving Skin Texture: 
If you struggle with large pores or uneven skin texture, then Enzyme Foaming Facial can help. The exfoliating action of the Enzymes help you to unclog pores and remove debris, resulting in a smoother and more refined skin texture. Enjoy a more even complexion and say goodbye to pesky blackheads.
Reducing Acne and Blemishes:
Acne and Blemishes can be a major confidence killer, but the Enzyme Foaming facial is here to help. The deep cleansing action of this facial helps to clear out pores and reduce the buildup of acne- causing bacteria. Combined with the anti-inflammatory properties of the enzymes,this treatment can help calm existing breakouts and prevent future ones from forming.
Now that you have a detailed guide to the iS Clinicals Enzyme Foaming Facial, why not treat yourself to a little skincare indulgence?
Your Skin Will Thank Us!
In the pursuit of radiant skin- iS Clinicals Enzyme Foaming Facial at Musk is a game-changer. This unique treatment combines the power of enzymes, invigorating foaming action, and expert massage techniques to give your skin a new lease on life. With regular sessions and proper aftercare, you can unlock a vibrant complexion that turns heads, So, why wait? Treat yourself to the iS Clinical Foaming facial and embrace the glowing skin you deserve!
Read More:
6 ESSENTIAL TIPS FOR SUMMER HAIR CARE
HAIR LOSS PREVENTION SECRETS: THE DO'S AND DON'TS YOU NEED TO KNOW FOR HEALTHY HAIR

8 MUST-HAVE NUTRIENTS FOR STRONG AND NOURISHED HAIR