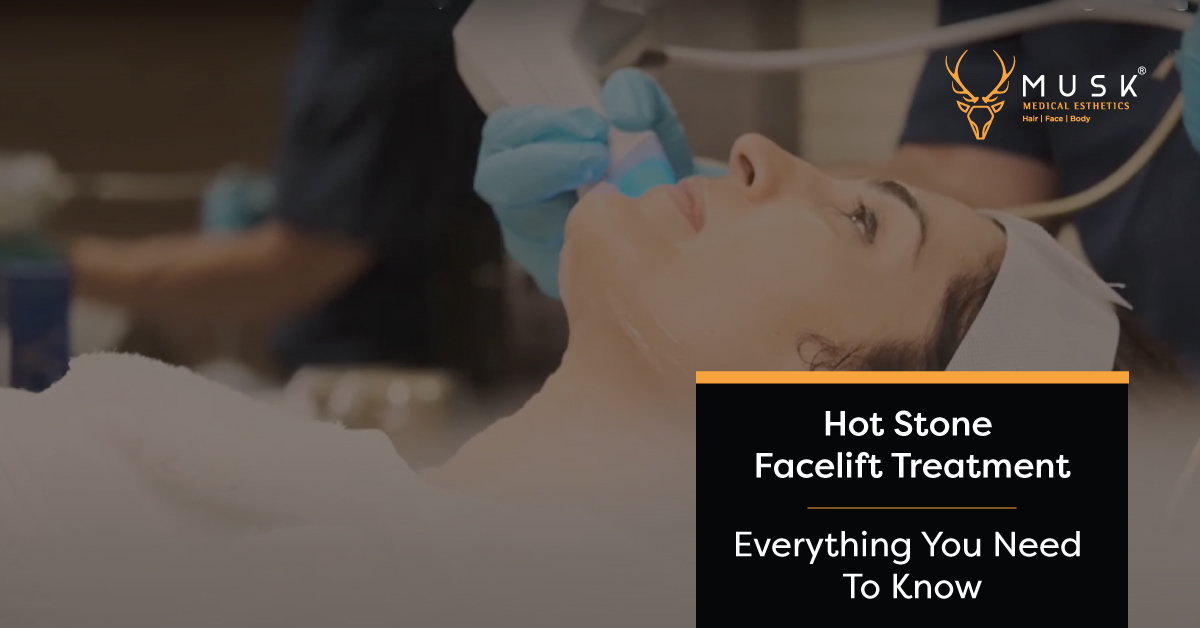 Posted on January 27, 2023
Can't Stop Time, But Can Prevent Aging!
Rather than placing ourselves in this world's chaos, old age is somewhat that tenure in which we want to spend more time with ourselves, with all of the wisdom this long living journey lessened us with.
Exploring the entire world that was placed in us for these long years, so basically the circumstances are sounding like an entirely new beginning then why not give it an "A new journey, A new me" treatment?
Where none of that saggy face, turtle neck, or even wrinkles and fine lines will be part of it but a firmer, smoother, and contoured face skin would definitely be.
That too without any scissor crafting, meant by surgical treatment to your face. Thus, the search for your "tightening facial skin without surgery" is over, before proceeding further let's complete one missing point.
"At what age does skin start aging?" – usually between 35 and 40s, but getting sagginess/wrinkles in the 20s is also normal, one can simply just accept it as an indication from the skin of not getting required nutrients. 
Some of the other common reasons of getting saggy skin at young age could be:
Sun Exposure

Damage from Ultraviolet (UV) light damage

Artificial tanning

Medications, such as steroids and corticosteroids

Skin products or detergents containing harsh chemicals

Smoking

Alcohol consumption
But not to mention, a non-invasive skin-tightening solution as in the Hot Stone Facelift Treatment is safe for all ages. Time to dive in!
What is Hot Stone Facelift Treatment?
It is a non-surgical skin-tightening procedure that includes Exilis Elite by BTL – radio frequency waves and ultrasound consisting device that precisely targets and heats up deep tissues while stimulating new collagen production and tightening the elastin fibers of the skin.
And if we move to the medical assurance of Exilis Elite, then there is no other parallel facelift technology safer than this as it is FDA-approved with no significant reported side effects. 
While assuring a pain-free procedure, Hot Stone Facelift Treatment doesn't require anesthesia and also can get completed during the small span of a lunch break. Hence, you can get a firmer, smoother, and slimmer youthful-looking face in just a flash.
Face Areas Which Can Get Treated With Hot Stone Facelift Treatment:
Face

Neck

Eyes

Jawline

Upper and lower cheeks
Other Body Areas Which Can Get Treated With Exilis Elite:
Arms 

Knees

Thighs 

Legs

Buttocks

Flanks

Waist

Abdomen
Pre-Care of Hot Stone Facelift Treatment
Face skin tightening is okay but in case an individual is looking to apply radio-frequency skin tightening on any other body areas these two situations are contraindicated:
If the woman is pregnant or lactating.

Patients having metal implants or any other active implanted device.
In both cases sharing a complete medical history with the doctor is mandatory, so they can figure out whether this treatment is right for you or not.
No skin cares or adornment products such as creams/lotions/makeup should be applied

Avoid putting on ornaments
Skin that you need to get treated should be hair free (for men a morning shave on the session day is suggested)
Heavy workouts prior to 2-3 and on the treatment day should be avoided (not for the facelift)
If any of your lower body parts get treated (not the face) then you must arrive well-hydrated to experience more comfortably and effectively.
How does Hot Stone Facelift Treatment Works? 
The use of Exilis Elite will be considered during this process, in which radio frequency (RF) waves will target the deep skin cells while conducting a measured amount of heat melting the fat cells away, tightening the elastin fibers, and boosting collagen production.
Exilis Elite technology also includes a built-in cooling mechanism that balances the heat waves and skin bearability. The entire procedure concludes/benefits an individual with wrinkle and fine lines free face skin with a smoother and firmer appearance,
Depending on the skin's sagginess and needed treatment area the timings may vary. Usually, for Facial Exilis Elite each session takes 15 – 45 minutes, and for complete and as-desired results over 4 to 6 sessions are medically recommended. 
Post Hot Stone Facelift Treatment
Might experience temporary erythema (redness) on the treated skin that can last for a few minutes or even possibly longer.

Avoid very hot showers on treated areas for 24 – 48 hours.

Might get some tenderness on the area that can last a maximum for a day

If the treated area includes the eyes, then you might get some swelling around it. You might also get suggested to sleep on two pillows for 24-48 hours post-treatment.

Protecting the skin with SPF lotion is highly recommended and also try to avoid excessive heat exposure.    
Common/Temporary Side Effects of Hot Stone Facelift Treatment
Mild swell on the treated area

Redness for 1-2 Days (If it continues even on the 3rd day, you must consult the treater)

Tingling 
That's it for today!
So, the non-invasive facelift treatment is right in front of you, where each of your skin, and results effectiveness get covered that too with zero to no downtime or any other significant side effects.
If you still have some other queries or process pins you want to get consulted with, you may drop them with us here and Musk Clinic will try to get back to you as soon as possible. Till then keep smiling and shining confidently!
Read More: