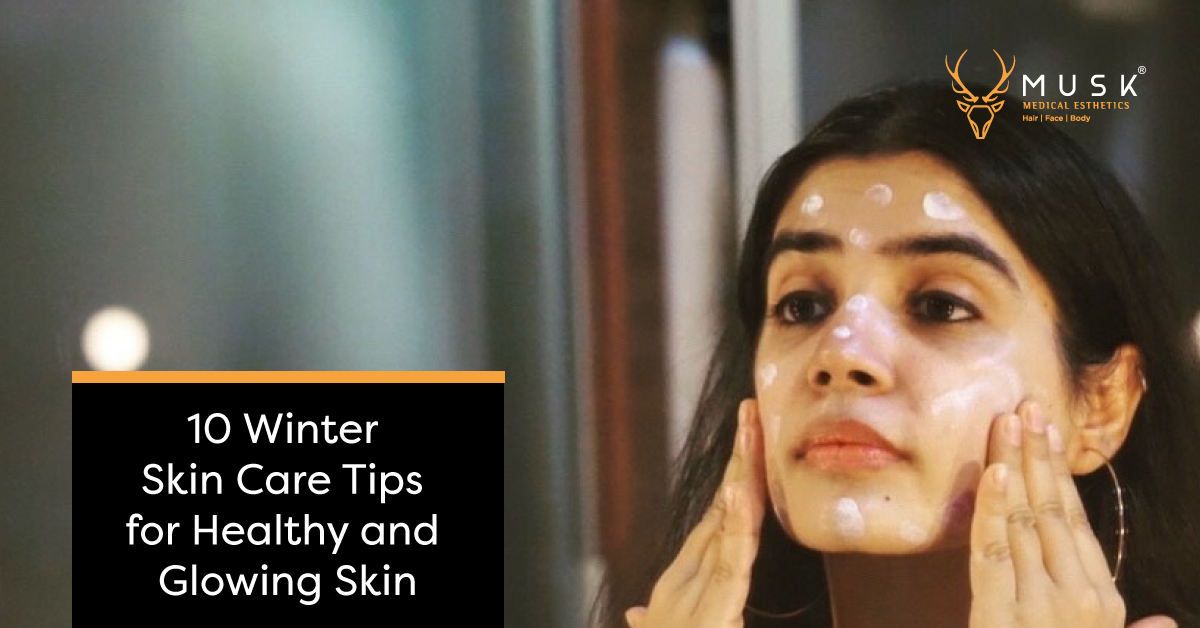 Posted on November 23, 2022
It's that time of the year when hot chai becomes more favored and woolen clothes will be your go-to fabric option. Skin moisturizers come out to give your winter routines company.
Winter is upon us in all its glory and with it, a whole lot of skincare issues too. Oily skin gets dry and dry skin gets rough. There are rashes and roughness and these problems wouldn't go away!
But it just takes some simple changes in your everyday skincare routine which ensure that you are all set to glow through this whole winter season.
Check out these simple steps to keep your skin healthy and glowing!
10 Winter Skin Care Tips: –
Winter Skin Care Tips For Dry Skin:
1. Moisturize right after Showering: –
After showering, pat dry your skin with a soft towel and apply moisturizer. Choose a thicker cream or balm than your summer lotion. To make a moisturizer work, apply it immediately after bathing or washing your face, hands, and legs. Make it a habit to apply a moisturizer after bathing and before going to bed every day, especially in the winter, to help your skin cope with the cold and keep it smooth and soft.
2. Use a Humidifier: –
Dry skin is a problem all year, but the combination of cold outdoor air and dry heating air that occurs during the winter months exacerbates the problem, particularly for people who have dry skin. A humidifier protects the skin's moisture content by maintaining consistent relative humidity. In the winter, using a humidifier in conjunction with your skincare routine and drinking plenty of water can help you look and feel your best.
3. Go easy on exfoliants and scrubs: –
Exfoliation is critical for skin care, and failing to do so will result in dry skin no matter how much cream or serum you apply. Use a gentle scrub with lactic acid or mild glycolic acid for light exfoliation. If your skin is extremely dry, replace the scrub with a gentler option, such as a damp washcloth. Moisturizers and serums are more effective on exfoliated skin because they can penetrate deeper into the skin layers.
Winter Skin Care Tips For Sensitive Skin:
4. Use Hydrating Mask: –
Keep moisture levels high to keep your skin feeling calm and clear. Moisturize twice a day to keep your sensitive skin balanced, and drink plenty of water to keep it hydrated. A beautiful bottle on your desk serves as a good reminder to continue drinking!
Although all skin feels sensitive at times, these seven tips will help you manage the symptoms of sensitive skin.
5. Use a gentle cleanser: –
No matter the season, cleanliness is always a virtue. Strong chemicals can irritate sensitive skin. The issue is exacerbated in the winter. When purchasing a cleanser, make sure to carefully read the label. Avoid using foaming detergents and instead, opt for gentler alternatives such as body wash lotions. Avoid astringents or toners that contain alcohol. By robbing the skin of its natural oils, alcohol only hastens the onset of dryness. For gentle cleansing, keep things in balance and use mild formulations.
6. Use face serum: –
Facial serum, which should be applied gently to a freshly cleansed face and serves as a primer before moisturizer and eye cream, is another important step in your winter skincare routine. Face serums are ideal for sensitive skin because they contain a high concentration of moisturizing ingredients that penetrate deeper into the skin than traditional moisturizers.
Winter Skin Care Tips For Oily Skin:

7. Avoid Hot Shower: –
Especially during the winter, when everyone craves a long hot shower and some relaxation. During long hot showers, we recommend applying more moisture or oil to the skin. Because hot water can cause the skin to become dry and itchy. Only the best toner and oil can fill it. To remove dry skin, you can use coconut oil or another essential oil. In the winter, use the face wash recommended for oily skin.
8. Use Sunscreen: –
Sunscreen is an essential component of any skin care regimen all year. Water-based sunscreens work best for oily skin. A gel-based sunscreen will clog pores and increase breakouts. When you leave the house, you should wear sunscreen. In winter, your skin is still exposed to the sun and can be damaged by it. Sun damage not only increases the risk of skin cancer and premature wrinkling but also causes increased sebum production due to the drying effect of the skin. Even in the wintertime! Vitamin E-rich sunscreens are ideal for oily skin.
9. Avoid using Petroleum Jelly: –
Avoiding petrolatum, which is particularly appreciated by dry skin types due to its moisture-retaining effect, is one of the most effective skin care tips for oily skin. However, it is not recommended for oily skin types because the jelly can clog pores and contribute to even more oil production.
10. Use a Night Cream with Retinol
Retinol has numerous advantages, including the ability to reduce sebum production, which aids in the regulation of oily skin and the reduction of skin breakouts. Retinol reduces the appearance of hyperpigmentation, fine lines, and wrinkles by speeding up cell turnover, resulting in younger-looking, glowing skin. If you are pregnant, consult your doctor before using any skincare products that contain retinol.
Ultimately: –
Winter's dazzling days will not last long, so don't be afraid of them. Simply remember to take good care of your skin. With our list of winter skin care tips, it's important to remember that a good product selection and a healthy, balanced lifestyle can make a big difference for your skin.
The above winter skin care tips and suggestions are worth a shot! We guarantee that your skin will undoubtedly look better and be blemish-free.
The skincare regime that might work for one person probably won't work for the other.
At Musk Clinic we are dedicated to providing customized treatments for each individual. We have the most experienced professional to correctly recommend the right treatment for you. Musk Clinic uses advanced technology to check skin at its deepest layer, uncovering what is causing your skin's issues.
We also offer a variety of procedures, treatments, and products designed to give you the rejuvenated confidence you deserve at every age.
Read More:
HOW TO PREVENT DRY SKIN IN WINTER? – 7 ULTIMATE TIPS
DAILY SKINCARE ROUTINE FOR WINTER – TO KEEP SKIN BETTER
10 SMART SKINCARE THINGS DERMATOLOGISTS THINK YOU SHOULD DO
THE ULTIMATE SKIN CARE ROUTINE FOR ACNE