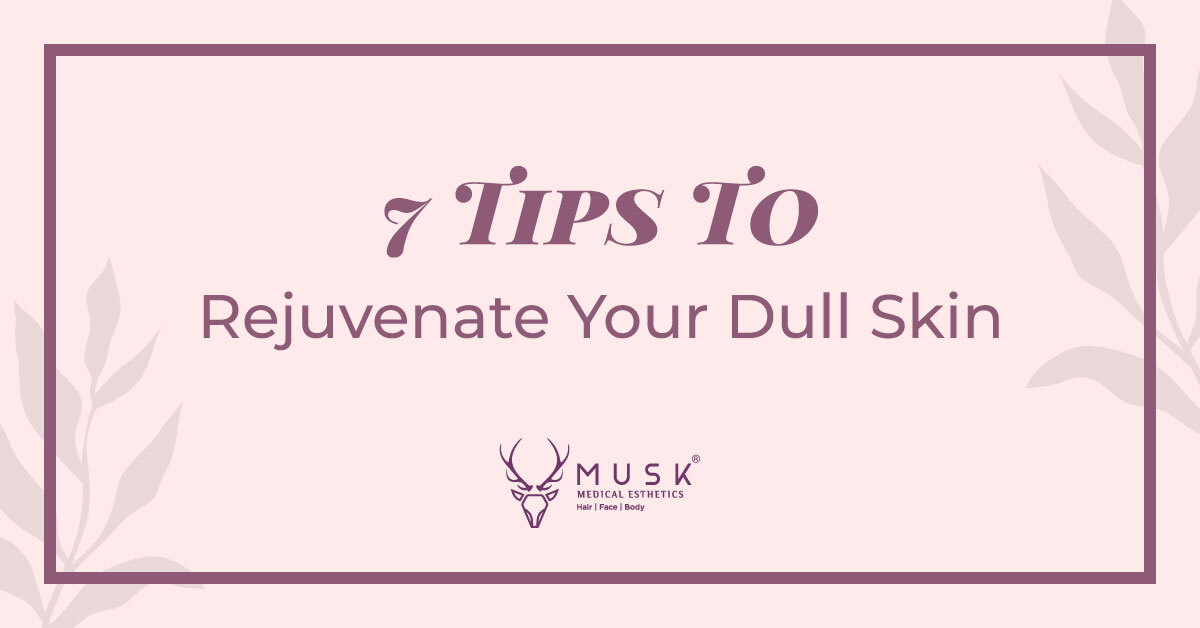 Posted on January 30, 2023
"You honestly maintain naturally rejuvenated skin that never goes out of style!" ~ harmonious complimenting melodies to each of our ears, isn't it? On the other hand, maintaining such radiant skin and toned complexion is never easy! Yes, due to that dullness only.
But do you know the fact of the matter? Actually, our skin never gets dull, its quality just gets covered under the dead cells. Basically, our skin itself conducts the renewal of new and healthy cells. Though from person to person the time span might vary; for newborns: it takes 14 days, for adults: 28-42 days, and for above 50 new cells renewal can take up to 84 days.
During this procedure sometimes the dead cells don't shed in the required manner, instead they start to build another surface on your skin which simultaneously results in a dull, dry, flakey, and patchy skin appearance. 
So, these little unknowns can make big differences. But let us have a second, you still have time to get rid of that dullness and recover your glowing skin! Will let you know how but before that we will see how one can address if his/her skin has turned dull and its causes.
Let's Move Ahead!
How To Address A Dull Skin?
In the skin sector, dullness refers to the portion of skin which is lacking radiance or we can say an ineptitude to reflect the light in the way healthy skin does. 
This also happens due to an uneven skin texture, as it is less able to reflect smoothness as effortlessly as uniform skin. Rough or we can say uneven skin can result in several skin problems such as the building of dead skin cells, acne, and even dryness. 
3 Common Causes of Dull Skin
Environmental Pollution
For which a broad-spectrum sunscreen is always suggested, by making your skin rid off from oxygen and all-natural oils pollution exposure which makes your skin look dull and drab. 
The elements such as dirt and sulfur dioxide in the air create free radicals (unstable molecules causing cell damage) on the skin layer causing unfavorable effects including collagen damage, stimulating pigment production, and skin complexion to look tired. 
Lack of Sleep 
It makes your skin imbalanced in just a few nights of bad sleep! Inadequate sleep triggers the primary stress hormone affecting the inflammation and breaking down of proteins which are essential to keep your skin smooth and glowing. 
This inflammation can also result in making skin more prostrate to acne and sensitive to allergic reactions. More wrinkles, fine lines, and also droopy mouth corners can be caused due to disturbed sleep schedules. 
Dehydration
Especially in dry climates; hot summers and too-cold winters. If your skin lacks water, the moisturizer under the skin layers will get reduced making its texture look uneven and dull. 
Itchy skin is also a cause of dehydration, which affects your overall skin tone, driving wrinkles and fine lines noticeable even at young ages. 
Time to move ahead on the key subject "How to rejuvenate dull skin?".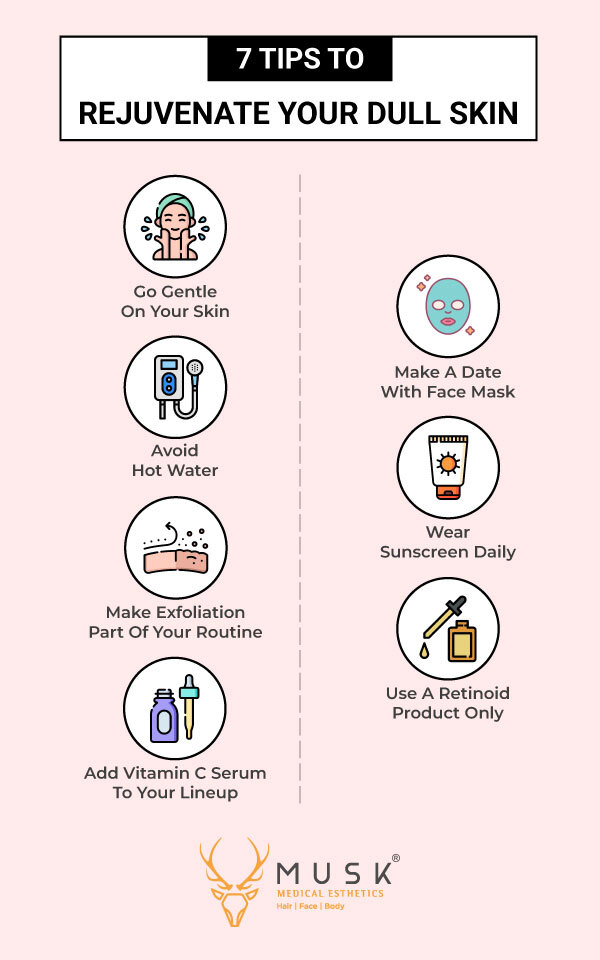 7 Ways To Get Rid Of Dull Skin
1. Be Gentle On Your Skin
Getting your makeup and clogging dirt removed at the end of the day? If yes, then you are already doing excellent. But a smooth procedure is also necessary to get the exact results.
If you apply harsh scrubs and drying soaps it will eventually reduce the luster of the skin, and also cause irritation, tightness, and redness on the skin. 
The perfect procedure for this is giving your face two washes, in which rather than applying cleansing oil at first remove makeup and sunscreen from the top skin layer, and in the second step apply a gentle wash of cleanser to remove the oil. 
2. Prefer Lukewarm Instead Of Extremely Hot Water
Especially in winter; when nothing else feels better than a long warm bath or a warm face session but this relaxation only works for a few minutes as it increases skin sensitivity, dry outs all the essential natural skin oils, and makes texture dry. 
If you have dry or oily skin, then you must keep this point noted as by removal of natural oil – the skin will create even more oil causing unwanted breakouts, unusually shiny, or many other worse causes.
3. Include Exfoliation In Your Daily Routine 
As seen above the layer of dead skin cells always gets formed on the outermost layer of the skin which makes your skin dull and even clogs the pores with dirt and dust. 
Where routine exfoliation helps in the daily removal of dead skin cells from that layer of the skin benefiting in an increase of blood circulation, improvement in skin appearance, and prevention of dull skin.
Not only in skin smoothing and polishing but regular skin exfoliation also helps with skin concerns such as fine lines and wrinkles also get reduced with regular exfoliation.
4. Add Vitamin C Serum To Your Lineup
Just name it, and it will show its wonders! Vitamin C is an ascorbic acid packed with antioxidants that boost skin to appear radiant and youthful.
Also benefits in the descent of free radicals, speed improvement in the tissue/wound repairment, enhances the elasticity of the skin, and collagen synthesis building healthy skin.
5. Drive A Date With a Face Mask
Give your face a weekly treat of a mask, usually medic suggested once or twice a week but it basically depends on the type of skin you are having – for a precise measure you can read the directions or ask your dermatologist.
With this excellent tool, you can experience evermore glowing skin as such skin products detoxify your face by removing the dirt from the pores, removing excess oils, and restoring skin radiance.
6. Put On Sunscreen Daily 
Always preferred to get broad-spectrum with SPF 30 and above. Sunscreen layers your skin with organic carbon ingredients such as avobenzone or oxybenzone and absorbs the harmful sun rays.
This will help you to keep your skin shielded from UV rays, skin damage, dyspigmentation (hyperpigmentation/hypopigmentation), brown or dark spots, and dry skin texture.
7. Apply Retinoid Products Only
A trail of vitamin-A-based products have significantly served its results in stimulating collagen growth and normalizing skin dead cells shedding procedure.
By driving this procedure retinoid smoothens the skin texture and also makes it naturally brighter.
Last But Not The Least!
So now you know that you never got dull skin, right? It is just simply hidden which will be definitely recovered once you start following the mentioned fixes and be on it regularly.
If you are the one who has tried that all but is still not happy with the skin texture then also it is fine, you may simply drop your query at Musk Clinic – one of the most trusted clinics in Ahmedabad for hair, face, and body. Our specialists will try to get back to you as soon as possible.
Till then stay naturally soothed and glowing!
Read More: