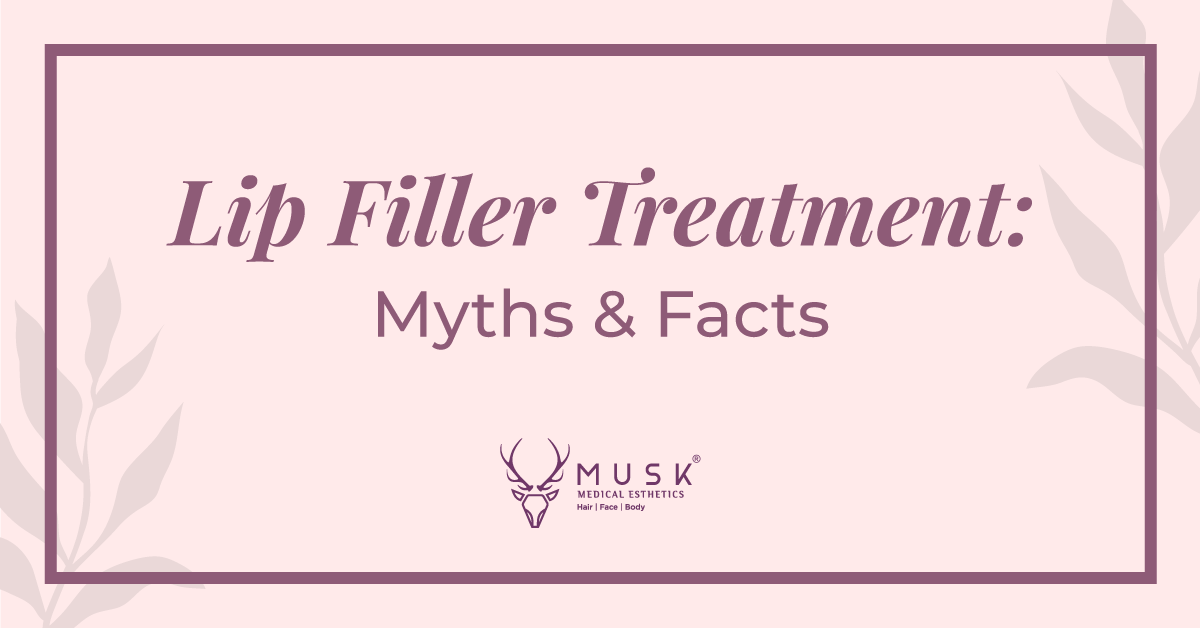 Posted on December 28, 2022
Lip fillers – the most popular type of dermal fillers, which demand is rising double day by day. It is basically a non-invasive cosmetic approach, to add volume to lips and make them look fuller and youthful.
But there is always a question that arises, "How do I know if I should get lip fillers?" So, having thin lips by birth or experiencing thinning of lips due to aging are two typical conditions when one goes for lip fillers. 
Plumping lips with a natural fullness of hyaluronic acid (HA) and into an optimum structure is how Lip fillers result, that not only benefits the lips but enhances the entire facial appearance. Lip Fillers treatment is also beneficial in stimulating the natural body's collagen helping an aging individual to hold significant results. 
Hence, the lip fillers treatment benefits in looking and feeling younger with an enhancement in facial structure and regain of vital confidence. But whenever some helpful things walk in, its myths start getting viral more than the actual benefits one can gain from it.
And just like that Lip Fillers got labeled with some of the myths too, but it's crucial for you to know the core and then consider if lip fillers are right for you or not. So, let's proceed to answer you with the same. 
Lip Filler Treatment: Myths & Facts
1. Myth: Lip Fillers are very Painful
Fact: There is only mild discomfort
When you visit a medical professional, a safe and secure treatment experience is always assured by them and so applies to the lip fillers treatment. During the procedure, a topical anesthetic gets applied to your lips that produce a loss of sensation on a temporary basis and within the limited areas. 
But of course, each individual and their body sensations react differently – so some people experience a slight pinch or pressure during the injecting of needles. If you still have some queries or worries about the pain during the lip fillers treatment you may freely ask a healthcare professional or get in touch with us.

2. Myth: Lip Fillers give duck lips
Fact: It gives natural enhancement to lips if done by experts
Giving individual duck lips is never the agenda of lip fillers, its genuine result is making one relish a natural lips enhancement. Duck lips could be the result of an allergic reaction or any other case with the filler, not the lip filler treatment itself. 
If you are visiting an inexperienced doctor, then that could be another reason for getting lips. Most people desire a sensuous or pouty from the lip filler treatment and an inexperienced doctor may overfill the lips for getting such results which lastly conclude in poor outcomes (duck lips) and unnatural lips structure.
3.Myth: Fillers don't last long
Fact: It depends on the individual's metabolism
The longevity of lip fillers depends on metabolism. 
Lip fillers are made with a naturally occurring substance which is hyaluronic acid, because of which gets metabolized by the body over time.
For an individual whose metabolic rate is fast, the fillers will break down more rapidly. The lasting of lip filler results also depends on the mass of the muscle, which is why women experience more lasting lip filler results than men.
4. Myth: Lip Fillers are for older people
Fact: There is no "right age", it depends on personal interest in enhancing the lips
Lip filler treatment is popular and favorable among all 20s, 30s, and 40s people. Yes, it is no "right age" but a suggestion to be at least 18 to start getting lip fillers – if you are under it you would need parental consent. 
Is 20,30s or any above ages you are currently running then you can definitely get lip fillers. But not to forget about discussing queries or any other treatments you tried priorly on the lips – as to get honest feedback on results, pain, on any other after-lip filler treatment effects your doc must be aware of those things. 
Myths got busted, Now time to take action!
Welcome, you are now out of all those scary myths that were holding you back to get lip filler treatment and we hope each of those facts come up with adequate detailing to it. 
And yes, we understand your "all-set" spirit to get lip enhancement – So, here you go, an experienced, trusted, and renowned clinic offering the safest lip filler treatment in Ahmedabad running und'er highly qualified and experienced doctors where you can get all the remaining queries cleared and get an assured and aesthetic results.