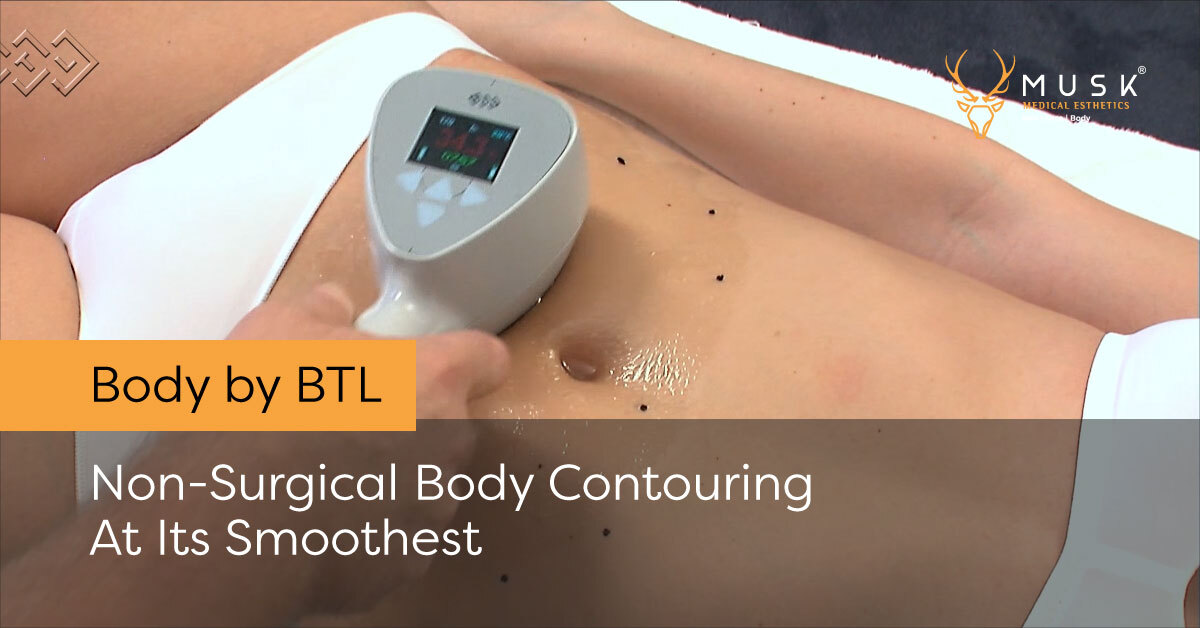 Posted on July 29, 2021
Surely, humans have not been able to invent a technology that can completely reverse the process of aging. But we have successfully made strides towards rectifying and combating the adamant signs of aging. One such innovation is the phenomenal body contouring treatment. Over the years, body contouring treatment has gained immense momentum as an effective weight loss treatment. While surgical liposuction was practically the only available solution in the past, the developments in cosmetic science have paved the way for various alternatives. Today, people have the luxury to choose from a wide array of non-surgical body contouring treatments to get rid of unwanted fat and get an evenly toned body.
In this blog, we discuss in detail the highly effective Exilis Elite body contouring treatment for skin tightening and fat reduction.
Exilis Elite Treatment – A Closer Look
Exilis Elite is a state-of-the-art energy treatment device that primarily uses Radio Frequency (RF) to reduce the stubborn areas of fat and tighten the skin. The procedure is entirely non-invasive as it combines Radio Frequency, Ultrasound, and Advanced Cooling in a single handpiece.
Exilis Elite treatment is unlike any other body contouring treatment because it generates a two-in-one effect. Besides stimulating new collagen production, the treatment also destroys the unwanted fat pockets in the nearby area thereby giving your skin a smoother, firmer look.
Diving Into The Details:
During the Exilis Elite body contouring procedure, RF is delivered to the skin at various depths, targeting deep tissues and the superficial skin layer. These thermal waves warm the skin tissues just enough to create a minimal thermal injury stimulates the body's natural healing process. This process is also responsible for disintegrating the network of collagen in your body. Collagen is a protein fiber that keeps the skin strong and firm.
Over time, this healing process promotes causes your collagen and elastin fibers to start rebuilding and become stronger. This newly produced collagen reduces the appearance of fine lines and wrinkles, smoothing the skin in the process. The new collagen fibroblasts also help to tighten loose or slightly sagging skin, giving an overall more youthful appearance, improving skin texture and laxity. Additionally, high RF energy can also be released deeper into the tissue to target and heat fat cells causing them to shrink and naturally dissolve.
Ultrasound also plays an important role during the treatment. It warms up the skin at particular depths and predefined temperatures which is typically another way to stimulate the production of new collagen.
Both the Radio Frequency and Ultrasound techniques are approved by the FDA and have a proven track record of maximum safety. All in all, the Exilis Elite is an FDA-approved, non-surgical treatment that reduces fat, tightens the face, neck & body, and improves skin quality without downtime.
Depending on the patient's goals and areas to target, they may be advised to undergo multiple sessions to get the best possible results. Most patients undergo between 4 to 8 treatments scheduled 2 to 3 weeks apart, where each treatment of a specific body part usually takes between 15-60 minutes.
Validating The Results Of Exilis Elite Treatment
The Exilis Elite treatment can be useful in addressing fine lines, deep wrinkles, skin folds, and all the other signs of aging. The common areas of treatment include the eye area, around the mouth, chin, jaw line, décolleté, arms, legs, knees, ankles and buttocks, abdomen, and love handles.
Although the treatment isn't a proper substitute for natural weight loss, it is highly effective in eliminating the unwanted and stubborn fat pockets deposited in your body.
How Long Do The Effects Last?
A lifting and tightening effect is seen on the body right after the treatment followed by improvement over a period of weeks to months. That's because the Exilis Elite treatment works by stimulating new collagen via a process called "neocollagenesis," the results of which take some time to develop. On top of that, your lymphatic system also takes some time to remove all of the damaged fat cells. However, the results become more visible as weeks go by and you can expect them to last for several months, or maybe even a year, before you're up for maintenance treatments.
At Musk Clinic, our qualified team of skin experts will draw up a customized plan of treatment that's best suited to your goals and guarantees visible results.