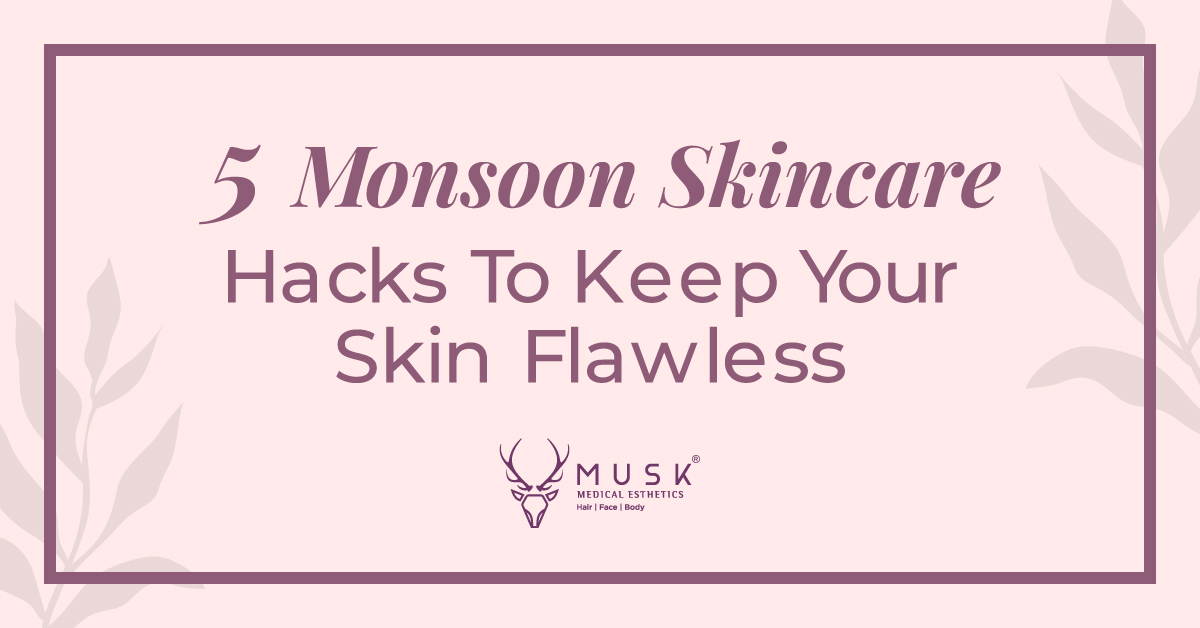 Posted on August 23, 2022
It's good to hear, that finally we get rid of those oily and sweaty skin after summer but wait, We think you are going wrong somewhere because it is good to enjoy monsoon from your room window or by going on long drives, but when it comes to your skin then you face the same skin problem which you are facing in hot summer days.
The presence of Humidity and Dampness in the atmosphere creates a lot of skin issues. With the rising Humidity level, our skin starts looking dull. The best way to get rid of these skin problems is to follow a good monsoon skincare routine. 
Now if you are confused between so many skin care tips then just relax, we are here with the top 5 monsoon skincare hacks, which give you flawless and glowing skin in Monsoon.
Wear Minimal Or No Make Up
Every girl loves to use makeup when they are going out, to look beautiful. But during monsoon season just try to avoid heavy makeup or if it is possible then go with no make-up look because using heavy makeup increases the chance of skin pore blockage due to which you may face problems like acne, and blackheads, and many more. We didn't advise you to avoid it completely, just found an alternative to it like using CC cream instead of a heavy foundation to even out your complexion and even help your skin to breathe properly. Instead of using lipstick, you can use lip tinted balms which give your lip both natural tint and nourishment. Like this, you can use alternative cosmetics to get a makeup look with minimal effect on the skin.
Use Light Weight Moisturizer 
Despite winters and summers, you need to use moisturizer in the monsoon season as it helps your skin to be moisturized and hydrated. 
But why it is necessary to use it?
Using Moisturizer on the skin helps to protect your skin from dust and pollution, even if you use a moisturizer that contains SPF will provide more benefit to the skin.
In all seasons you need to follow up on 3 basic skin care routines. Firstly, use cleansing to get rid of dirt on your skin. Secondly, tone your skin to maintain the pH level of your skin. Finally, apply a light moisturizer to your skin to make it glowing and flawless.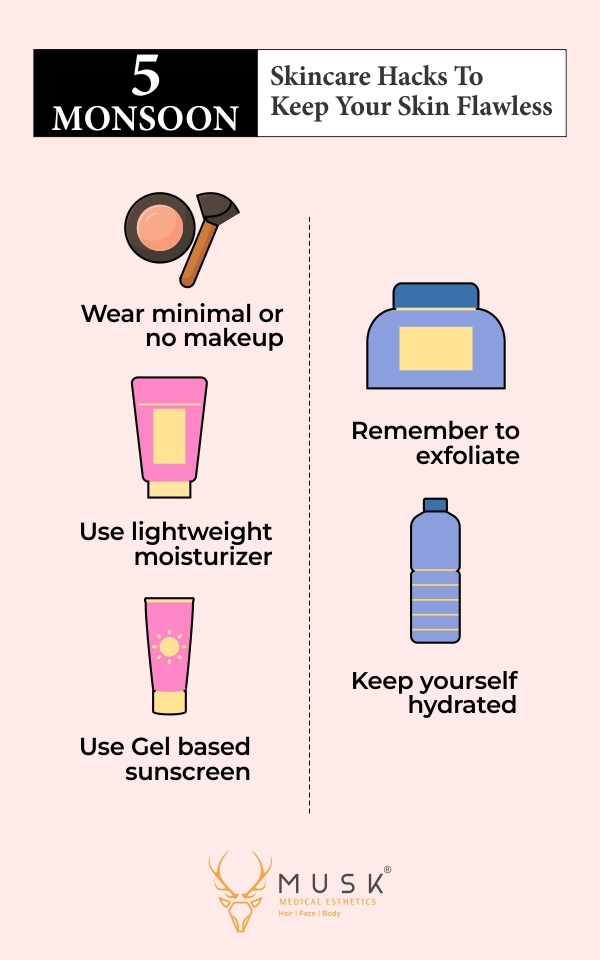 Use Gel-Based Sunscreen 
With the end of the Summer season, we all stop using sunscreen, as we all think the Sun hides behind the cloud which means there are NO UV rays and NO tanning, but we all are wrong, even though behind the clouds sun emits the ultraviolet rays which harms the skin.
Avoiding sunscreen during monsoon is one of the biggest mistakes. Even if the weather is cloudy you need to apply sunscreen whenever you step out of your house. 
While buying sunscreen during monsoon just keep these things in mind:
Always buy water-resistant sunscreen as it keeps your skin safe, in case you are soaked or drenched in rainwater.

No need to go for high SPF sunscreen in Monsoon, SPF 15 even helps to protect your skin.

Choose a Gel-based sunscreen, as it can't be wiped off due to sweat.
Remember To Exfoliate
To get healthy and glowing skin one should add Regular Exfoliation to their monsoon skincare routine. Due to the high moisture in the environment, our chance of getting acne and rashes, and other skin problems increase. Exploitation is a procedure that helps in removing dead cells, which prevents the skin from acne and keeps the skin oil free. With the removal of dead skin cells, your skin starts absorbing beauty or skincare products. But if you have sensitive skin then make sure that you don't rub your skin too much.
Keep Yourself Hydrated
Doing outer skin care is good, but hydrating the skin from inside the body is most important. 2-3 liters of drinking water help to promote glowing skin as it boosts the collagen production of the skin which keeps it hydrated and moisturized.
Conclusion
It is always fun to get wet in rain and enjoy the great weather, but it is also essential that you take good care of your Skin.
Last but not least, always keep in your mind to nourish your skin from the inside and outside. Despite this use and choose the skin care product which suits your skin type, in fact just check it once with a dermatologist to make sure that you are using the right skin product, and add antioxidant-rich food to your meal to enjoy the whole monsoon without causing any damage to your skin.
Above all this, gift your skin a healthy facial treatment. But where to get this facial?
Don't worry! We at Musk Clinic bring a perfect solution for your skin problem, The Musk Signature Facial treatment which minimizes the tiredness, dullness, pigmented, and sagging skin.
As the leading center for cutting-edge cosmetic treatments in Ahmedabad, we provide our patients with effective solutions for glowing and flawless skin.
Have any other concerns about skin care during monsoon or related to our Facial treatment,
then contact us or visit our website at www.muskclinic.com.