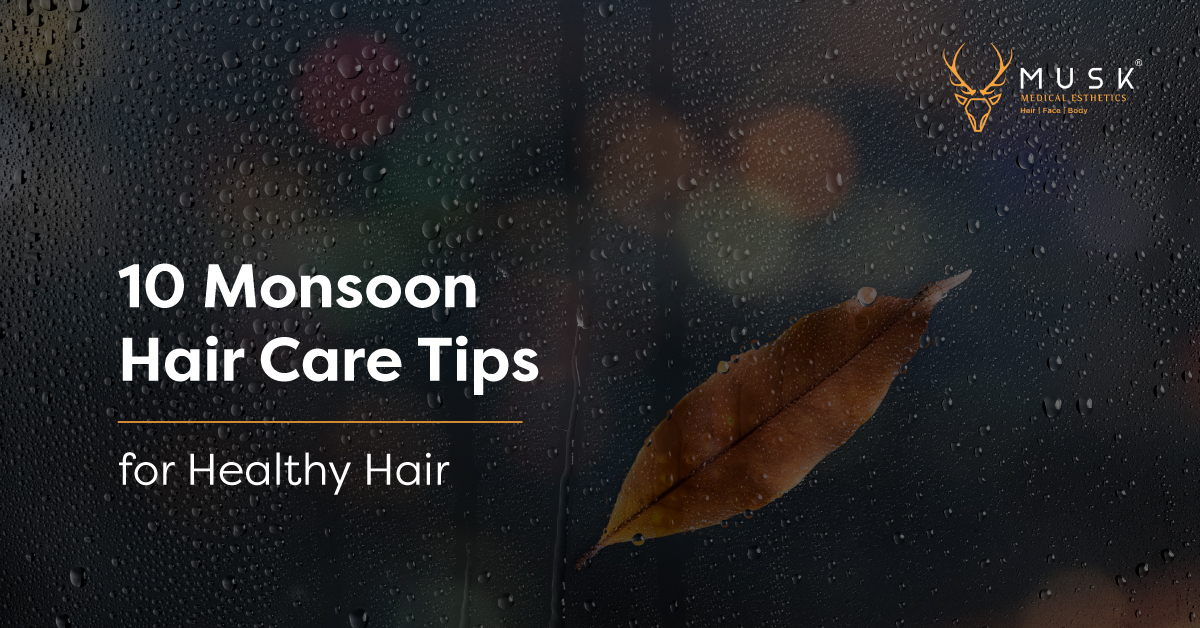 Posted on July 13, 2022
Hair care is challenging' is now become a myth for us. We all have good and bad hair days, and sometimes a dry, itchy, scalp. The dullness and mussed-up not only cause chaos to our moods but can badly cause damage to our hair. No matter how tremendously you try, caring in the monsoon can become a struggle. But you can cure many issues simply with some methods which make smoother and healthy hair growth.  
Monsoon Hair Care Tips
So follow the mentioned tips to keep your hair healthy in this monsoon.
Wash your hair every day
The more frequently you wash and condition your scalp, the more likely it is that dampness will be eliminated and damaged strands will be replaced with stronger ones. Because during monsoon season your scalp gets oily which finally makes your hair sticky and lustreless. Washing your hair frequently can help to resolve these problems.
Apply conditioner to your hair after you wash it
If you use shampoo, it is just like using conditioner. So don't forget to apply a conditioner after shampooing. As it gave extra shine to them and you can even easily manage them. Conditioning your hair can also protect them from chemical and medical trauma.  
Save them from Heat 
Heat and sunlight can be damaging to your hair's protein content and moisture level, so try to avoid applying products with a high SPF rating on them. You need a good moisturizer for protecting hair from the sun or just protect yourself under a hat or umbrella during the tropical monsoon months at least.
4 . Invest in a quality hair comb
Firstly never comb them when they are wet otherwise it increases hair fall. Secondly, always try to invest in the best comb that has bristles that are made of natural materials (like boar's bristles). And never share your comb.
Try to keep your hair short 
Keeping them short is one of the easiest and most effective monsoon hair care suggestions. Hair damage is less likely if you cut your hair short now. You won't be straining the roots by combing or detangling longer hair, which will reduce hair fall issues. Long hair needs more care than short hair.
Balanced diet
The volume and length of the hair are influenced by the diet you intake. A diet full of nourishment protects your hair. Make green vegetables and eggs a part of your diet. To get strength and volume to your hair include yogurt and spinach in your meal.
Oiling regularly 
Your hair will be preconditioned if you apply hair oil 15 minutes before shampooing. Coconut oil pre-shampoo treatment makes hair oily and reduces the amount of water your hair absorbs when washing.
Let your hair breathe
Usually, we tie our hair to buns or ponytails which makes excessive stress on the scalp and accumulation of sweat in concentrated areas which results in the daily damage of hair. Humidity and water content in the air can make it very difficult to sweat more than usual and keep the hair and scalp dry, which causes damage to the hair. Thus to breathe the hair, keep it open.
Stay away from hair styling tool 
Using a hair styling tool on a regular basis can cause damage to your hair due which you observe increased hair fall, dullness, frizziness, breakage, and split ends.
Wash off the rainwater 
When it rains, the acidity of the rainwater that is retained in your hair may cause an imbalance in the pH of your scalp. Your sebaceous glands produce an excessive amount of sebum as a result, making your scalp greasy and filthy and promoting the growth of numerous infections. So, after getting wet in the rain, it is advised to wash your hair nicely and thoroughly.
Monsoon Hair Care Tips for Different Hair Problems
 Hair Care tips according to your hair types
For oily scalp
Dandruff can be the reason for the oily scalp. For which you should have to remove the extra oil from your scalp for which you must use a mild, gel-based shampoo and even use a mild conditioner to prevent your hair from being excessively oily.
For Itchy scalp
 If you feel itchiness on your scalp during monsoon then use antibiotics or fungicidal cleanser on your hair. Usually, it is caused due to dryness and lack of moisture on your scalp.
For dandruff scalp
Having dandruff on your scalp can cause many hair problems like oily scalp, itchiness on scalp, make the dry and even increase the hair fall. To get rid of them than before washing apply organic hair oil on your scalp and use an anti-dandruff shampoo twice a week.
For frizzy hair
  Frizzy hair is caused due to lack of conditioning, regular heat styling, and a hot water bath. To prevent them used nourishing hair treatment, heat protection, air drying instead of the towel dry, and even use a wooden comb. 
Frequently Asked Questions
Q1. How Much Hair Fall Is Normal In The Rainy Season?
Ans: Weather that is hot and muggy is typical of the monsoon season. You, therefore, stand to lose 150 percent more hair during this season. Women typically lose 50 strands of hair per day, for instance. However, they may lose 150–200 hair strands during the monsoon.
Q2. How many times should I wash my hair in the monsoon?
Ans: Wash your hair at least 3 times every week throughout the monsoons. Our scalp tends to come up with additional oil during the monsoons therefore laundry it often with the best-flavored shampoo would facilitate to avoiding flora infections of the scalp. The conditioner could be a should thing which helps to avoid the frizziness of hair.
 Q3. Best hair oil for the rainy season.
Ans: Mustard hair oil needs to be used in the course of monsoon days because of its antibacterial and antifungal properties. Mustard oil is thick in consistency however receives penetrated easily. It enables you to rejuvenate your pores and skin and fortify the hair follicle easily.
Conclusion
We all love to do skin care but in between them we usually ignore caring for our hair which causes many hair problems and makes them weak and frizzy, especially in monsoon it is very tough to take care of them due to increased humidity. But with the help of hair care tips, you can protect your hair and make them healthy. Supplementing the changes with a few essential products will even provide you with a better result.
Don't you think it is more exciting and relaxing if you get a personalized hair care treatment for you according to your hair requirements. Then Musk Clinic is the place for you where you get a permanent solution to your hair, skin, face, and body issues.