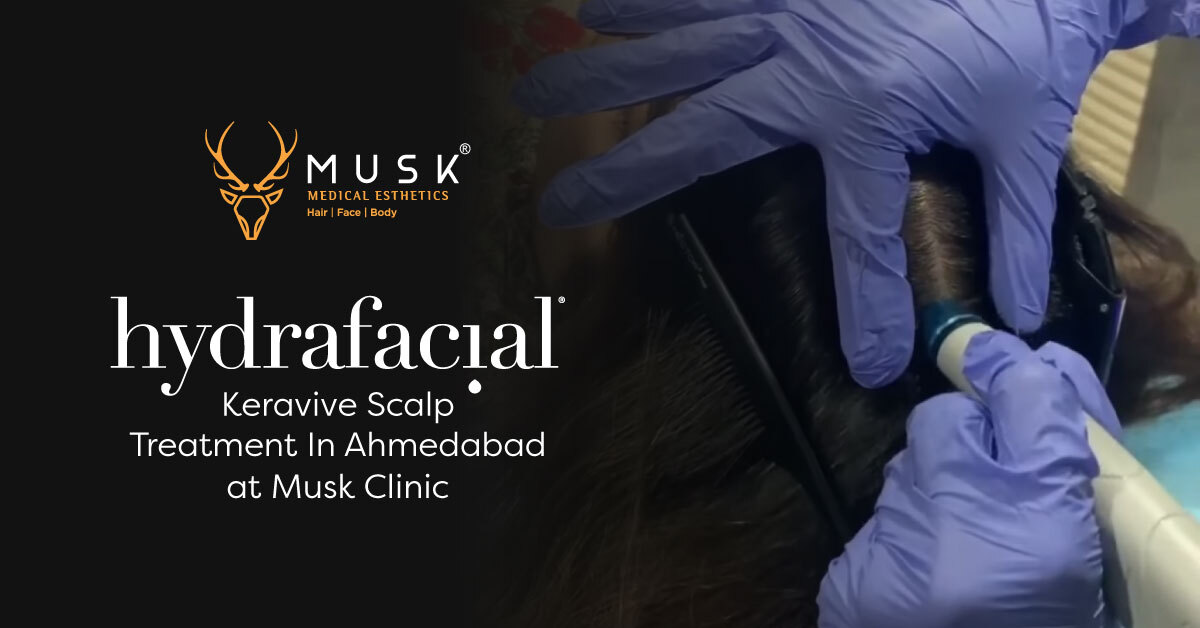 Posted on July 14, 2022
When you think about the ranking of your beauty needs, what would you put on top? Most probably taking care of your skin, a bi-monthly manicure, or getting your brows done. 
For most of us, scalp care is the lowest on our list of grooming priorities. Despite much neglect, your scalp needs as much care as your skin. 
The unnoticeable hair concerns like dandruff, itchiness, dryness, or hair thinning are easily assumed as nature intended.
In reality, our poor scalps are creating the whole mess.  
Thankfully, Musk Clinic offers the best hydrafacial scalp treatment that helps with the happiest and healthiest head of hair.
HydraFacial Keravive Scalp Treatment is a three-step relaxing treatment designed to cleanse, exfoliate, nourish and hydrate your scalp for fuller, healthier hair.
HydraFacial Keravive improves scalp health with a unique blend of growth factors and skin proteins and also manages scalp dehydration, clogged follicles, and poor circulation.
If you have been experiencing itchy scalp or snowflakes on your shoulders, then HydraFacial Keravive is specifically made for this condition.
What to know more about HydraFacial Keravive Scalp Treatment?
Scroll down and learn everything from its steps to benefits and the answer to your Google search for the best HydraFacial Keravive Scalp Treatment near me.
What is HydraFacial Keravive?
HydraFacial Keravive is the latest advancement and 3-step hair treatment that revitalizes scalp health. This revolutionary hydrafacial treatment for hair is a unique scalp treatment that leads to healthier, fuller-looking hair.
Keravive is an FDA-approved procedure that is completely painless, safe, and effective. The distinctive hair treatment cleanses, exfoliates, nourishes, and hydrates the scalp for healthfuller hair for all skin and hair types.
The cost-effective HydraFacial Keravive Scalp Treatment is performed with a unique Vortex Technology that eliminates dirt, oil, and pollutants from the scalp and hair follicles while boosting circulation.
With advanced technology, a hyper-concentrated blend of growth factors and skin proteins is infused into the scalp to hydrate and nourish the scalp.
Involving just three-step, cleansing + exfoliating, hydrate + nourish and extend + enhance, the HydraFacial Keravive treatment can be done in quick 30 minutes.
Just like HydraFacial does wonders to the skin, HydraFacial Keravive is an ideal hair treatment for the scalp. Anyone suffering from dry scalp, itchiness, dandruff, or facing hair thinning or loss due to stress or hormonal imbalance can take advantage of HydraFacial Keravive Scalp Health treatment and improve their overall scalp health.
Steps in HydraFacial Keravive Treatment:
The three steps process are,
STEP 1 – Cleanse & Exfoliate
The first step begins with cleansing and exfoliating your scalp with vortex technology. A certified physician extracts dirt, oil, and impurities from the scalp and hair follicles with the help of a small painless suction tube.
STEP 2 – Hydrate & Nourish
During the second step, the treatment begins with the Hydrafacial Keravive peptide complex solution. The solution containing a proprietary blend of growth factors and skin proteins such as strand-strengthening keratin and peptides is infused with the help of another tube to stimulate a healthy scalp.  
STEP 3 – Extend & Enhance
The final step can be performed at home with daily use of the peptide complex scalp health spray; given by the physicians. 
The everyday use of the spray enhances the in-clinic treatment and delivers daily needed hydration and nourishment to your scalp and hair follicles.
Results of HydraFacial Keravive Scalp Health Therapy:
HydraFacial Keravive scalp health therapy deeply cleanses, exfoliates, and hydrates the scalp and hair follicles. The hair treatment removes impurities from the scalp surface while also stimulating scalp circulation. 
The easy and quick scalp health treatment most likely provides results after just 1 treatment. The patients can see visible results in their scalp health and hair fullness. According to the records, after experiencing the full course of treatment, many patients reported improvement in their hair fullness and overall scalp health and hair appearance.
What are the Key Benefits of HydraFacial Keravive Scalp Health Therapy?
HydraFacial Keravive treatment has numerous incredible benefits. Some of them are,
Enhance Scalp Health: 
The relaxing treatment cleanses and exfoliates your scalp and helps remove all the impurities blocking hair bristles. The therapy also helps reverse the hair thinning and improves hair regrowth and thicker hair strands post-treatment.
Minimize Dry Scalp:
The cause of dry scalp is often direct or other impurities that remain on the scalp surface, but during the process, all dirt and impurities are eliminated. Further, with the help of nourishing serum applied to the scalp, it also prevents scalp dryness or itchiness and hydrates and nourishes the scalp.
Lessens Scalp Flaking: 
Scalp flaking is associated with seborrheic dermatitis. HydraFacial Keravive is a treatment that will effectively help in reducing and completely getting rid of flaking on the scalps.
Promotes Hair Growth:
HydraFacial Keravive accelerates hair growth when combined with PRP hair treatment. People suffering from severe hair loss can take benefit from this therapy and improve their hair growth and control hair loss.
Sustains Hair Extensions:
People with taped-in or bonded hair extensions can obtain HydraFacial Treatment. However, we instruct our clients to directly spray on their scalp, not on the hair or extensions.
Helpful for Colored Hair:
HydraFacial Keravive Scalp Treatment also works well on colored hair without impacting the color or dyes. It also helps protect the scalp from any damage caused by the hair color.
HydraFacial Keravive Scalp Treatment in Ahmedabad at Musk Clinic:
HydraFacial Keravive is the most suitable treatment for people battling hair loss or a dry scalp. And who is better than Musk Clinic, widely known for its quality aesthetic treatment services and highly trained professionals. 
Musk Clinic is the certified clinic providing the official patented Hydrafacial treatment and HydraFacial Keravive Scalp Treatment in Ahmedabad, Gujarat.
At our clinic, we believe that hair thinning and hair loss don't have to be permanent. Equipped with various laser and aesthetic machines, we provide comprehensive hair treatments in Ahmedabad that can help you achieve your thickest, fuller head of hair. Get in Touch with our Expert Doctors for HydraFacial Keravive Scalp Treatment in Ahmedabad, Gujarat at Musk Clinic.
Please visit our website for more information about our services: www.muskclinic.com