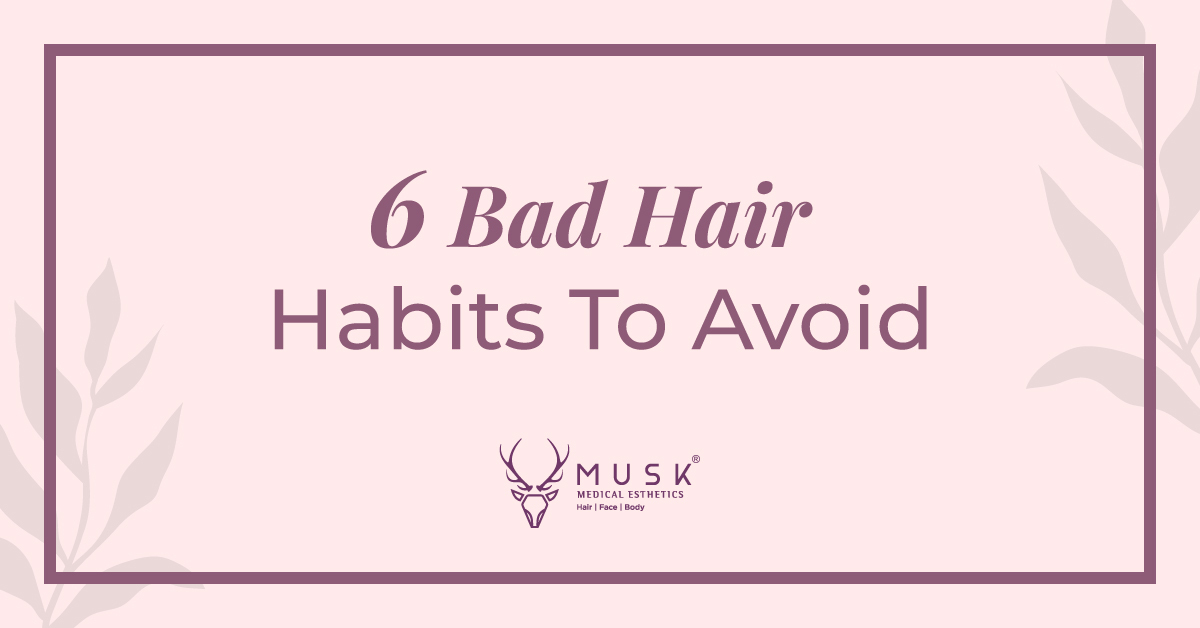 Posted on July 28, 2022
Hair styling may complete your look, but depending on your techniques,  it may also harm your hair. We all have awful hair days, especially when we have an event to attend or going for some social management. We're all trying to protect our hair, but are we doing everything we need to do?
Put your self-care routine to the test to determine whether you're harming your hair or not. 
Here are the top six hair-related bad habits that you should avoid.
6 Bad Hair Habits to Avoid
1. Often or Not Enough Hair Washing:
Of course, how frequently you should wash your hair depends on your hair type and texture, as well as what your hair demands from you. We all know that washing hair on a frequent basis causes stripping of the hair, which eliminates all of the important oils. Whereas if we don't wash them on a regular basis, we might suffer major consequences. It increases the dirt, dust, and even added oil to our scalp which causes hair loss, dandruff, and many more problems. To avoid these problems wash your hair twice a week.
2. Rinsing off With Steaming Hot Water:
After a long and exhausting day, we all enjoy taking a hot shower. However, much as on the face, it is also not good for hair as hot water removes natural oils from the scalp, and opens up the cuticles which allow moisture to leave and dry up the scalp. So, always remember to shower with water that is between warm and cold.
3. Overheating Hair:
We all want to use heating tools like blow dryers, flat irons, and curling wands to make our hair look nice, but overusing heating tools is the quickest way to damage your hair. These tools are known for sucking moisture out of your hair strands, resulting in split ends, breakage, and dryness. It is recommended that you use the heating tools as little as possible if you want to reduce the amount of hair damage.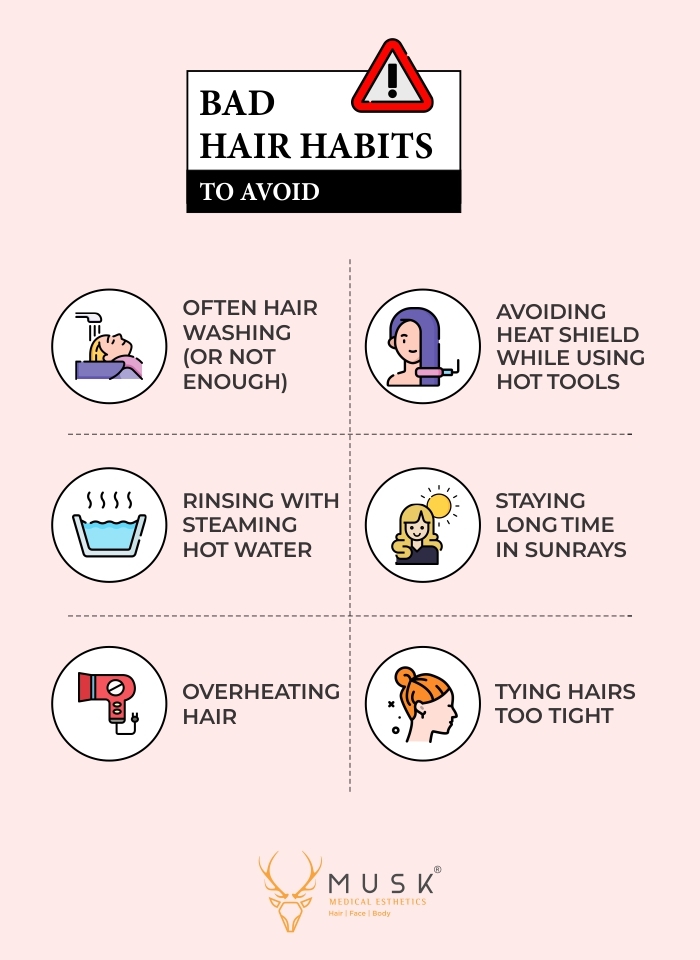 4. Avoiding Heat Shield while Using Hot Tools:
It is recommended you put a heat protectant on your hair when using a heating tool so that it can endure long-term damage and evident dullness. The high temperature of the heating tool causes strands to split ends and the hair to dry out. A protectant will form a barrier between the heat and hair.
5. Staying a Long Time in Sunrays:
The intense sun rays damage the hair, it causes the loss of essential vitamins and proteins which helps the hair to get a healthy hair structure. You shouldn't completely avoid sun rays but while sitting in the sun or moving out somewhere always use hats, caps, or thermal protectors to protect your hair.
6. Tying Hairs too Tight: 
Sweeping your hair away from your neck and into a tight updo may be comfortable for sleeping or working exercise, but it may also create stress on your scalp. Ponytails should not be avoided entirely. Just switch it up every now and again. Give your hair a rest by making them in low ponytails and replacing elastics with soft fabric hair ties. Always try to use silk scrunchies and metal clasps – the more flexible your hair ties, the better quality your hair has. 
Conclusion
Why not attempt to overhaul your hair care routine? It's known that it takes 21 days to break a habit, so why not try it.
To maintain your hair health, avoid using too much heat, wear heat protectors when you do, get frequent haircuts, and don't shampoo more than twice a week.
Too much product and chemical treatments aren't always a good idea, and avoid brushing your hair when wet. Your skin is the relative of your hair; take better care of both.
Now that you know what not to do, it's time to review what a healthy hair care routine entails.
Despite all these, losing a huge amount of hair is like a nightmare for all of us.
Relaxed!  We at Musk Clinic are introducing you all to a perfect solution for your hair problem – HydraFacial Keravive Scalp Treatment. This scalp treatment is known as the best treatment for those who are battling with different scalp problems.
For more inquiries get in touch with our expert doctors.
If you have any queries feel free to contact us or visit our site www.muskclinic.com.