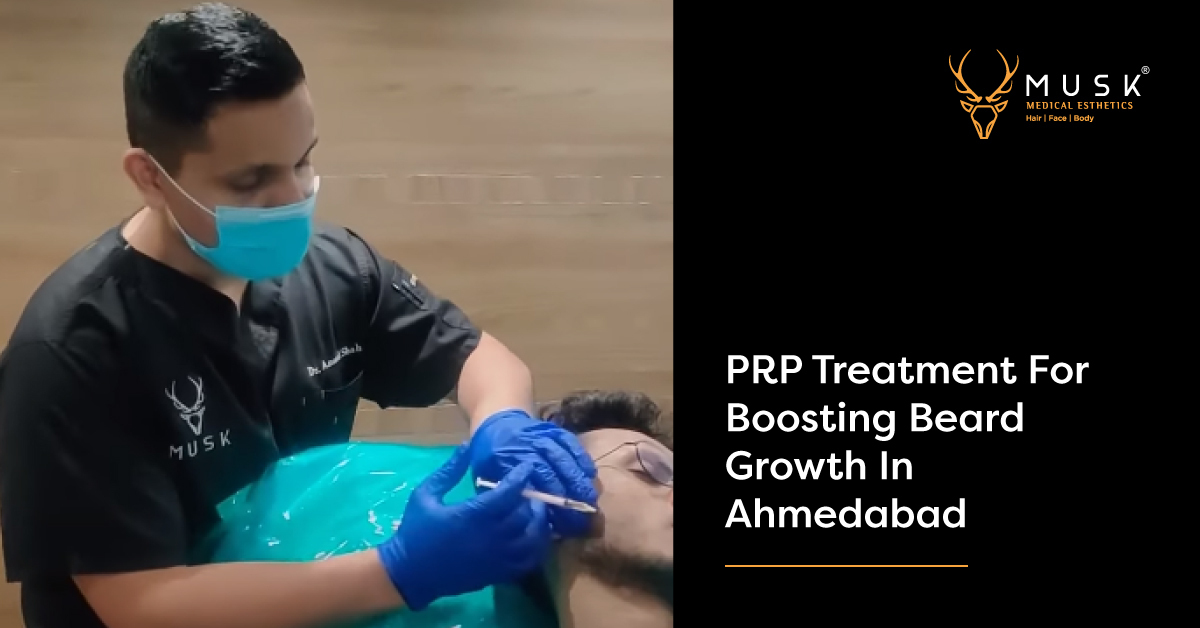 Posted on April 5, 2023
If you've found your way to this blog post, chances are you're one of the many men out there who is struggling to grow a full, thick beard. Are you?
Well, even if you are, then there's no need to worry about it anymore. There's no denying that when it comes to appearance and confidence in men, a well-groomed beard can do a lot.
However, genetics, hormonal imbalances, and a range of other factors can often leave men feeling frustrated and self-conscious about their facial hair.
But the good thing is there's a solution that can help men achieve a fuller, thicker beard by boosting their beard growth. Yes, and that popular beard treatment is PRP treatment for beard growth. 
This innovative PRP treatment uses your own blood platelets to stimulate hair growth and improve the thickness and quality of your beard. How?
Continue reading this blog to explore everything about PRP treatment, including what it is, how it works, the benefits, and what you can expect from the process.
What Is PRP Treatment For Beard Growth?
PRP treatment for beard is a nonsurgical treatment for those men suffering from hair loss and patchy beards.
PRP stands for Platelet Rich Plasma and is a collection of wound-healing growth factors naturally found in the blood. The concentration stimulates collagen and blood supply, which can create a stimulatory effect on the hair follicles.
In this minimally invasive treatment, the platelet-rich plasma gets injected into the face areas where the beard appears patchy and can be in the mustache, chin, or other gaps between the beard. This whole beard regrowth treatment not only helps in a beard transplant but also enhances blood circulation and promotions of growth factors. 
This beard restoration treatment has become increasingly popular to treat beard hair loss and thinning due to its safe and significant results in boosting beard growth.
Who Is The Right Candidate For Beard Transplant?
PRP beard treatment is a natural and effective option for any man who wants to boost their beard growth. However, it is essential to consult a qualified and experienced cosmetic surgeon to evaluate if you are the right candidate for the treatment. 
Though below are some of the factors you should know about to identify if you are the right candidate or not.
Medical Conditions –  If any individual is suffering from Telogen Effluvium and has any medical history related to thyroid problems, then he might not be the best candidate for PRP treatment.
Blood Thinners – If any individual is on a blood thinner, he might experience less visible results as platelets of people on blood thinners work less effectively.
So if you don't have any of these problems, then you are most probably the right candidate for PRP beard treatment.
How Does PRP Help Promote Beard Hair Growth?
PRP treatment involves injecting a concentrated solution of the patient's own blood platelets into the beard area that requires healing. When it comes to beard hair growth, PRP treatment is believed to work by stimulating the hair follicles, which can lead to new hair growth.
Scientifically speaking, platelets obtained from PRP target the "Dermal Papilla" , an area of the follicle that promotes new cell growth and accelerates the regeneration rate to speed up the results. 
Platelet-rich plasma contains various growth factors; listed below are some of the specific cells that help promote hair growth.
Insulin-Like Growth Factor (IGF)

– Stimulates cell proliferation and differentiation.

Transforming Growth-Factor-Beta (TGF-β) – Helps regulate hair follicle development and maintenance.
Platelet-Derived Growth Factor (PDGF) – Promote blood vessel growth, skin formation, and division of hair follicle cells.
Epidermal Growth Factor (EGF) – Boosts cell growth and differentiation, collagen formation, and regeneration of hair follicles.
Fibroblast Growth Factor-2 (FGF-2) – Enhances special cell growth and blood vessel formation.
Vascular Endothelial Growth Factor (VEGF) – Promotes the growth of new blood vessels and increases blood flow to the hair follicles.
PRP Beard Treatment Process
Step-by-step process of PRP beard treatment 
Step 1 – A small amount of blood is taken from the patient's body, usually from their arm.
Step 2 – The blood is then processed in a centrifuge, a device that helps separate the platelet-rich plasma from the rest of the blood components. 
Step 3 – After 10 minutes of spinning in the centrifuge, the blood is separated into three components that are red blood cells, platelet-rich plasma (PRP), and platelet-poor plasma.
Step 4 – From the three components, the PRP is taken into a separate syringe and then injected into the patient's beard area using a fine needle.
The treatment typically takes about 30-45 minutes, depending on the extent of the area to be treated. The patient can resume their daily activities immediately after the procedure.
PRP Treatment Results
The results of PRP treatment for beard growth depend on the patient's individual hair growth cycle. However, the patient may begin to see some improvement in beard growth within four to six weeks after the treatment and can achieve optimal results in around six months.
Risks And Post-procedure
PRP treatment for beard growth is generally safe and has minimal side effects. 
However, some patients may experience mild swelling, bruising, or redness at the injection site, which usually subsides within a few days.
PRP post-procedure care instructed by your cosmetic surgeon must be followed carefully to ensure the best results and avoid any complications.
Basic PRP post-procedure instructions are:
Carefully wash your face for a day or two after the procedure
Use a clean towel
Avoid using beard ointment for the first two days after the treatment
What Are The Advantages Of PRP Beard Treatment?
Improves Hair Growth & Reduces Hair Shedding
Naturally boosts hair thickness and density
Non-Surgical
Speedy Recovery Period
Less Pain & Inflammation
Safe & Cost-Effective Process
Reduced Infection Risks
Why Is Musk Clinic The Best Clinic For PRP Beard Hair Transplant?
Finally, we have come to the end of this blog, Phew! Hope you've learned about PRP treatment as we covered everything from tiny scientific details to how it works and its benefits.
So, what's next? Are you ready to take the next step toward a fuller, more healthy beard? If yes, look no further than Musk Clinic.
Musk Clinic is a multispecialty hair, skin & cosmetic clinic based in Ahmedabad, Gujarat. Using advanced technology and following hygienic measures and safety management, we provide world-class treatments to our patients.
We have years of expertise and experience in performing world-class cosmetic and hair treatments, including PRP treatment for beard growth.
So if you want to achieve the beard of your dream, Book your appointment today.
Read More :