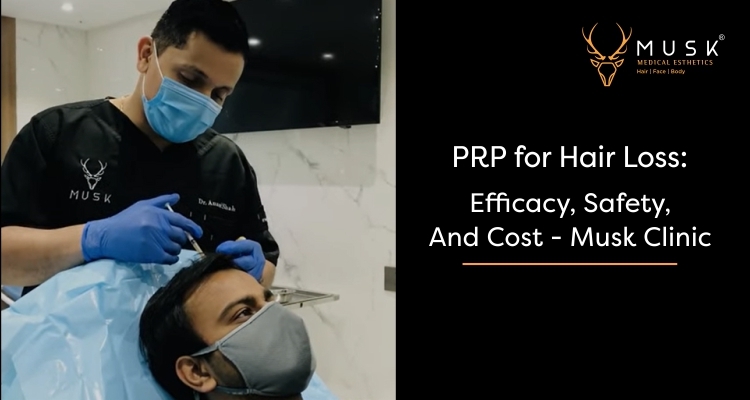 Posted on June 9, 2022
Amid hair fall is a common problem faced by many, PRP has become a buzzword. You might have come across phrases like 'PRP has fewer side effects,' 'PRP is less costly,' so and so forth. PRP has been used for a long time as a hair therapy and means to treat musculoskeletal problems, however, nowadays it is also used to cure skin diseases.
This blog covers everything you need to know about PRP:
What is PRP therapy?
How effective is PRP therapy?
Is PRP therapy safe?
Is it a costly affair?
What is PRP Therapy?
Platelet-rich plasma, also known as PRP therapy, is an advanced medical remedy for treating hair loss by extracting, processing, injecting blood into the scalp and follicles.
It is a blood plasma that includes 3-5x platelets present in human blood. Further, it also consists of several growth factors such as platelet-derived growth factor (PDGF), vascular endothelial growth factor (VEGF), transforming growth factor (TGF), and proteins that accelerate repair and contribute to hair growth. Doctors are also using PRP therapy for healing injuries related to muscles, ligaments, and more.
The steps to perform PRP therapy includes:
The blood is extracted through the arm in a similar way like that to a blood test or donation
The blood sample is put into a centrifuge and processed to detect platelet-rich plasma
Platelet-rich plasma once detected are drawn out of the blood and infilled into the syringe
The blood is later injected into the scalp
This is a usual approach and can vary a bit depending on the medical professional. Each sitting could take around an hour.
PRP aims at hair growth and doesn't include the hair transplantation process. Also, the source of treatment is a person's own blood components, owing to reduced risks. Therefore, as PRP has minimal side effects, it is comparatively considered a safe treatment. However, there are some cases when individuals should not opt for PRP. Primarily, those taking medications for diseases such as cancer, chronic skin diseases, thyroid, low platelet count, and more should avoid receiving PRP therapy.
Further, people highly addicted to heavy drugs, alcohol and smoking are advised not to go through the therapy. Moreover, if you have experienced any reaction due to elements present in anesthesia, consult a dermatologist prior to undergoing the PRP treatment.
The most common side effects of PRP include mild infection, dizziness, nausea, nerve/blood vessels injury amongst a few others.
People have to undergo treatment every 3-6 months, followed by monthly sitting. This depends on the extremity of the issue and the result of the initial sessions. Once the hair loss gets under control, the number of sittings is reduced accordingly. 
Is PRP Therapy Effective?
According to a study conducted by leading researchers on people suffering from androgenetic alopecia, PRP injections worked positively to a great extent. It contributed to hair growth, increase in hair length, and greater hair density. Although there doesn't exist any full-proof evidence about its efficacy, here are a few studies that prove the therapy to be an effective one.
Several journals such as Dermatologic Survey, International Journal of Women's Dermatology, and Aesthetic Plastic Surgery report that PRP successfully improves hair quality, reduces hair loss, hair regrowth, and more. The findings decipher that diameter and overall hair growth are accelerated to a higher extent. Furthermore, a report marks that PRP has proved to be an effective treatment for AGA in 10 out of 12 studies. One of the many reports shows that PRP is best effective when merged with other AGA remedies such as topical treatments. It is proved to be 70% effective when administered with other medications.
PRP has shown positive results in cases such as:
Excessive hair loss due to stress
People belonging to age group 18-80
More efficacious to those suffering from alopecia
Individuals having thin hair or baldness
As far as PRP therapy is concerned, you are required to put in efforts consistently. It is performed in several sittings having specific gaps, which differs from person to person based on the treatment's responsiveness to the patient. The results could be visible after 3-4 months of treatment.
The findings are based on a small sample of around 200-400 people having symptoms of hair loss and experiencing androgenetic alopecia. As the research lot is small, experts suggest not to rely completely on these study papers.
Is PRP Therapy Safe?
Although the injections are found to be painful, the therapy is safe when conducted by an experienced medical expert. The injected area could have minor swelling which gets right within a few hours. It usually causes mild pain, itchiness, and headache. In some cases, the therapy may also result in temporary hair shedding.
It doesn't pose any risks related to allergy, side effects, reaction, and similar issues. As already mentioned, it causes some complications in specific cases. For instance, if you're already taking medications for cancer, or have any bleeding disorder, you must not count on this medication.
You should make a decision considering your health. You should decide based on detailed research after examining your situation and consulting a health expert.
Is It a Costly Affair?
Cost is a concern for many people. Once you're clear about the side effects and efficiency of PRP, you could be wondering about the costs incurred in PRP treatment.
The PRP costs vary depending on several factors like:
Geographic location – It could be costlier in the USA as compared to India
Quality of equipment – The machinery used to process blood samples also affect pricing decision
Nutritive components used – If any extra proteins are combined with the PRP, it would result in added costs
The cost varies depending on the severity of your infection, quality of materials, tech tool used, and the therapist you consult. PRP treatment follows a monthly cycle where you are required to take three injections every month until the basic course gets completed. Later, once the situation gets under control, you are needed to receive maintenance treatment. You are advised to get injected every four or six months.
The treatment continues for years to ensure that the scalp receives enough support to boost hair growth. Getting injected every few days/month prevents hair thinning and maximizes hair volume considerably.
Besides, if you're wondering whether it can be covered in medical insurance or not, you need to reach out to your insurance company. This is because many companies don't treat it as a medication and consider it a mere cosmetic. Hence, they don't cover any such costs. You can check with the insurance provider ahead of getting cured.
Conclusion
Other than PRP treatment, there are several remedies available such as hair transplant, Rogaine, and more. However, these therapies prove to be more costly, time-consuming, and painful as compared to PRP. In the case of PRP, it is a cost-effective option you can choose anytime.
Further, PRP is also considered the fastest hair growth therapy that accelerates the process swiftly. The fact that it doesn't lead to any risks related to side effects or hair damage makes it a bit more secure alternative as compared to others. The best idea is to examine your situation, consult the doctor, and make the decision accordingly.
If you're still unsure, feel free to reach out to us at Musk Clinic. We're Gujarat's one of the few certified clinics offering a completely safe PRP treatment for hair loss. For more information, get in touch with our experts.