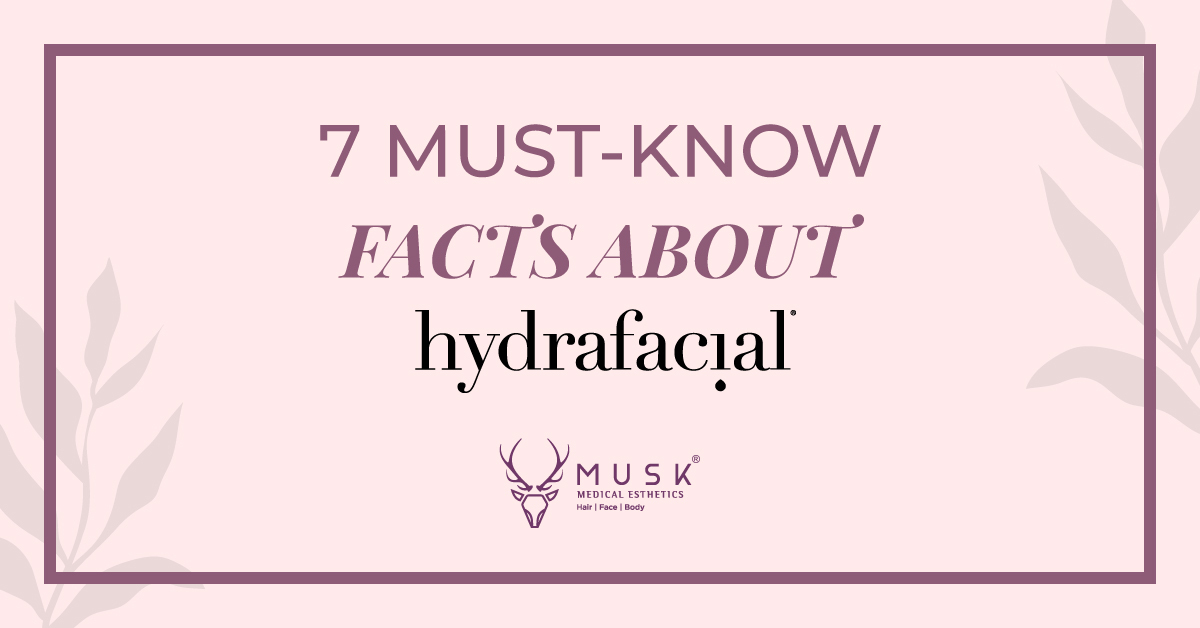 Posted on July 19, 2022
A HydraFacial is a medical spa and dermatological office-based skin treatment. It's also known as "Hydradermabrasion" since it combines microdermabrasion-like exfoliation with moisturizing serums.
Many of our Med Spa patients at Musk recommended the HydraFacial because of its ability to create clean, gorgeous, and revitalized skin. This minimally invasive technique invigorates your skin by combining hydration, cleansing, exfoliation, extraction, and antioxidant protection to create a healthy, young glow.
So, here are seven reasons why HydraFacial could be the best option for you.
7 Must Know Facts About Hydrafacial:
1. Combine Multiple Treatments in 30-60 mins:
Hydrafacials are popular because they may enhance the texture and tone of the skin in just 30 minutes. If a patient wishes to take extra measures to enhance the results of the facials, then only one facial session may last 45-60 minutes.
A typical method may look like this:
The exfoliating, vacuum-like tip is gently swept over the skin to remove dead skin cells while also providing a renewing serum to moisturize and protect the skin.
By moving a metal suction device along your lymphatic system, this procedure promotes lymphatic circulation in your skin. Improved lymphatic circulation not only helps in the removal of pollutants but also enhances blood flow.
Weird water and suction therapy are then used to gently pull out whiteheads, blackheads, and oil stuck in pores. This is the phase that will give you small, tight pores.
The use of a nourishing serum that drenches skin with strong, protective antioxidants, collagen-supporting peptides, and moisturizing hyaluronic acid is the final step in many treatments. It will leave your skin feeling extremely soft and plump, as well as help to smooth out the look of fine wrinkles.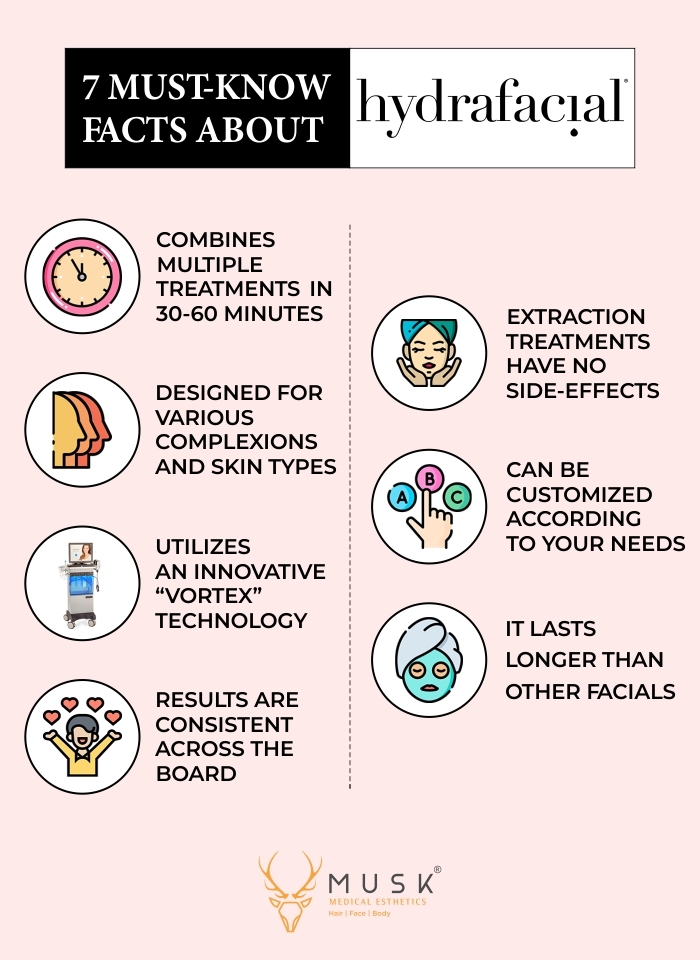 2. Designed for Various Skin Complexions and Skin Types:
A Hydrafacial treatment addresses the problems of patients with different skin types, including those with sensitive skin. This facial will help teenagers with acne, adults with wrinkles, and senior individuals with hyperpigmentation, pimples, and flaky pre-cancerous areas.
3. Utilizes an Innovative VORTEX Technology:
The spiral form of HydraPeel Tips, when combined with HydraFacial's revolutionary vacuum technology and serums, creates a VORTEX effect, allowing pollutants to be readily dislodged and removed while moisturizing skin solutions are delivered.
This patented device has the following features:
Pressure delivery in varying degrees

The use of "VORTEX Fusion", which mixes antioxidant-rich algae, glucosamine HCI, and exfoliating lactic acid.

Exfoliating acid dispersion amounts can be controlled.
4. Results are Consistent Across the Board:
The high-tech skincare technique produces constant results because its effects are not dependent on your technician's expertise. Unlike traditional facials, which can result in skin irritation or scarring, Hydrafacial therapy is dependably safe and effective, no matter who uses it.
5. Extraction Treatments Have No Side Effects:
Hydrafacials are popular not just because of their consistent results, but also because they are pleasant, painless, and devoid of the side effects that afflict traditional facials. This delicate method treats skin issues such as acne, and there is no downtime or limitation following the treatment.
6. Can Be Customized According To Your Needs:
Aside from being independent of a technician's expertise, the outcomes of a Hydrafacial treatment are so successful because you can tailor your treatment to what your skin requires.
The ratio and kind of serums used are determined by what the patient requires, and the time length for each sub-process can be customized for the patient.
A professional may offer the following boosters and add-on therapies to improve results:
Anti-aging peptide complex serum – Improves skin elasticity and reduces the appearance of wrinkles.
Brightalive booster – removes brown spots, evens up skin tone, and keeps new pigmentation from forming
Red LED treatment -increases cell turnover while soothing the skin 
Blue LED treatment – acne treatment and bacterial killing
Brightalive booster – eliminates brown spots, evens up skin tone, and inhibits new pigmentation creation
  7. It Lasts Longer Than Other Facials:
Hydrafacial not only clears and brightens your skin but also lasts longer than traditional facials.
After only one treatment, you will notice visible skin refinement as well as a radiant and even skin tone. Your skin will be really smooth, and you will notice how moisturized it is. You should anticipate having substantially smoother skin for five to seven days, or even longer. One treatment per month is advised to enhance the look of fine lines, wrinkles, dark spots, and congested skin.
Conclusion:
Our Hydrafacial treatments at Musk Clinic will help you reach your finest look. Our board-certified physicians are highly skilled and can assist you in developing a customized cosmetic treatment plan.
As the premier center for cutting-edge cosmetic treatments in Ahmedabad, we provide our patients with safe and effective solutions for glowing and flawless skin.
If you have any concerns about this groundbreaking face treatment or would like to arrange one, then contact us and visit our website at www.muskclinic.com.