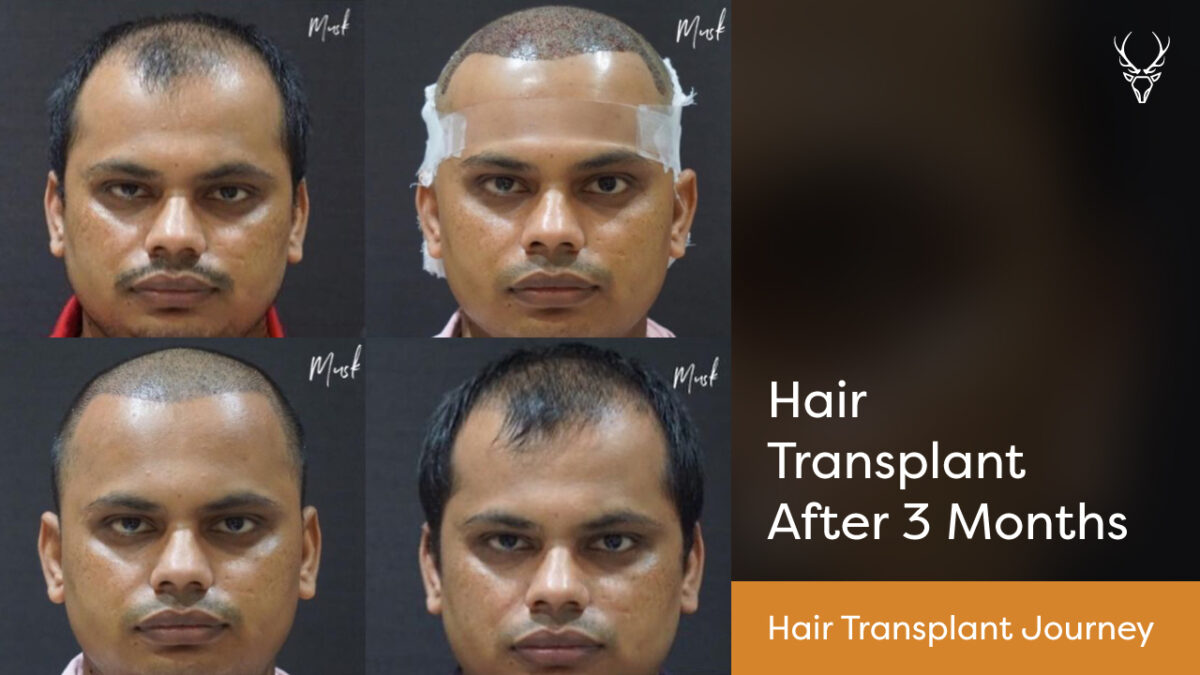 Posted on August 24, 2022
Nowadays, who is not concerned about looking confident?
An unhealthy lifestyle, junk food, and stress are the vital reasons behind hair loss and baldness. However, it creates a point of concern who experience baldness, and all they need is an effective solution to get their hair back and look confident.
If you have experienced the same, you may have heard of a hair transplant for restoring your hairline or filling out thinning hair. A hair transplant is a big decision that can have life-changing effects for patients suffering from hair loss. 
When you try to understand the whole hair transplantation process, you have lots of questions like will I be able to regain a healthy head of hair, what is the recovery process, how much time it takes, and more. 
 For those who are considering the benefits of hair transplant, it is critical to understand that the results will change and improve over time & it is not simple to have a full head of hair instantly.
Hair transplants involve a certain amount of time for the recovery, healing, and growth of new hairs. 
To help you better understand the healing process of a hair transplant, we will give you a rundown about what you can expect 3 months after a hair transplant procedure!
So, let's get started!
What is a hair transplant?
If you are looking for a permanent transplant for your hair loss, then you should definitely consider a hair transplant.
Today with advanced hair transplant techniques, it is easily possible to have natural-looking hair. 
Hair transplant is a procedure of permanently transplanting new hair to the area needed by people who are experiencing hair loss for any reason or have a genetically broad forehead.
During the process, hair follicles are removed from a part of your body known as the donor site and transplanted to the bald or balding part called the recipient site. The process is done with the help of a scalpel or punch graft instrument.
Hair transplantation is 4 step process that includes; 
Determination of the Hairline for hair transplant  

Extraction of Hair with the FUE Technique

Incisions on the Receiving Area for Hair Transplant

Hair Transplant Stage
Hair transplant can be performed by both methods, follicular unit extraction (FUE) and follicular unit transplant (FUT).
At Musk Clinic, the transplantation process is performed in a hospital environment, under sterile conditions by medically certified doctors; and health teams specialized in this field.
We use advanced techniques and patented instruments to offer 100% safe, pain-free, natural, and permanent hair transplant results.
How long does it take for hair to grow after a Hair Transplant?
Most people are able to see the results between six to nine months after their hair transplant procedure, while for some people, it can take up to 12 months for results to be seen.
The beginning period of noticeable hair growth and thickening is also known as the hair busting stage. 
To make you understand the recovery process more precisely, our expert hair transplant surgeons provide you with all the required information on what to expect after a hair transplant to ensure that you have realistic expectations from the procedure before proceeding with treatment.
Hair Transplant Timeline for hair to Grow post-transplant:
Check out the hair transplant timeline month by month.
10 days after Hair Transplant: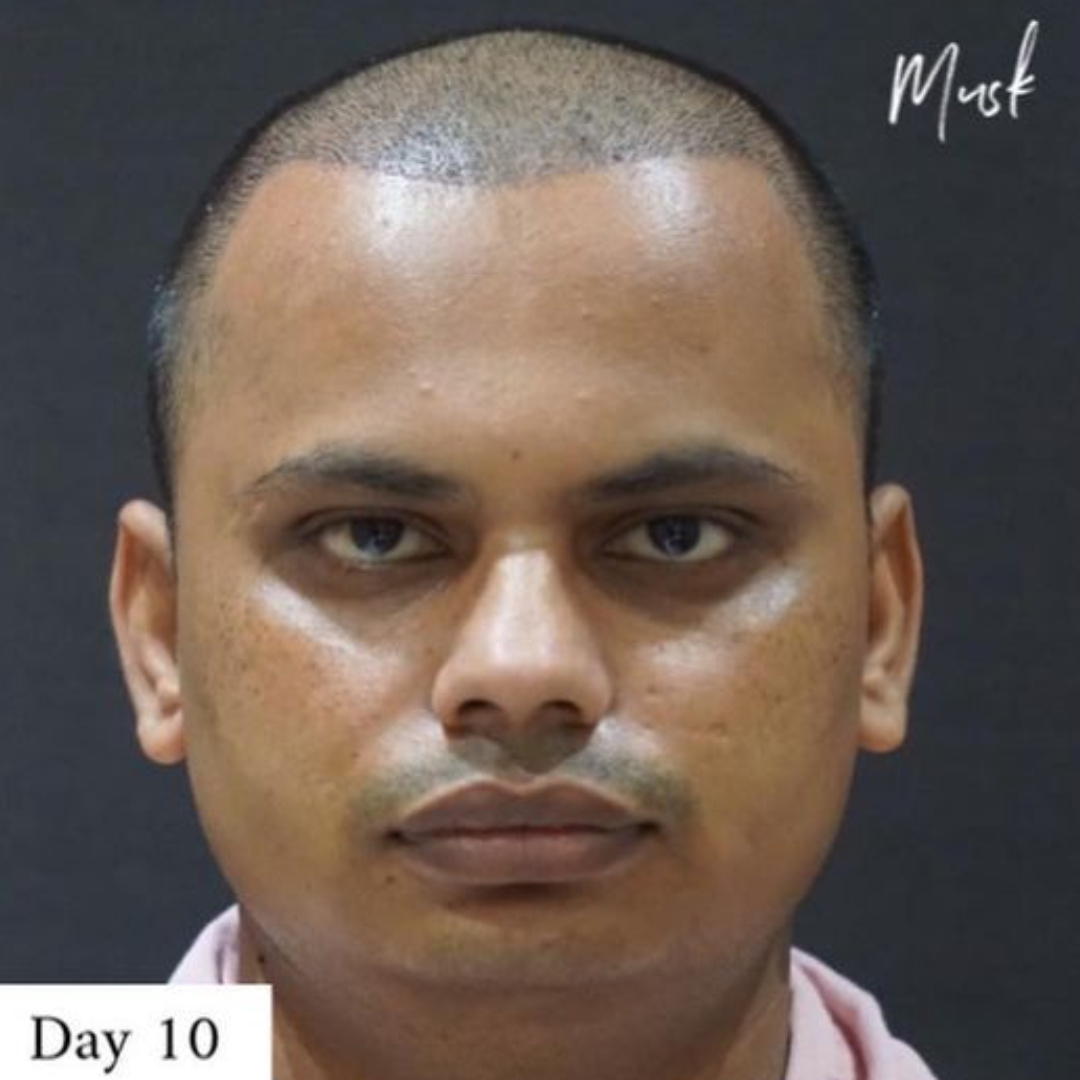 This is the time when your physical recovery will take place. Immediately after 10 days of your hair transplant process, the outline of a new hairline will start to appear, but this is not your final result.
By the end of the first week, the scabs from your extraction puncture will start to fall off, donor area hair will grow nicely.
Some may also notice swelling in the donor area, but that's temporary and will reduce with time. 
Redness over the graft implant site and some tenderness occurring can be managed with pain-reliving medicines.
Hair Transplant after Two weeks: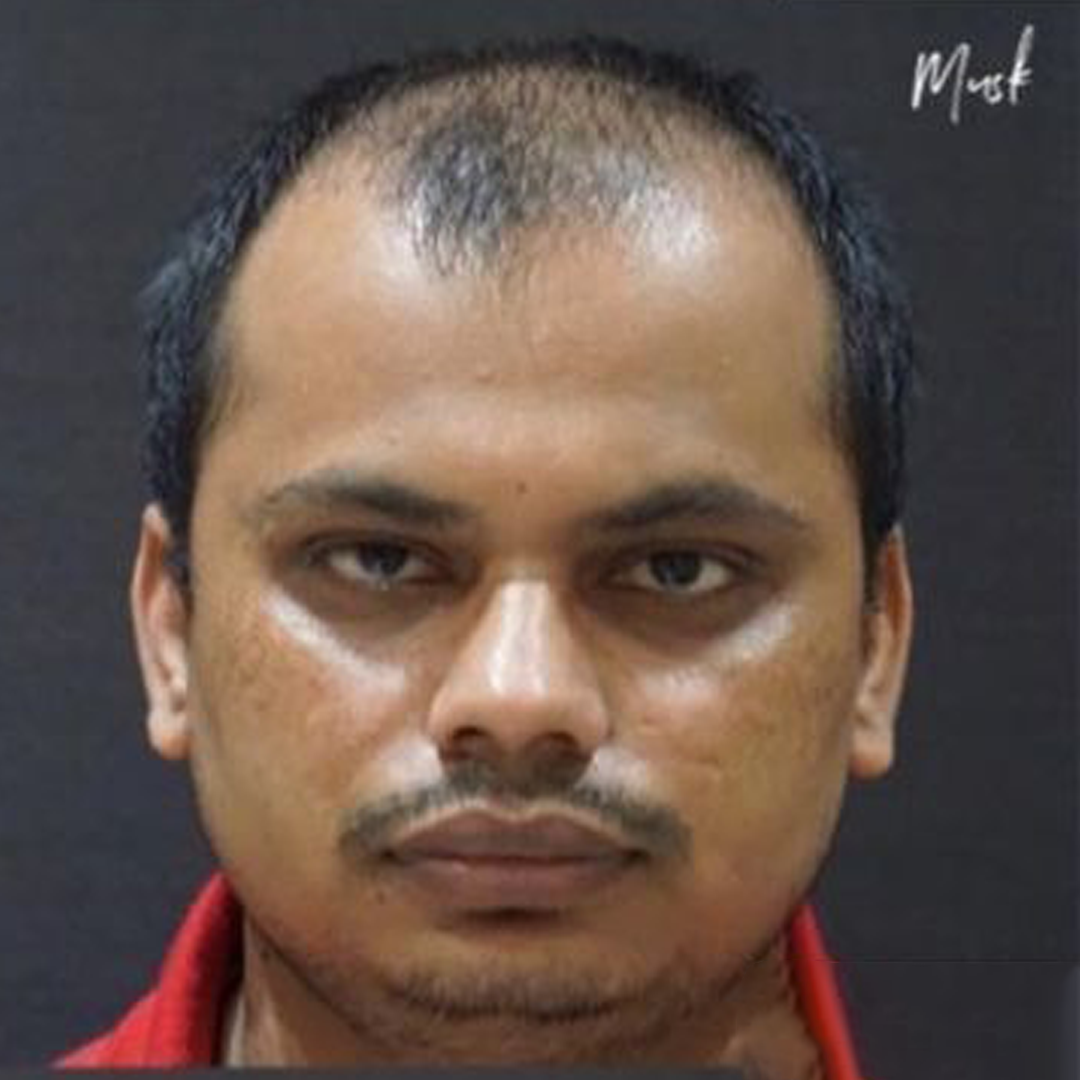 After the two weeks of your hair transplant, you may start noticing some hair loss in the treated areas.
But you don't need to worry about this it's a very normal and common side effect often referred to as shock loss. Also, it's essential to note that the hair separation is only done on old hairs, and there is no issue with your root follicle, it's completely intact and safe.
Hair Transplant after 1-2 Months:
After a hair transplant, shedding of hair graft can be noticed anywhere between 2-7 weeks. It is one of the hardest phases of hair transplant after 2 months, as not only is your new hair hasn't grown, but also the old hairs have fallen out. Our expert will already prepare you for these.
Your hair line tends to grow first, but the crown area stays in dormant shock the longest.
Hair growth: Hair Transplant after 3 months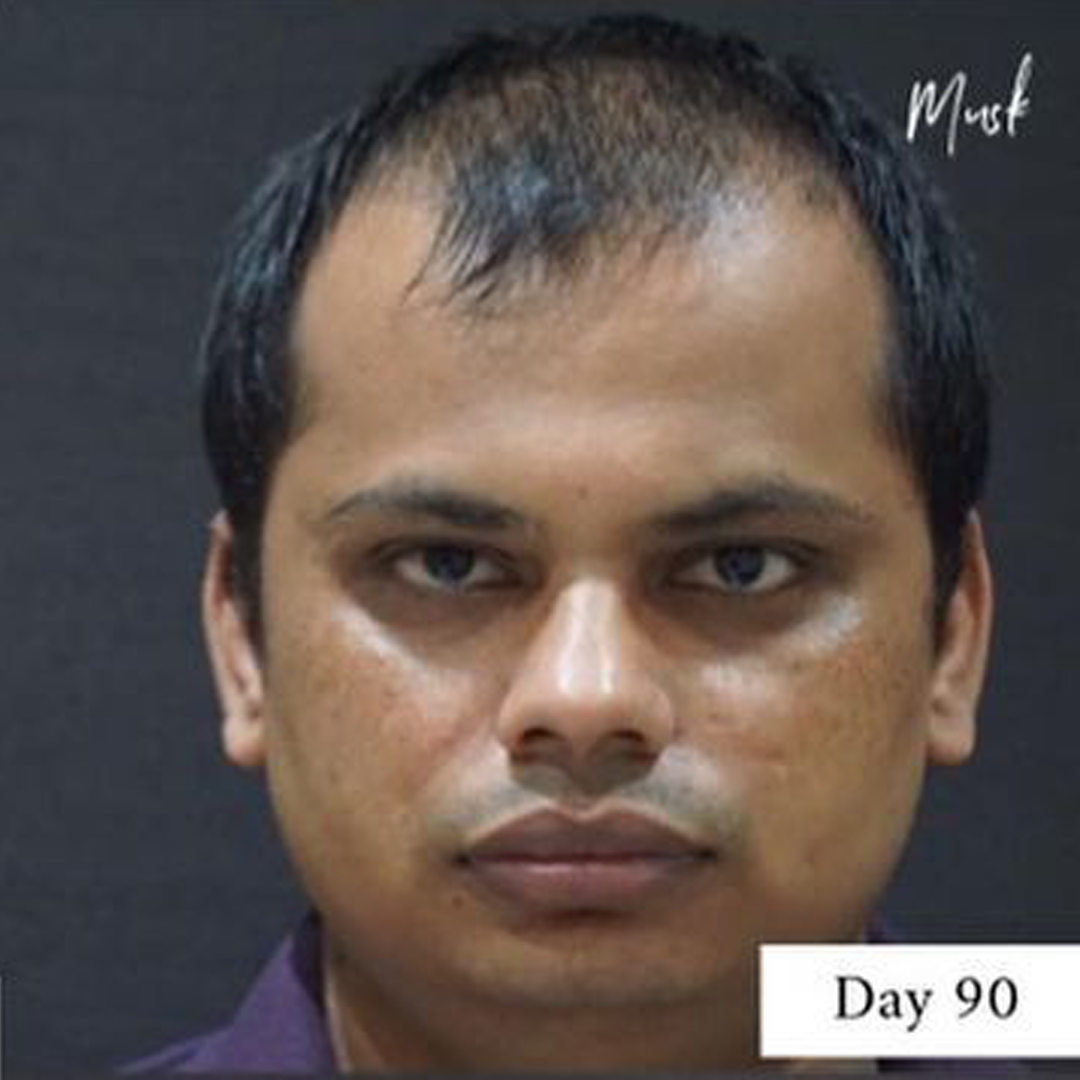 Results of hair transplant after 3-4  months post-treatment is the lost hair begins to grow. After the initial shock loss phase, your hair will grow 1 cm each month. Whereas hair in the donor areas should have fully grown back by this time too.
If you still didn't notice any growth in the recipient area after 3 months, simply just give a few more weeks for your hair to grow as every individual's hair growth cycle varies from another.
Due to lack of strength, the new hair may appear thin but will continue to thicken throughout the next few months. 
How fast does hair grow?
Fast hair growth results can be seen from the 4-5 months onwards. Majorly after 8 months, the hair growth becomes more noticeable and the growth rate also increases.
Hair Growth Journey Summary:
After the two weeks of hair transplant, the old transplanted hair will start to shed, and that's not the case to worry. For some, the shedding also happens after 3 months. 
Regrowth of hair begins after four months, and the growth rate increases after the eighth month, also the thin hair grown during the initial stage will become thicker and darker. 
The final hair growth pattern can be identified by the patient after this, and within twelve months, you will be able to see the final results of full strand hairs.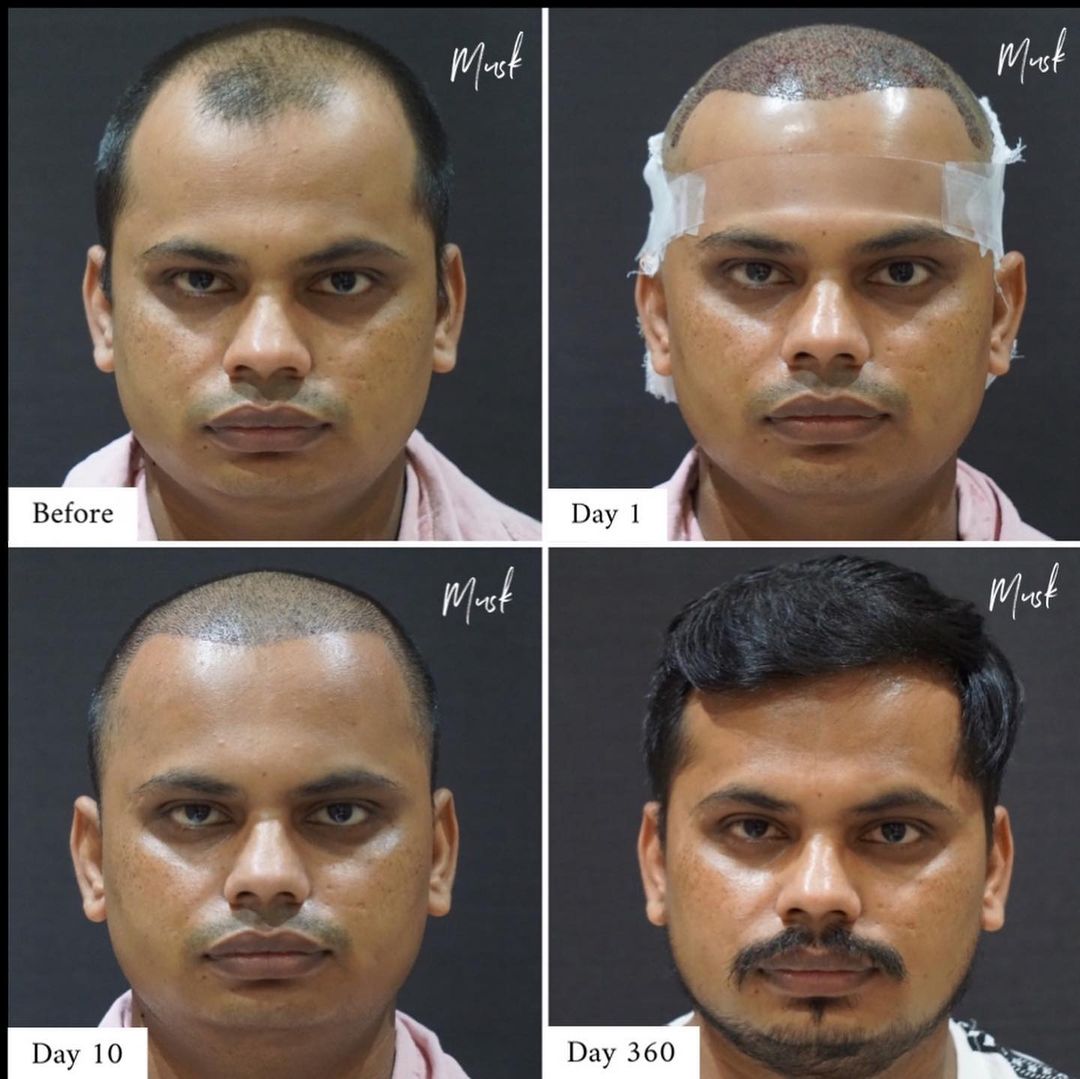 Stages, Journey and Timeline of hair growth after hair transplant:
After the hair transplant, approximately 10 – 20% hair growth is observed in 3-4 months.

50% hair growth can be seen over the next 6 months.

In the next 8-9 months 80% results can be seen. 

In 9-12 months 100% results can be seen.
How to increase hair growth after a hair transplant?
Follow the following to speed up your hair growth after a hair transplant;
Step 1 – Take a nutritious healthy diet for quality hair
Step 2 – Use prescribed medications by your doctors 
Step 3 – Do proper oiling and head massage
Step 4 – Stay Hydrated 
Step 5 – Stop itching the scalp to avoid any damage in the transplant area
Factors impacting hair growth after hair transplant:
Factors that affect graft survival are; 
Donor scalp issues

Physical damage to grafts-dehydration

Transection

Blunt trauma

Ischaemia-reperfusion injury (IRI)

Different growth rates of follicles 
On a final note
When considering a hair transplant, always remember slow and steady wins the race. While the hair transplant process might seem slow till the 4th month, you are not far away from seeing natural hair growth. 
You should be calm and have patience with the results because the final results will improve over time. 
Latest ARTAS 9X Robotic Hair Restoration At Musk Clinic:
Restore your confidence of looking good again with ARTAS 9X Robotic Hair Restoration. The ARTAS® Robotic System is the world's most advanced and popular hair restoration technology that has been USFDA-approved for robotic hair transplant surgery.
Musk Clinic is the only clinic in India using the latest version of this robotic technology to ensure the best aesthetic hair surgery solutions for you.
We are a team of highly trained and educated hair restoration professionals performing the best hair transplant treatment in Ahmedabad and determine the best treatment plan for your type of hair loss and answer all of your questions related to hair transplantation.
Have doubts?
Get in touch with us; we will be happy to solve it.