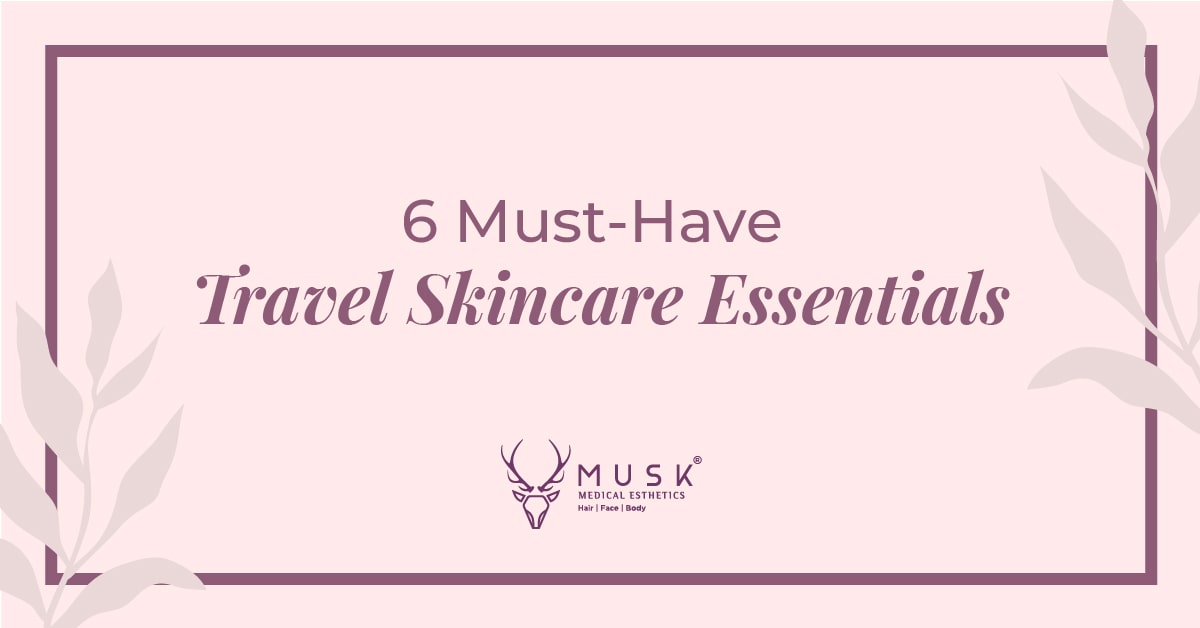 Posted on September 28, 2023
Traveling, whether for pleasure or work, brings with it the dreaded stress of what to pack and what to leave behind! Between this muddling game, we often have to part with the precious skincare products because who wants to risk their favorite toiletries leaking during the bumpy rides. No one wants to let their favorite products be squished or squeezed in smaller containers, but you either won't risk your skin right?
Whether it's a bumpy road ride or a soft landing from air, your skin breaks out even with the smaller change in environment. 
As the air changes, your skin may become more dry or too oily or you may end up with teeny-tiny pimples all over the face. 
Imagine having the clear radiant skin you achieved just before that one trip and now you have to work out on it all over again! Way too much effort, no?
Instead, why don't you just stick to your daily skin care routine and let it glow throughout the traveling days.
Let us help you in picking your skin-care essentials for traveling, and believe us you won't regret taking them with you!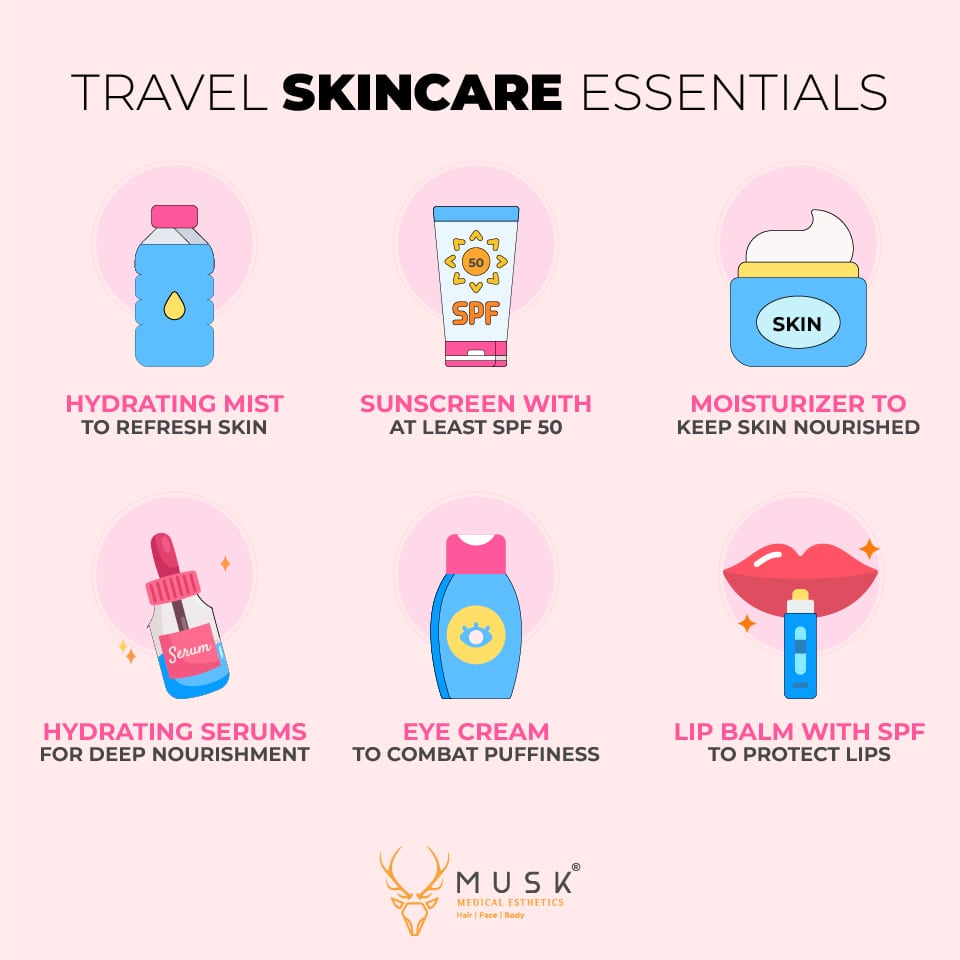 6 Travel Skin-care Essentials
Refreshing Hydrating Mist 
Transforms the skin from dullness and refreshes it.

Hydrates your skin on the go.

Helps to seal in the extra moisture.

Keeps your skin revived through excursion.
A Shield: Sunscreen With At Least 30 SPF
Protects your skin from UV rays.

Prevents acne from occurring due to the sun-exposure.

Reduces blotchiness

Helps protect against the visible signs of premature aging
Moisturizer For Best Skin Health
Keeps your skin hydrated.

No more skin breakouts.

Deals with excessive dryness of your skin.

Gives you a healthy and vibrant appearance.
Nourishment With Hydrating Serum 
Soothes and nourishes your skin

Fights with travel-induced dehydration.

Maintains a soft and supple complexion.

Lock the moisturizer.
Say Goodbye To Tirey Eyes With Eye Cream
Reduces Puffiness of eyes from long sleepless and late nights.

Diminishes dark circles.

Minimizes under eye bags.

Protects and brightens the skin around eyes.
Lip Balm With SPF
Moisturizes dry lips.

Heals chapped lips.

Protects against the sun.

Adds a hint of natural color.
HAPPY HOLIDAYS!
Be it any short trip or long vacation, beaches or hilly areas – make sure you give your skin a little extra care on those days. Instead of making your skin suffer, carry all the necessary travel-size skincare products to focus on your incredible holidays rather than stressing over your skin's health. 
Besides, before heading out, you can always seek help from professionals about your skin type and then follow the routine. At Musk Clinic, we have expert dermatologists, who help guide you through your skin journeys and achieve your dreamy healthy skin!
Read More:
HAIR LOSS PREVENTION SECRETS: THE DO'S AND DON'TS YOU NEED TO KNOW FOR HEALTHY HAIR
8 MUST-HAVE NUTRIENTS FOR STRONG AND NOURISHED HAIR
5 MOST COMMON SKIN CONCERNS AND PROVEN SOLUTIONS FOR RADIANT RESULTS