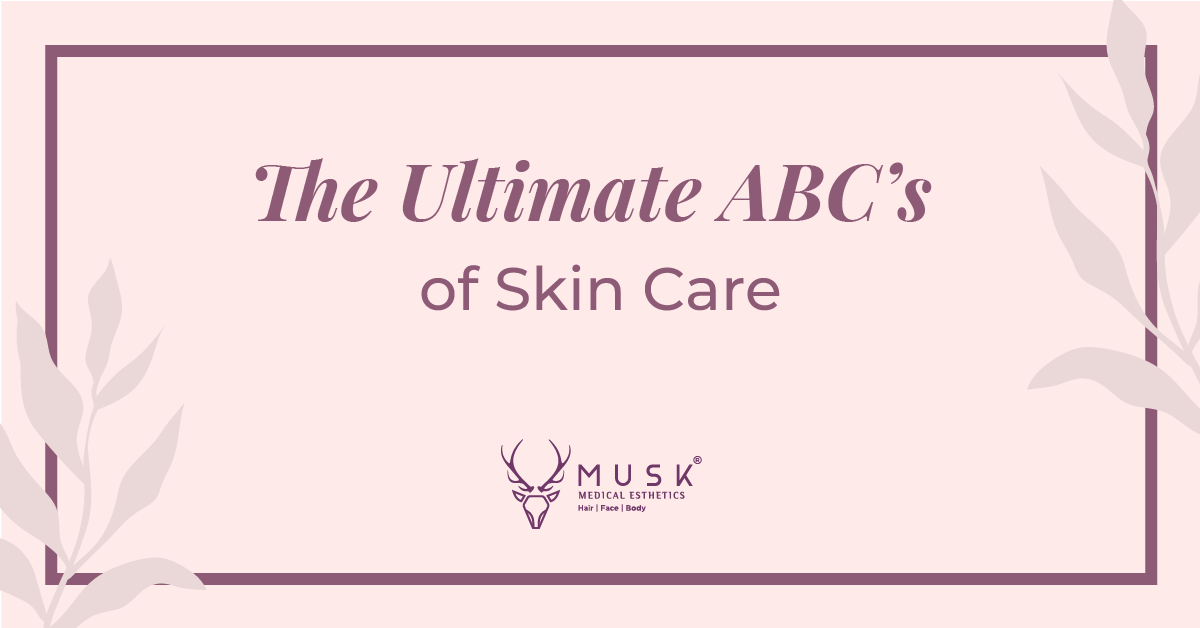 Posted on September 18, 2023
In a world where first impressions matter, your skin stands a canvas that tells your story. Radiant, healthy skin transcends mere aesthetics. It reflects your inner vitality and confidence. Our skin is more than just the outermost layer, it's a reflection of our overall health and well being. The world of skincare can be both exciting and overwhelming with an array of products, techniques and information to navigate. That's where we come in – to guide you through the captivating journey towards the healthy and radiant skin.
Join us as we delve into the ultimate ABC's of skincare, not only to help you have clear skin but to make it as healthier as your age.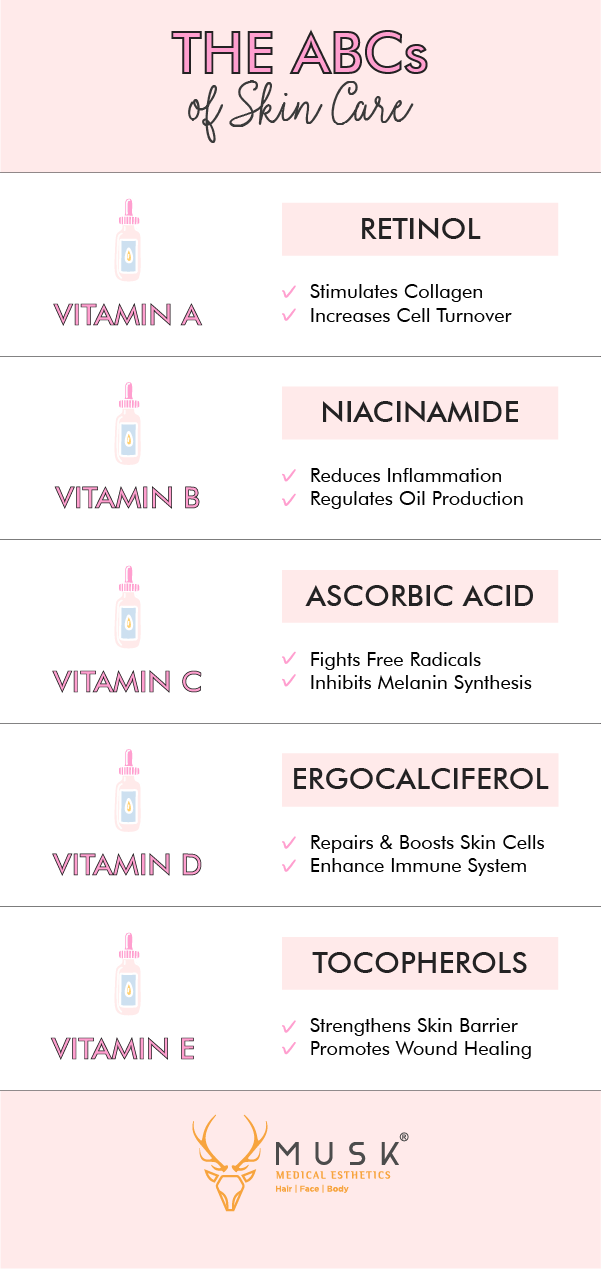 VITAMIN A FOR HEALTHY SKIN:
As a form of vitamin A, Retinol is used in skincare products like serums, creams, ointments, gels, lotions, etc. It helps to increase skin cell and collagen production, unclog pores, and exfoliates skin. 
With the use of vitamin A, the appearance of wrinkles and fine lines can be reduced by giving your skin a fresh and plump appearance. 
Retinol in vitamin A can be used to treat acne, acne scars,dark spots, large pores, and stretch marks. It thickens the skin and increases the elasticity of skin which results in anti-aging.
It's also important to use sunscreen daily with vitamin A products as they also increase the sensitivity of the skin in the sun.
OIL REGULATING BENEFITS OF VITAMIN B: 
Using a vitamin B in your skincare routine can offer various benefits. Vitamin B3 includes Niacinamide, which helps with the oil control, anti-inflammatory, and uneven skin tone.
This can help your skin adjust and minimize the risk of any potential skin sensitivity or adverse reactions. It treats a variety of skin conditions and irritations, including dermatitis, acne, dry and sun damaged skin, hyperpigmentation, etc.
A lack of suitable vitamin B can lead to a thoroughly unpleasant condition of skin which most commonly affects the hand and face areas of the body. A prompt use of vitamin B helps the body to produce new skin cells.
VITAMIN C FOR YOUTHFUL SKIN:
Integrating vitamin C enriched with ascorbic acid into your skincare can be a transformative step towards achieving radiant and youthful skin. It takes a center stage in fighting free radicals and repressing melanin synthesis. 
Vitamin C is known for its ability to brighten, protect, and promote a healthy complexion.
The benefits it offers are a testament to its status as a skincare icon.
To incorporate vitamin C into your body, you can use serums, moisturizers, or creams. It's wise to do a patch test first and introduce new products gradually to ensure they work well with your skin.
BOOST UP YOUR IMMUNE SYSTEM WITH VITAMIN D:
Vitamin D often referred to as the "sunshine vitamin" plays a pivotal role in skin health when utilized in the form of Ergocalciferol. It breathes new life into your complexion, leaving it vibrant and refreshed. 
It acts as a protective shield against external aggressors. Vitamin D has an ability to enhance the skin's immune system as well as repairing and boosting the skin cells.
Vitamin D, like any nutrient, should be balanced and not taken in excessive amounts.
VITAMIN E AS A GUARDIAN:
Vitamin E has various benefits to the skin especially for the people with dry or itchy skin. Vitamin E with tocopherols is a guardian of skin health.
The nourishing embrace of vitamin E and tocopherols extends to the realm of your skin rejuvenation. It strengthens the skin barriers and also promotes wound healing. It can also be used to nourish the skin and reduce the scars.
Presence of vitamin E in moisturizers stops skin from losing moisture easily and softens the skin.
Glowing Finish:
As we embark our journey of healthy and glowy skin, it's crucial to remember that skin care is more than just a routine-it's a commitment to the well being and self-care. By incorporating these evidence-backed tips and practices into your daily regimen, you're investing in your skin's long-term health. Remember, the key lies in consistency and understanding your skin's unique needs.
Tailor your routine to address your specific concerns with the help of our skin experts at MuskClinic. Embrace the journey, celebrate small victories, and give your skin the care it deserves.
Read More:
HAIR LOSS PREVENTION SECRETS: THE DO'S AND DON'TS YOU NEED TO KNOW FOR HEALTHY HAIR
8 MUST-HAVE NUTRIENTS FOR STRONG AND NOURISHED HAIR
5 MOST COMMON SKIN CONCERNS AND PROVEN SOLUTIONS FOR RADIANT RESULTS