What Is Laser Hair Reduction?
If you're not happy with shaving, tweezing, or waxing to remove unwanted hair, Laser hair removal may be an option worth considering. Laser hair removal is one of the most commonly done cosmetic procedures in the world now. It involves beaming highly concentrated light into hair follicles. Pigment in the follicles absorb the light and that destroys the hair.
Lasers are useful for removing unwanted hair from the face, leg, arm, underarm, bikini line, and other areas. There are number of benefits to opting for this procedure. To begin with, lasers are very precise as they can selectively target dark, coarse hairs while leaving the surrounding skin undamaged. This process is incredibly fast and effective.  Each pulse of the laser takes a fraction of a second and can treat many hairs at the same time. Small areas such as the upper lip can be treated in less than a minute, and large areas, such as the back or legs, tend to take around an hour. The process is highly effective as most patients have permanent hair reduction after an average of three to seven sessions.
Before procedure
This is a medical procedure and requires trained professionals to perform. It is vital that you limit plucking, waxing, and electrolysis for six weeks before treatment. That's because the laser targets the hair roots, which are temporarily removed by waxing or plucking. Make sure to avoid sun exposure for six weeks before and after treatment. Sun exposure makes laser hair removal less effective and tends to create complications after treatment.
What to Expect
To begin the procedure, the hair in the area that needs to be treated will be trimmed to a few millimeters above the skin surface. The laser will be adjusted according to the colour, thickness, and location of the hair being treated as well as your skin colour. You would be asked to wear an appropriate eye protection. To protect the outer layers of your skin a cold gel or special cooling device will be applied. This will help the laser light penetrate the skin effectively.
Next, the technician will give a pulse of light to the concerned area and watch the area for several minutes to make sure the best settings were used and to check for any signs of a negative reaction.
After the completion of the procedure you would be given ice packs, anti-inflammatory creams or lotions, to ease any discomfort that you may feel.
Post Procedure
For a day or two afterwards, the treated area of your skin might look a little sunburned. Applying cool compresses and moisturizers would help.
Over the course of the next month, the treated hair will fall out. It is essential that you wear sunscreen for the following month to help prevent temporary changes in the colour of the treated skin. Blisters are rare but are more likely in people with darker complexions. Other potential side effects are swelling, redness, and scarring. Permanent scarring or changes in skin colour are rare.
Frequently Asked Questions
The Most Advanced Solution for LASER HAIR REMOVAL
Innovative

3-in-1 applicator.

Virtually Painless

Treatment is virtually painless, delivering a massage-like sensation.

All Skin Tones and Hair Types

Effective results for light or dark skin as well as coarse of fine hair.

Proven safety record

Including for dark skin.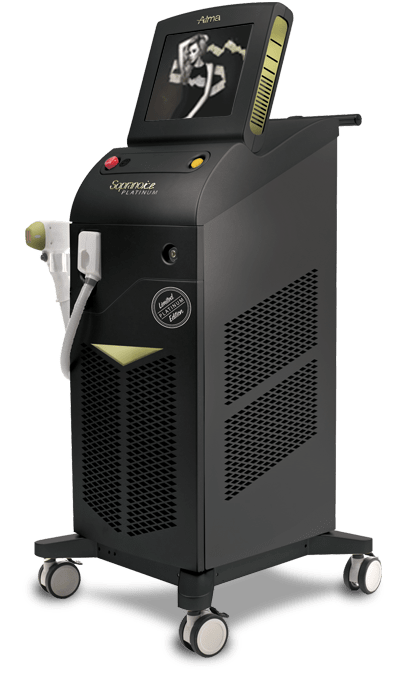 Tanned Skin

Treatments can be performed any time of the year, including on tanned skin.

Speed

Treatment sessions are super-quick, even for large areas such as the legs or back.

No Down Time

You can return to your normal activities, including working out at the gym, immediately.

Perfect for any area of the body

Including sensitive or hard to reach areas such as the ears, nostrils and bikini line.