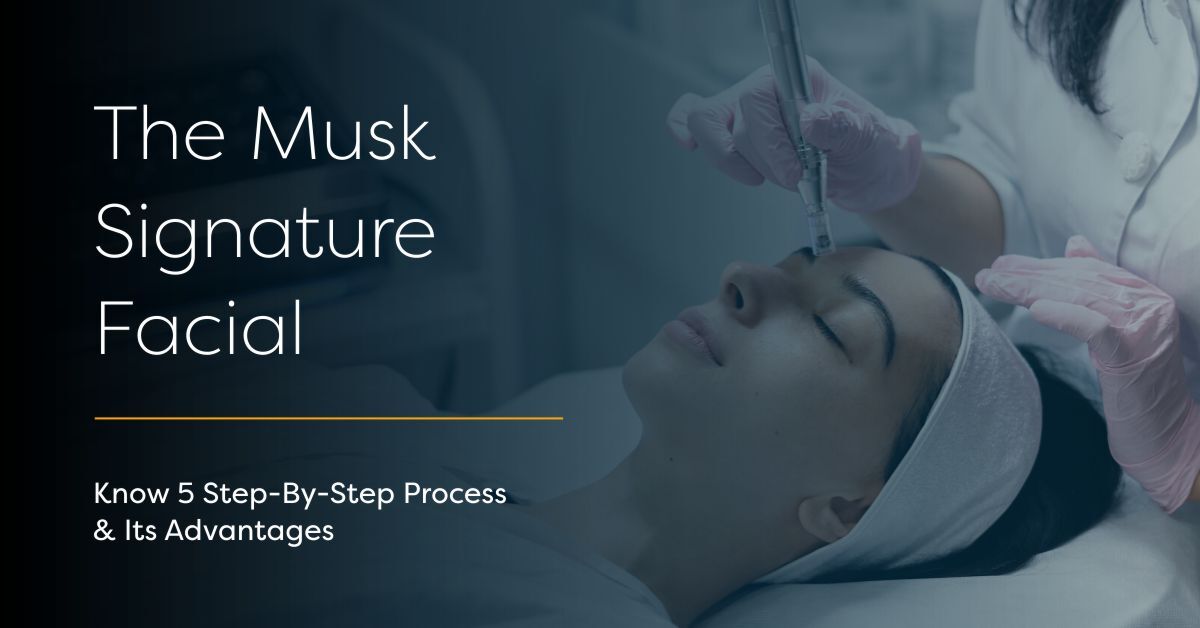 Posted on July 27, 2021
Aren't we all fascinated with the idea of meticulously caring for our skin and treating it with utmost prudence? After all, healthy & glowing skin boosts our confidence from within. And since Musk Clinic is all about helping you realize your dream of flawless skin, we've come up with an inventive facial treatment designed to pamper your skin and deliver a pleasantly unique experience. We are immensely delighted to present to you The Musk Signature Facial.
What is The Musk Signature Facial?
The Musk Signature Facial is the latest addition to the long & diversified list of facial treatments offered by the expert team of Musk Clinic. Combining the finesse of five diversified treatment steps, this facial is a quintessential skincare therapy designed to restore the smoothness and radiance of your skin. With an impeccable combination of medical applications & aesthetic approach, The Musk Signature Facial tends to your common skin issues such as dead skin cells, blackheads, etc., and delivers long-lasting results.
Let us take a closer look at each step of The Musk Signature Facial
Step 1 – Dermaplaning
Dermaplaning is a skin treatment performed by a medically trained individual that uses a medical-grade exfoliating blade to skim away dead skin cells resulting in a smooth and polished skin texture. This procedure does not require any downtime for recovery, which makes it extremely convenient. Your skin is exposed daily to harsh environmental toxins, irritants, and sun damage. This can cause the top layer of your skin to appear dull and can make you look aged. Dermaplaning clears away those damaged skin cells and gives the skin a brighter and softer touch.
Step 2 – Vortex Extraction by HydraFacialMD
This step sounds more intimidating than it is in reality. As opposed to a manual extraction, the skincare expert uses what's called a vortex-extraction nozzle from HydrafacialMD device. The nozzle rapidly circulates the liquid chosen for extraction process, which when applied to the skin, acts as a vacuum to eliminate blemishes like blackheads, whiteheads and clogged pores for a completely painless and instantaneous extraction. This helps furthermore to leave your skin completely free from bacteria and regulating the oil glands.
Step 3 – Vortex Fusion by HydraFacialMD
Now that your pores are clear and dead skin cells have been removed, your fresh new skin is ready to be treated with intense hydration. This step nourishes your skin and drenches it in moisture, with a mix of potent antioxidants, hyaluronic acid, and peptides & multi-peptides to support collagen. This step will leave your skin soft and plump with moisture, combating the appearance of fine lines and uneven skin tone.
Step 4 – Clear Lift Laser Rejuvenation
A unique fractionated technology by Alma Lasers, ClearLift is used to serve the patients who desire the results of skin resurfacing without the usual post-treatment recovery time associated with traditional skin resurfacing. The innovative technology delivers a controlled laser energy onto the skin with its versatile 4D tips depth control mode. These 4D tips give your skin the levels of flexibility needed to transcend the skin barrier and address a variety of skin related imperfections. Virtually painless, fast treatment and no downtime are its biggest perks. ClearLift helps in treating pigmentation, wrinkles and enlarged pores.
Step 5 – Collagen Nutrition Masque
These sheet masks, that are infused with hydrolyzed collagen and nutritional vitamins, are like super-food for your skin. Collagen masks are eminent for imparting a luminous glow after use, leaving your face looking instantly younger and radiant. Covering your face with a hydrolyzed collagen mask promotes plump, firm, and tightened skin.
The Musk Signature Facial Treatment As A Whole
A single treatment comprising all the steps is a 60 to 70-minute bliss that addresses your intrinsic skin concerns, thereby providing significant nutrition and sublime radiance. Treatments can be scheduled at one month apart or as advised by medical experts.
At Musk, we have cumulated the best set of treatments and combined altogether to deliver maximum results. We are proud to say this treatment will be available exclusively at our clinic.