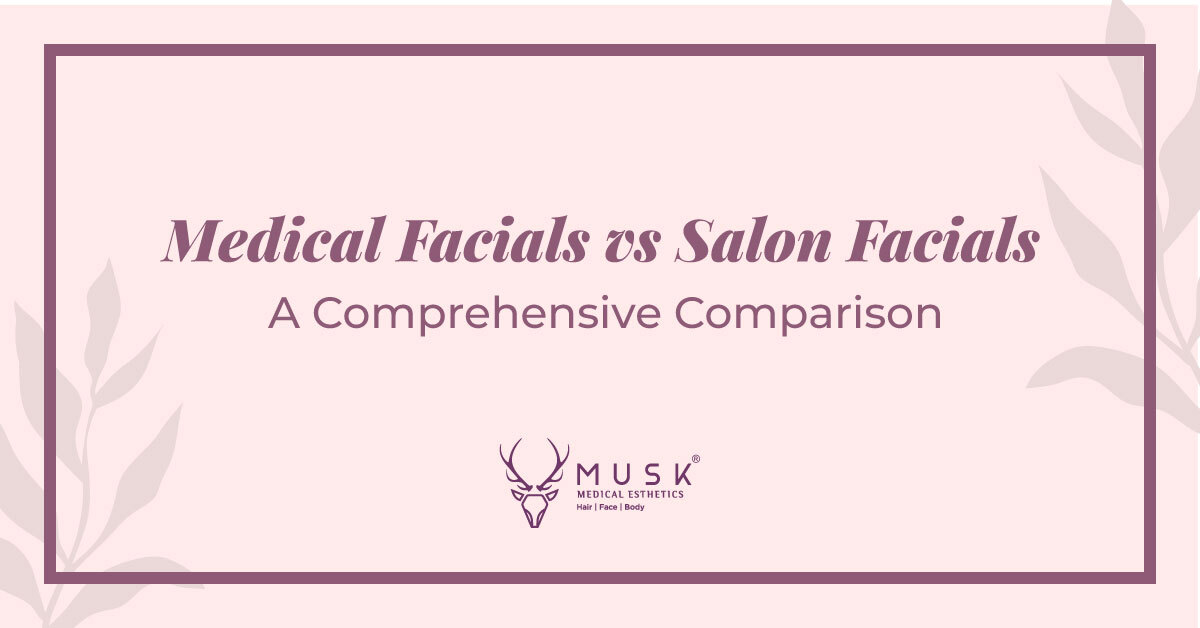 Posted on June 9, 2023
Nowadays, people are spending a lot of their time and money on skincare, fitness, and diet – especially millennials and Gen Z.
When it comes to skincare, facials specifically are highly preferred to improve the health and quality of the skin. Facials are the foot in the door of glowing skin but have you noticed the sudden increase in demand for medical facials?
The competition between salon facials and medical is heating up with the immense popularity of medical facials over salon facials.
Thinking of which one is right for your concerns?
In this blog post, we will dive into a comparative analysis of Medical Facials and Salon Facials, exploring their key benefits and treatment details to help you decide which facial type is best for your skin concerns.
What Is Medical Facial?
Medical facial treatments use medical-grade products specifically designed by medical aestheticians that give visible and long-lasting results. The facial employs pioneering technology to give heavenly healing touch to address various skin concerns like slowing down the aging process, treating acne scars, eliminating brown and red spots, and ultimately giving healthy and glowing skin.
These products used during medical facials are customized considering the patient's skin type and skin concerns to facilitate an effective treatment plan, particularly for patients.
View this post on Instagram
Top Medical Facial Benefits
1. Penetrates Deeper Into The Skin
One of the key benefits of medical facials is they work by treating the skin from the inside. It goes beyond the skin surface to restore and rejuvenate the skin's condition to attain the desired results from the inside.
The medical facial process cleanses the skin, improves blood circulation, encourages collagen stimulation, exfoliates, and removes toxins to improve the skin's appearance and health.
2. Customized For Your Skin
Another convenient benefit of medical facials is they can be customized for your skin. The medical facial process begins with a comprehensive skin analysis by medical aestheticians to discover skin issues and concerns and create a customized treatment plan for addressing them.
From treating skin concerns like acne, aging, and rosacea to improving skin type, texture, and tone; dermatologists can create customized medical facial plans for all of them.
3. Medical Grade Products
Medical-grade products approved by certified dermatologists are only used to avoid any risks and side effects of medical facials. Medical facial treatments aim to comfort and assure the patients with the best facial.
What Is Salon Facial?
Salon facials are done by a beautician mainly focusing on pampering and relaxation. It includes the use of high-quality but non-medical grade products to cleanse the skin, exfoliate and remove toxins.
To enhance relaxation, salon facials also involve masking and massages, which can be a wonderful way to relax and de-stress along with improving the skin's appearance.
However, salon facials don't cleanse skin deeply like medical facials but are great for maintaining and keeping skin in the right shape. Although, having salon facials more than required could also increase the risk of skin damage.
View this post on Instagram
Top Benefits Of Salon Facials
1. Reduce Stress
Salon facials include face massage that can activate the sympathetic nervous system, which helps reduce anxiety levels and elevate mood. Our face has hundreds of pressure points, and when these points are massaged, it can improve the skin's overall health and relieve distress.
2. Cleanse Your Skin
Salon facials might not deeply cleanse your skin, but sometimes we just need to remove some junk from our pores, and these facials exactly do that. It thoroughly cleanses the top layer of your face.
3. Delay The Signs Of Aging
Salon facials help boost cell regeneration and collagen production, which are necessary for preventing aging. It will help prevent wrinkles and age spots, and leave you with younger-looking skin!
4. Treat Acne And Blemishes
Stubborn acne marks and blemishes can also be treated with salon facials by using the right products on the basis of your skin to help reduce scarring and prevent future acne.
Medical Facials VS Salon Facials – Which One Is Right For You?
Medical Facials VS Salon Facials 

Factors 

Medical Facials

Salon Facials 

Supervision

Performed By Doctors 

Performed By Beauticians 

Customization 

Customized As Per Your Skin Concerns

No Proper Skin Evaluation Performed

Target Areas

Target The Deeper Layer Of Your Skin And Hence The Root Cause 

Target The Superficial Layer  

Results 

Results Are Long Lasting And Targeted To Improve Skin Health

Results Last For A Few Days Only 
When choosing a facial for your skin, the first thing to do is to find out your preference. If you want relaxed and normal glowing skin, you can opt for a salon facial; on the other hand, if you really want your skin to feel the difference, a medical facial is the one you should go for.
Unlike salon facials, medical facials don't temporarily alter your skin appearance. It targets the root cause of skin and cures long-standing skin ailments.
Bottom Line
The bottom line is pretty much clear. If you seriously want to repair and rejuvenate your skin, you shouldn't miss getting a medical facial. Note that get your medical facial done from a licensed and certified clinic like Musk Clinic.
Musk Clinic has certified medical aestheticians trained to the highest standards to deliver an unparalleled medical facial experience. On top of that, we use the best quality medical grade facial products and perform medical facial treatment using advanced technology.
Get started with a consultation today.
Read More: